Advertising
Start your day with National Memo Newsletter
Know first.
The opinions that matter. Delivered to your inbox every morning
I look at September 2019 as a month where I missed something. We began with a trip to New York to do Seth Meyers's and Dr. Oz's shows. Why would we go on The Dr. Oz Show? For the same reason we had gone on Joe Rogan's podcast in August: We could reach a vast audience that wasn't paying attention to the standard political media. On Dr. Oz, Bernie could talk about Medicare for All and his own physical fitness. While at the time we believed Bernie was uncommonly healthy for his age, he was still 78. Questions would be raised related to his age, and we needed to begin building up the case that he was completely healthy and fit. It turned out to be a spectacular interview, ending with the two of them playing basketball on a makeshift court in the studio. Bernie appeared to be on top of the world.
Yet in retrospect, I should have seen Bernie growing more fatigued. After New York, with the school year starting, we did a series of rallies at colleges and universities in Iowa; this was the kickoff of our campus organizing program in the state. We would then fly to Colorado for a large rally in Denver before heading to Boulder to prep for the third debate, to take place in Houston on September 12. In Iowa, Bernie's voice was a little hoarse. After the rally in Denver, he had completely blown it out. He sounded terrible.
One of Bernie's few previous health problems had been a cyst on his vocal cords years before his first run for president. Now he was again experiencing problems with his voice at the worst possible moment. Elizabeth Warren had moved into second place in the polls. She, Joe Biden, and Bernie would all be on the stage together for the first time at the debate in Houston. Not only was his voice a problem, but he seemed to be getting progressively more tired.
During debate prep, the staff had a mission. Because Warren and Biden were polling at one and two, respectively, they would be at the center of the stage. Bernie would be shuffled to the side, an unusual place for him. He needed to put himself at the center of the action. If you want a crowd, pick a fight. There was general agreement among the staff that he should begin the debate with an attack on Biden. He should go after him on an assortment of issues, from his previous advocacy for Social Security cuts, to his vote for the Iraq War, to trade treaties he had backed that had cost our country millions of jobs.
We pitched the strategy to Bernie throughout the day. It was reinforced by two additional staff members who showed up at debate prep to deliver a memo making this point. He seemed to agree with it. Campaign adviser Jeff Weaver wrote an opening statement that we all signed onto. Bernie made some alterations and practiced it several times. While he was behind it, he seemed a bit hesitant. Bernie was very particular about one thing: that the attack not be personal. It would be about policy. At the same time, he knew that he needed to do something to take command of the stage.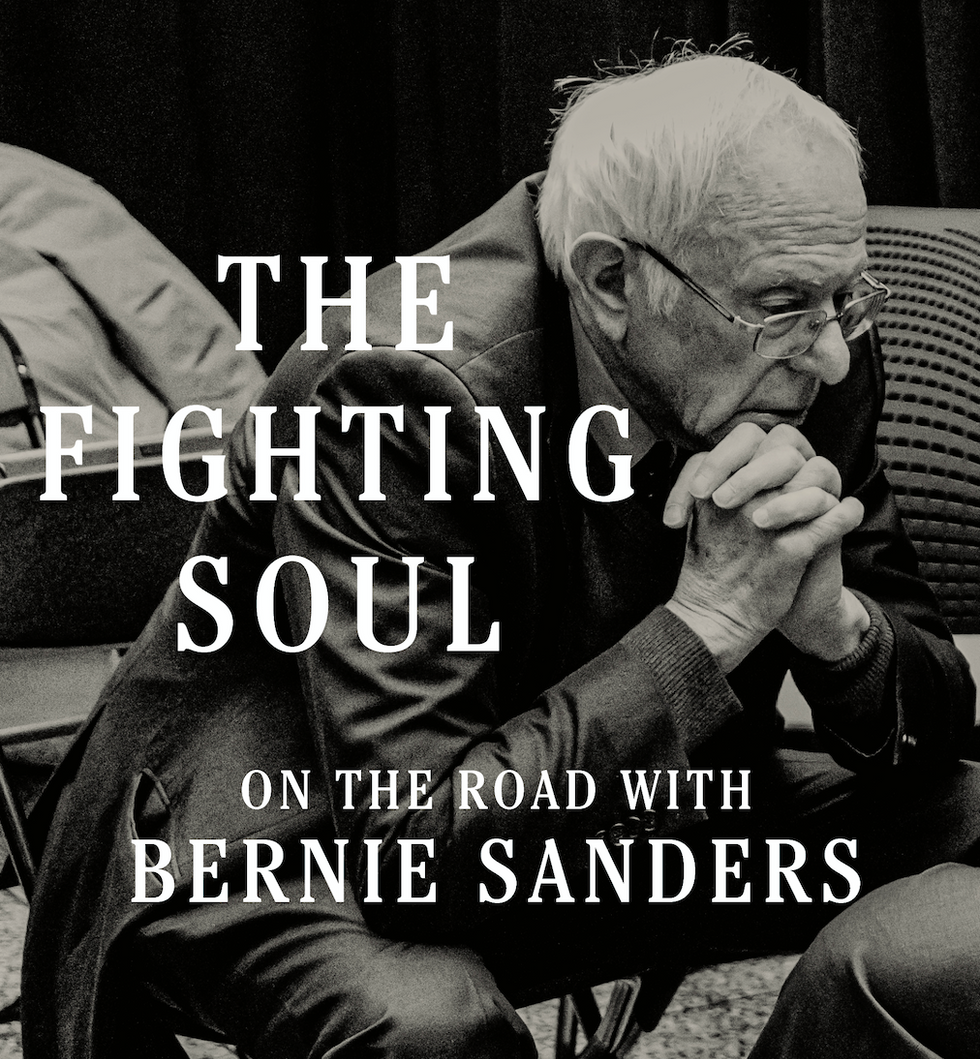 We arrived in Houston with Bernie still saying he was sticking to the plan, but something was off. With campaign manager Faiz Shakir, myself, and Jane Sanders in the greenroom, Bernie practiced his opening, jotting it down on his ever-present yellow legal pad. What we saw as Biden's prior missteps would be framed not just as policy disputes, but as an argument about electability. Bernie would make the case that Biden's repeated errors in judgment over a long career made him a weak candidate to take on Donald Trump in the general election.
In the greenroom, Bernie read the statement with a perfect delivery. Jane listened carefully, clearly sensed his discomfort, and said, "Talk about your issues, don't attack Joe." Jane's words were all he needed. He would not take the road he never wanted to travel down in the first place. This was not a candidate's spouse making a political judgment. It was Jane performing one of her most important duties on the campaign—making sure Bernie stayed true to himself.
After Jane left the greenroom to take her seat in the audience, Faiz and I, committed to the strategy we had agreed to in debate prep, encouraged Bernie to go onstage and deliver the statement as prepared. There was even more discomfort in his voice. We made one last attempt to pump him up. At the prior debate, he had left the greenroom dancing and ready for a brawl. He left the green room in Houston with a burden on his shoulders. When it came time for his opening statement, I turned to Faiz and said, "Is he going to do it?"
"I don't know."
Instead of the practiced opening, Bernie delivered his Bernifesto, the list of the policies he supports: Medicare for All, College for All, and a Green New Deal. Faiz and I looked at each other. We didn't need to speak. We could tell what the other was thinking: fuck.
While Bernie performed well enough for the rest of the debate, much of the staff saw it as a wasted opportunity. What made us nervous was that Bernie had seemed to relish counterpunching against John Delaney and other moderate Democrats during the July debate, but he now seemed very hesitant to attack Joe Biden.
Excerpted from The Fighting Soul: On the Road with Bernie Sanders by Ari Rabin-Havt. Copyright © 2022 by Ari Rabin-Havt. Used with permission of the publisher, Liveright Publishing Corporation, a division of W. W. Norton & Company, Inc. All rights reserved.
Keep reading...
Show less
When I interviewed House Majority Whip James Clyburn in 2014 about his memoir Blessed Experiences: Genuinely Southern, Proudly Black, the South Carolina Democrat was confident in America's ability to find its way, no matter how extreme the political swings might appear at any given time.
"The country from its inception is like the pendulum on a clock," the congressman told me. "It goes back and forward. It tops out to the right and starts back to the left — it tops out to the left and starts back to the right." And remember, he said, it "spends twice as much time in the center."
I have always appreciated Clyburn's wisdom, his passion, and his commitment to his constituents. But most of all, I have admired the optimism of this child of the South, who grew up hemmed in by Jim Crow's separate and unequal grip, yet who believed in the innate goodness of America and its people. Clyburn put his own life on the line to drag the country — kicking and screaming — into a more just future.
He was convinced, I believe, that no matter how off balance America might become, the country would eventually right itself.
A lot has changed since that afternoon, when he sat at a long table, signing books and chatting in the Harvey B. Gantt Center for African-American Arts + Culture in Charlotte, North Carolina, right beside his beloved wife. Emily Clyburn, a passionate civil rights activist, died in 2019, though Clyburn often references her wise words.That optimism, however, has lost its glow.
Clyburn's worries drove our conversation in July 2021, the second of two times he was a guest on my CQ Roll Call "Equal Time" podcast. The topic was voting rights, and Clyburn had opinions about the Senate procedure that would eventually stall legislation to reform those rights and restore provisions invalidated by a Supreme Court decision in 2013.
"When it comes to the constitutional issues like voting, guaranteed to Blacks by the 15th Amendment to the United States Constitution, that should not be filibustered," he said. And about restrictive laws being passed in states? "I want you to call it what it is. Use the word: nullification. It is voter nullification."
"This isn't about just voting; this is about whether or not we will have a democracy or an autocracy."
With those remarks in the back of my mind, it was still startling to hear Clyburn last week on MSNBC, talking about his GOP House colleagues, including Minority Leader Kevin McCarthy of California, and their waffling about complying with subpoenas from the House select committee investigating the January 6, 2021, attack.
When asked if the government and Capitol Hill could "be fixed," Clyburn, known for his philosophical "this too shall pass" mantra, instead replied, "I don't know." He talked about threats to undermine democracy and said the country is "teetering on the edge."
And that was before the shooting in Buffalo that claimed the lives of ten beautiful Americans doing something as routine as Saturday supermarket shopping. African Americans were targeted by an 18-year-old who wore his "white supremacist" label like a badge of honor in a heavily plagiarized racist screed, a man whose stated goal was to "kill as many blacks as possible."
Is it any wonder Clyburn's optimism has been waning in these times?
Among Clyburn's current House colleagues sits Rep. Elise Stefanik of New York, the number three House Republican, whose Facebook ads echoed the "replacement" conspiracy theory swallowed hook, line and sinker by the Buffalo shooter. "Radical Democrats are planning their most aggressive move yet: a PERMANENT ELECTION INSURRECTION," was one message shared by the once moderate congresswoman, who replaced Wyoming Republican Liz Cheney in House leadership.
Rep. Scott Perry (R-PA) has said many Americans believe "we're replacing national-born American — native-born Americans — to permanently transform the political landscape of this very nation."
Rep. Matt Gaetz (R-FL), someone you can always count on to say and do the very worst thing, has co-signed the near nightly rantings of a Fox News host, once tweeting, "Tucker Carlson is CORRECT about Replacement Theory as he explains what is happening to America."
While most Republican House members skirt the edges of the most incendiary claims, you don't hear them loudly denouncing or disavowing them.
The accused Buffalo shooter was straightforward in his intentions as he found heroes in the racist and conspiracy-driven murderers who have cut a hateful swath through Norway, New Zealand, El Paso, Pittsburgh and Clyburn's own home state of South Carolina, at places of worship, whether they be church, synagogue, or mosque.
The problem is much deeper than the availability of guns, and it didn't surface in just the past few years, though the Obama family in the White House woke those uncomfortable with an evolving country and President Donald Trump cannily dug into a "Make America Great Again" slogan that looked back, not forward.
An accurate reading of history might have taught the shooter that scapegoating African Americans for his own emptiness and rot is not new, and that online conspiracies crumble when bombarded with truth. But many of the same people dismissing Saturday's planned killing spree as the aberrant act of a disaffected and deranged "youth" would replace real history with rose-colored propaganda in the nation's classrooms. Many Americans could use an education when polls show a third of them — and nearly half of Republicans — buy into the "replacement" lie.
It was the ugly truth, not fantasy, when President Joe Biden on Tuesday became counselor in chief, a role I'm sure he wishes he never had to play. When he and first lady Dr. Jill Biden traveled to Buffalo, the president blessedly took the time to note each individual — beloved wives and husbands, daughters and sons, brothers and sisters — emphasizing the humanity a shooter wanted to erase.
"In America, evil will not win, I promise you. Hate will not prevail. White supremacy will not have the last word," he proclaimed.
But when it's stoked by the rhetoric of fear and blame of the other, hate too often finds a way.
Maybe that is what's haunting Clyburn, hero and longtime fighter, because he has seen so much. Now, when democracy is at stake, where will the pendulum stop?
Reprinted with permission from Roll Call.
Mary C. Curtis has worked at The New York Times, The Baltimore Sun, and The Charlotte Observer, as national correspondent for Politics Daily, and is currently a senior facilitator with The OpEd Project. Follow her on Twitter @mcurtisnc3.
Keep reading...
Show less