Case Against American Man Illustrates Canada's Zero-Tolerance Gun Policy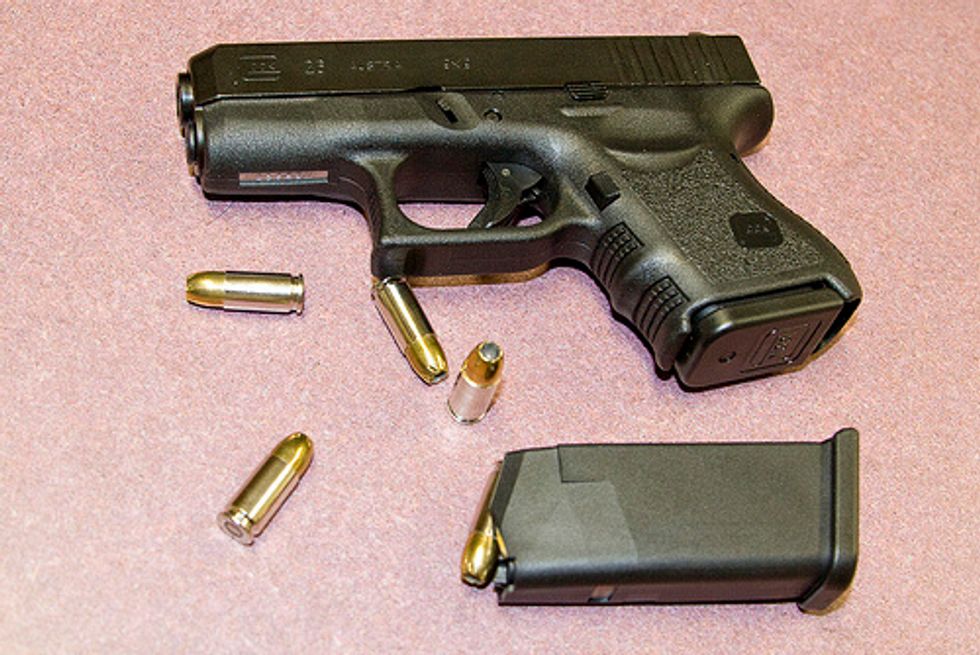 By David Zucchino, Los Angeles Times
Louis DiNatale didn't intend to enter Canada when he and his wife wound up on a bridge from New York state to Ontario province one day in September, misdirected by an unreliable GPS. What began as an American couple's getaway to Vermont quickly turned into a lesson on the stark difference between the U.S. and Canada when it comes to gun laws.
DiNatale, whose request to turn around and cross back into the U.S. was denied, then made another mistake. When a border official asked if he had any weapons, he said no.
Then the questions started about guns. A border agent asked whether he owned any.
"Yes," DiNatale said.
"Why?" an agent asked.
"I told him I was retired military, I had respect for weapons, and I had a concealed carry license to do so," DiNatale said in a written statement.
"He asked me when was the last time I had a weapon on me. I told him, 'Earlier that week.' He asked me again, 'Why?' I told him it was my right as an American Citizen to do so."
But he was driving his wife's car, and had forgotten he had stowed his Bersa .380 handgun in the center console days earlier.
A search turned up the gun and DiNatale was handcuffed and questioned by Canadian border officers for allegedly trying to smuggle a loaded handgun into the country — and lying about it. He spent four days in a Canadian jail before he could post bail.
DiNatale's predicament is a cautionary tale for American gun owners: Canada takes gun control more seriously than the United States. Over the last three years, nearly 1,400 firearms were confiscated at Canadian entry points, most of them personal guns belonging to U.S. citizens.
His Canadian lawyer, Bruce Engel, says Canada overreacted to DiNatale's honest mistake and is using his case to send a message.
"They're trying to make a general blanket statement to American citizens: Don't mess with our borders," Engel said from his office in Ottawa.
DiNatale, 46, a retired sergeant major, says he stored the gun in his wife's car a few days earlier because he didn't want it in his car when he drove onto Fort Knox, Kentucky, for a dental appointment.
The gun was still in his wife's car when she picked him up from work in Louisville, Kentucky, to drive to a weekend getaway in Vermont, he says. He remembered it all too well, of course, when Canadian agents confronted him with the weapon after they searched the car at the Thousand Islands Bridge border crossing between New York state and Ontario province.
The agents were unmoved by his explanations even after his wife, Cathy, verified his story.
DiNatale, a former Army legal expert who is now a paralegal in Kentucky, faces three years in jail if convicted; a Canada court date is scheduled for June. Engel says he will vigorously fight the charges.
"They could have done their homework and looked at his background and seen he's a professional," Engel said. "They could have accepted the word of his wife and released him on his own recognizance."
Instead, Engel said, he was told by a Canadian prosecutor at DiNatale's bail hearing during his jail stay: "Bruce, when it comes to guns, it's kind of a zero-tolerance policy."
For Americans accustomed to routinely carrying guns in the U.S., the situation changes radically at the Canadian border. The no-tolerance attitude toward guns there is similar to that of airport security in the U.S. It made no difference, for example, that DiNatale's gun is legally licensed in the U.S., or that he has a valid concealed-carry permit.
Under Canadian law, Americans who want to bring up to three guns across the border must first fill out a form and pay a $25 fee in Canadian dollars. The weapons must be declared at the border post; the form serves as a 60-day gun permit in Canada.
"If you do not declare all firearms or weapons, we will seize them and you may face criminal charges," the Canada Border Services Agency warns on its website. Automatic weapons and silencers are outlawed, and Canada strictly regulates the size of cartridge magazines.
The U.S. embassy in Ottawa warns U.S. citizens who attempt to enter Canada with guns: "Weapons are strictly controlled." The warning adds: "Canadian law requires that officials seize firearms and weapons … from those who deny having them in their possession. Seized firearms and weapons are never returned."
In DiNatale's case, it seems his mistake was not just unfamiliarity with Canadian laws, but also faulty navigation and a poor memory.
If a Canadian citizen made the same mistakes at a U.S. border post, agents would be able to exercise some discretion, a U.S. Immigration and Customs Enforcement official said. If agents found no evidence of an intent to smuggle weapons, they would probably confiscate the gun and deny entry — but in many cases the offender would not be prosecuted, the official said.
Gun smuggling into the U.S. from Canada is not widespread, the official said, given gun-control efforts in Canada and the relatively free flow of guns in the U.S. But gun smuggling into Canada is a serious problem, which helps explain the vigilance of Canadian border agents.
Most Canadians entering the U.S. with firearms are not required to fill out forms, depending on circumstances, but are subject to local gun possession laws in individual states. If a gun is intended for hunting, Canadians must fill out, in advance, a permit with the Bureau of Alcohol, Tobacco, Firearms and Explosives. They must also obtain a state hunting license, according to U.S. Customs and Border Protection.
In DiNatale's case, prosecutors sought to keep him in jail until his June court date, Engel said. The lawyer said he was able to persuade a pre-trial judge to release DiNatale, who paid $5,000 cash bail and signed a $5,000 bond.
The judge "was a bit of a hunter, and he said it may have been reasonable that the gun was left there inadvertently," Engel said.
Chris Kealey, a spokesman for the Canada Border Services Agency, said he could not comment on DiNatale's case. He said Canada goes to great lengths to inform visitors of the country's gun laws.
Asked whether Americans are aware of gun laws at the border, Kealey replied: "I can't speak for all folks who cross. But those who live near the border are probably more aware of Canada's laws than someone from the southern part of the U.S."
DiNatale is determined to return to Canada and clear his name, Engel said. He said there is no evidence that DiNatale intended to smuggle the gun or deceive the agents. His military service and his civilian work as a paralegal should bolster his case, the lawyer said.
"This case falls on the credibility and the intentions of the accused," Engel said. "In this case, I have a good witness."
Photo: Rob Bixby via Flickr