Trump's 'Celebrity Candidate 2016' Will End — Even Without A Concession Speech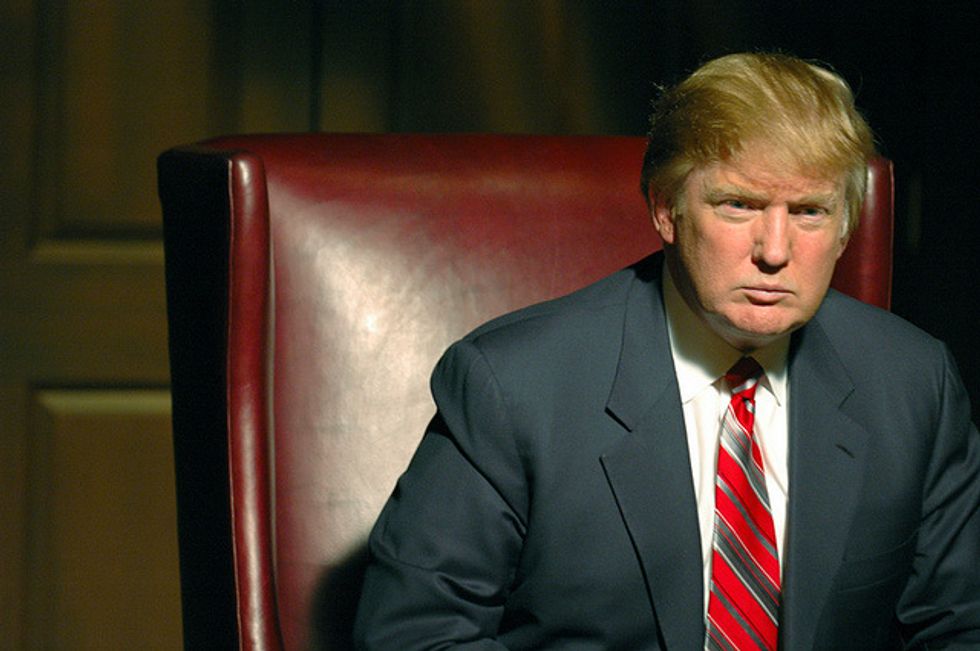 Practically speaking, it doesn't really matter if Donald Trump accepts the results of the November election. No concession speech—can anybody imagine the big blowhard delivering one?—is legally required. The Electoral College will certify the vote in December and the new president will be sworn in on January 20, 2017 whether Trump likes it or not.
That goes for his more fervid supporters too.
According to a recent CBS News poll, upwards of 80 percent of Texas Republicans claim to believe that only voter fraud can prevent Trump from winning. Florida Republicans too. Numbers like those prompted the Washington Post's conservative columnist Jennifer Rubin to urge anti-Trump Republicans not to make the mistake of staying home on November 8.
"The bigger the margin by which he loses," she writes "the more preposterous Trump's claim that the election is fixed. Indeed, it's more important for Republicans — if they want to get back their party — to vote against Trump than it is for Democrats."
Rubin's surely correct about the absurdity of the GOP candidate's posturing. However, I think it's a mistake to take rank and file grumbling about voter fraud too seriously. Large percentages of Texas Republicans also claim to believe that President Obama is a Kenyan-born Muslim, climate change a Chinese-sponsored hoax, and a thousand similar absurdities. They've regarded every Democratic president since 1992 as illegitimate.
Did you know that the 2016 Texas GOP platform calls for quitting the United Nations, expelling its headquarters from the USA, and abolishing the Environmental Protection Agency?
But they haven't gotten up off their Barca-loungers to do anything about it, and they're not going to do anything but grumble this time either. These are essentially metaphysical complaints—political non-starters.
See, before it's anything else a US presidential election—particularly THIS presidential election—is essentially the world's longest running "reality TV" show. It's "American Idol" with pollsters; or "Celebrity Apprentice" with stadium rallies, and so forth.
The cable news networks helped make it so back in the summer of 2015, when they began to cover Trump, a publicity-hungry playboy who impersonated a tycoon on TV, like a figure of real significance. CNN, MSNBC and the rest covered his arrival at airports as if he were the Pope—breaking into regularly-scheduled programming to broadcast his speeches live.
Suffice it to say they didn't cover "Lyin' Ted" Cruz, "Little Marco" Rubio, Carly "Would anybody vote for that face?" Fiorina, or even "Crooked Hillary" Clinton like that. They gave Trump immense free publicity. It was only ever about one thing: ratings.
No, two things, ratings and money. Trump could be provocative and amusing in a coarse way. He gave good TV. So they made him a star.
Except now the show is about over. So long as he was only seeking the applause of a certain kind of Republican, Trump looked invincible. But he never made the transition to the broader electorate. The novelty wore off. His insults and gibes grew steadily less amusing. Like many of his supporters, he appeared never to have grasped that it's no longer possible to win national elections without black and brown voters.
Not to mention women. After he derided Hillary Clinton as a feeble little old lady, she made him look foolish in three debates running. By the end, she was the one doing the taunting, while Trump pouted and seethed. His repertoire of middle-school putdowns was no longer adequate to the task.
Trump would be losing even without his videotaped boasts about groping women, which merely confirmed what many instinctively suspected. He's the kind of bully a woman can't risk getting stuck in an elevator with.
So now "Celebrity Candidate 2016" is about to be canceled. What's more, there's no audience for repeat broadcasts after everybody knows who won.
Or, to put it another way, sorry Coach Trump, but the clock ran out with your team trailing by three touchdowns. Yelling at the refs only makes you look like a crybaby.
It follows that striking a defiant pose wouldn't confirm Trump as the leader of the GOP resistance at all. Within a week, he'd become a laughingstock, a figure of fun, and the punchline of the national joke. Many of those he has humiliated along the way would enjoy mocking him. You think "Little Marco," "Lyin' Ted," Paul Ryan or any of the rest will demand a recount?
Not a chance.
Talking Points Memo's Josh Marshall has correctly diagnosed Trump's motives. "For all the damage and destruction of Trump's effort to undermine the legitimacy of the election," he writes, "I believe it's mainly been about preemptively managing the shame of defeat. If Trump just loses, it kills his brand and would I suspect be insupportably crushing in personal terms.
"But if he's cheated, he becomes a martyr, a political martyr."
Except that Americans just don't do martyrs.
Time to grow up.