Central Texas Inundated By 10 Inches Of Rain; 1 Dead In Flood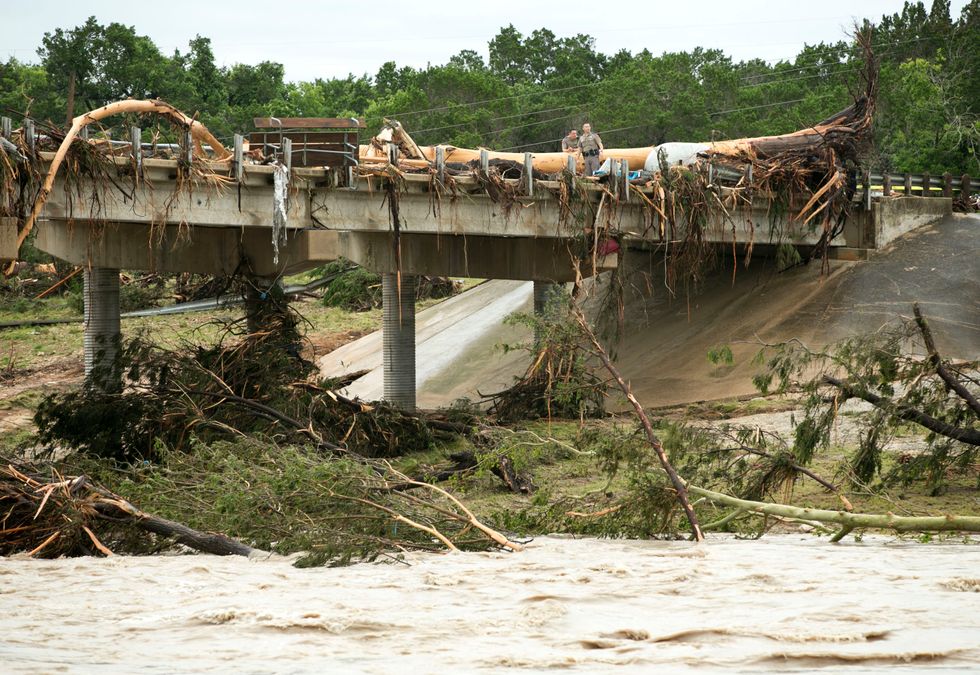 Austin American-Statesman (TNS)
AUSTIN, Texas –– An unidentified man died Sunday in central Texas flooding after torrential rain swelled the normally scenic Blanco River into a destructive wall of water.
Ken Bell, the emergency management coordinator for San Marcos, said the man was found in San Marcos on Sunday afternoon, Bell said.
Separately, Hays County officials are searching for three missing Wimberley residents.
At least 1,000 people remained in Hays County shelters Sunday morning after losing their homes or being stranded in a part of the Hill Country dotted with low-water crossings. As a result, Hays County officials ordered a nighttime curfew beginning at 9 p.m. for San Marcos, Wimberley and some unincorporated areas.
At least 400 homes in San Marcos and Wimberley were destroyed, and many more are damaged, officials said as rooftop rescues continued into the late morning.
"We were going to retire here," Wimberley resident Bob Harla said Sunday as clean-up workers pumped brown water out of the house he recently bought on the banks of the Blanco River. "I don't know what we're going to do now."
The Blanco River runs through both Wimberley and San Marcos, and it was swollen by nearly 10 inches of rain that fell Saturday night over neighboring Blanco County. Upstream in the town of Blanco, the river ran roughshod over its banks through Blanco State Park and reached the U.S. Route 281 bridge.
In Wimberley, the river crested at 40 feet — 27 feet above flood stage.
When the river reached San Marcos further downstream, it swept into houses and up over Interstate 35, closing the highway for several hours Sunday morning.
Residents in northeastern San Marcos reported waking between 4 and 5 a.m. to the terrifying sounds of fast-rising rushing water in their homes. They scrambled in the dark for higher ground.
Among the piled up vehicles was a white Chevy Silverado, bought brand-new this past March by Mark Blackburn. Blackburn, who lives off Bogie Drive, also lost his 65-inch TV and laptops — "all my belongings were under 7 feet of water," he said. He and his Australian Shepherd mix, Kirk, had made their way in the dark, against rushing water, to a neighbor that has a two-story house.
"I grabbed the dog, the phone, and a wallet," he said. He seemed resigned to the catastrophe: "It's OK, as long as everybody's safe."
Residents who say they have lived in the area for decades said they have not seen this kind of flooding.
Wimberley residents Dody Spencer, 91, and Char Moreland, 79, spent Sunday at the Cypress Creek Church, which sheltered about a dozen families, after being rescued the night before from their homes in Wimberley.
Spencer said the water filled the first floor of her house, and a rescuer pulled her out of a second-floor window and onto a boat. She said she would be surprised if the flood hadn't destroyed or thoroughly damaged her house.
"I've been through a lot of floods but not like this one," Spencer said. "I was up in the loft, and the water was up to my knees."
Moreland also was rescued from her house.
"The phones weren't working. The water was about chin-level. Furniture was moving around the room," she said. "I have three dogs who were safe on a king-sized bed, floating. Meanwhile, I'm drowning."
Then she heard a voice calling for her.
"I told them, 'I'm not going without my dogs,' " Moreland said as the dogs sat by her feet in the church.
The storms that brought the heavy rainfall also delivered strong winds, with one gust measuring 75 mph at Austin-Bergstrom International Airport. Winds knocked down power lines, trees and damaged several buildings, including a Northeast Austin apartment complex.
(Reporting by Asher Price, Sean Collins Walsh, Marty Toohey, Patrick Beach, Andra Lim, Melissa Taboada and Mary Ann Roser.)
(c)2015 Austin American-Statesman, Texas. Distributed by Tribune Content Agency, LLC.
Photo: A large tree rests on the Hwy 12 bridge over the Blanco River in Wimberley, Texas, after the flood on Sunday, May 24, 2015. (Jay Janner/Austin American-Statesman/TNS)