Charlotte Protests Diminish Early Friday As Family Views Video
@reuters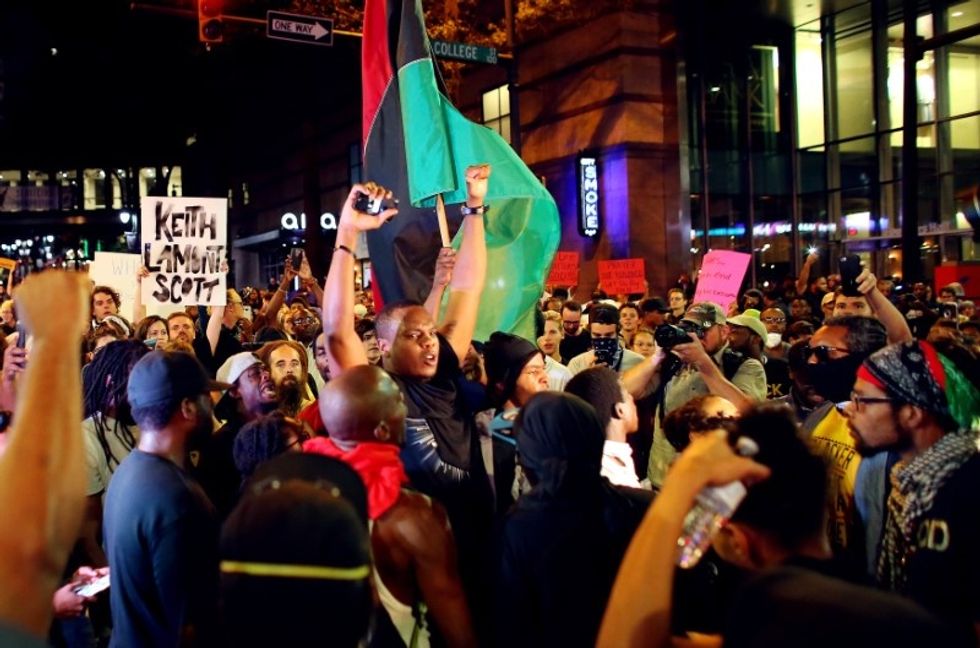 By Andy Sullivan and Robert MacMillan
CHARLOTTE, N.C. (Reuters) – Largely peaceful protests dwindled early on Friday in Charlotte, North Carolina, as police chose not to enforce a curfew prompted by two nights of riots that engulfed the city after a black man was shot to death by a police officer.
A crowd of hundreds gathered, chanted and marched for a third successive night in the state's largest city, demanding justice for Keith Scott, 43, who was shot dead by a black police officer in the parking lot of an apartment complex on Tuesday afternoon.
Police fired tear gas and non-lethal projectiles to break up crowds blocking traffic on a highway. National Guard troops backed up a robust police presence in the town center, helping to restrain protesters chanting "Whose streets? Our streets," as helicopters circled overhead.
The Charlotte Police Department said on Twitter that two officers were treated after they were sprayed with a chemical agent by demonstrators and that no civilians were injured on Thursday.
Despite the brief outbursts, the demonstrations were calmer than those on the previous two nights. Rioters had smashed storefront windows, looted businesses and thrown objects at police, prompting officials to declare a state of emergency and the city's mayor to enact a curfew.
A protester shot on Wednesday died on Thursday, nine people were injured, and 44 were arrested in riots on Wednesday and Thursday morning.
Scott's death is the latest to stir passions in the United States over the police use of deadly force against black men. Protests have asserted racial bias and excessive force by police and have given rise to the Black Lives Matter movement.
His family viewed videos of the episode on Thursday and asked for them to be made public, stepping up the pressure for their release.
In an interview with Reuters early Friday, Justin Bamberg, one of the lawyers who is representing Scott's family, said the video shows that the 43-year-old did not make any aggressive moves towards police.
"There's nothing in that video that shows him acting aggressively, threatening or maybe dangerous," Bamberg said.
Scott, who suffered head trauma in a bad car accident a year ago, was moving slowly as he got out of the car, he said.
"He's not an old man, but he's moving like an old man" in the video, Bamberg said.
Earlier in the day, Bamberg said in a statement that it was "impossible to discern" from the videos what, if anything, Scott was holding in his hands.
Police say Scott was carrying a gun when he approached officers and ignored repeated orders to drop it. His family previously said he was holding a book, not a firearm, and now says it has more questions than answers after viewing two videos recorded by police body cameras.
Charlotte-Mecklenburg Police Chief Kerr Putney has said the video supported the police account of what happened but does not definitively show Scott pointing a gun at officers.
In contrast to the tension in Charlotte, calm reigned in Tulsa, Oklahoma, where police released a video of the fatal shooting of Terence Crutcher, shot by police last week after his vehicle broke down on a highway. The officer who fired her gun was charged with first-degree manslaughter on Thursday.
U.S. President Barack Obama called the mayors of both cities on Wednesday to offer condolences and assistance. On Thursday, he urged protesters to maintain the peace, while still addressing concerns of racial inequality.
(Additional reporting by Brendan O'Brien in Milwaukee, editing by Larry King)
IMAGE: Protesters walk in the streets downtown during another night of protests over the police shooting of Keith Scott in Charlotte, North Carolina, U.S. September 22, 2016.  REUTERS/Mike Blake