Chicago Mayor Emanuel Heads To Runoff Against Garcia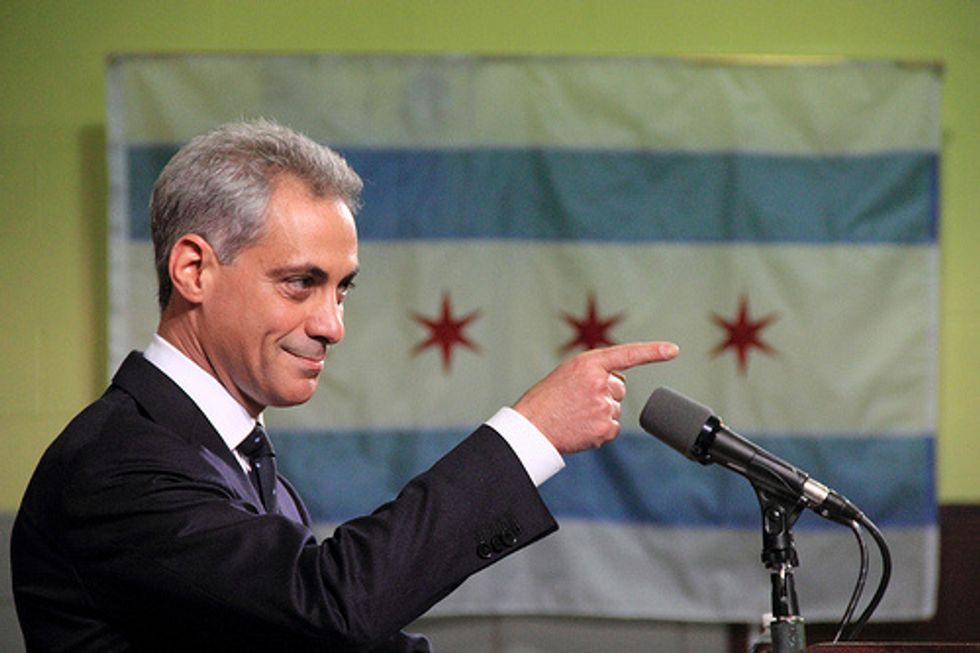 By Bill Ruthhart and Rick Pearson, Chicago Tribune (TNS)
CHICAGO — Chicago Mayor Rahm Emanuel is headed to a politically risky runoff election in April after conceding he won't reach the 50 percent benchmark he needs on Tuesday night.
"We have come a long way and we have a little further to go," Emanuel told supporters at a union hall.
Emanuel said he's moved the city in the right direction. "But we have to be honest. We have a lot more work to do."
With 83.7 percent of precincts reporting, Emanuel had 45.5 percent to 33.9 percent for challenger Jesus "Chuy" Garcia, a Cook County commissioner. The two will now campaign for six more weeks and Chicago voters will get their final say on April 7.
Some Emanuel supporters booed Garcia's name, but Emanuel cautioned them off. "No, no. He's a good man," Emanuel said of Garcia.
Businessman Willie Wilson was running third at 10.5 percent, 2nd Ward Alderman Bob Fioretti had 7.4 percent and frequent candidate William "Dock" Walls had 2.7 percent, according to unofficial returns.
Emanuel used a multimillion-dollar campaign war chest to try to rebuild his image and rebound from widespread voter disenchantment, but being forced into an April 7 runoff election would represent a personal and political setback, given his massive fundraising advantage against a field of far lesser-known opponents.
The low-enthusiasm nature of the mayoral campaign was symbolized by what city election officials said was low voter turnout Tuesday, which saw chilly temperatures and occasional bouts of snow. City projections had this turnout comparable to the record low of 33 percent in 2007 when then-Mayor Richard M. Daley won his sixth and final term.
An April runoff election between the top two finishers could sharply change the political dynamics. Anti-Emanuel voters could coalesce around Garcia, who also could go back to campaign donors and argue he's got momentum. While a stream of ads and active Emanuel fundraising is expected to continue, it also puts more pressure on the mayor to engage Garcia one-on-one, rather than largely dismissing the field of challengers as Emanuel did during five debates.
Emanuel amassed a campaign fund of more than $16 million, with nearly half of that dedicated to 16 different broadcast television ads that aimed to shave off the sharp edge of the mayor's persona as well as criticisms over school closings, crime and neighborhood economic development that marked his first four years.
Garcia, a former alderman and state lawmaker, was a late entry into the race. He assumed the mantle of the Chicago Teachers Union after its president, Karen Lewis, ended a potential bid for mayor following a diagnosis of brain cancer.
The next mayor, inaugurated formally in May, faces a series of severe economic challenges ahead.
The city must find $550 million more to put into police and fire pensions by year's end — and Emanuel did not rule out a boost in city property taxes to cover the costs after tapping higher 911 emergency phone taxes last year to increase payments into other city pension funds.
Additionally, organized labor has sued the city over agreements that Emanuel had made with some city unions in an effort to reduce Chicago's pension liability.
The next mayor also faces the prospect of continuing city budget shortfalls ahead of the magnitude of hundreds of millions of dollars as new Republican Governor Bruce Rauner has proposed a state budget that would take $135 million in income tax money away from Chicago.
Ahead of the election, Emanuel had sought to paint his rivals as unable to articulate a cogent or comprehensive solution for dealing with the city's financial problems.
Garcia called for using tax-increment financing funds to make a down payment on city pensions as well as a state constitutional amendment to impose a graduated income tax on the wealthy.
For his part, Fioretti backed a controversial transaction tax on Chicago Board of Trade activity as well as a tax on commuters who come into the city. Wilson was opposed to any tax increases and instead called for restoring Northerly Island as a Meigs Field airport and creating a Chicago casino.
Emanuel, Garcia and Fioretti all lunched in the South Loop on Tuesday. The mayor ate at the Eleven City Diner on South Wabash, while Garcia and Fioretti went to the traditional political lunch spot, Manny's.
In the final days of the race, Garcia had insisted he was headed to a one-on-one showdown with Emanuel.
"We're headed to a runoff," Garcia said. "We have a strong organization, people are very enthused. We've picked up a lot momentum over the past week, and our goal is to get into a runoff."
Much like his race for mayor four years ago, Emanuel spent heavily to get his message before voters. But this time around, he placed less focus on his well-known political caricature as a fiery and often foul-mouthed politician. Instead, as a longtime political operative well-versed in campaign messaging, Emanuel made the calculation that his campaign should be less about him and more about what he has done.
As a result, his campaign website's home page focused on an interactive Chicago map of city improvements over photos of Emanuel. His campaign slogan was rebranded from "Chicago for Rahm" to "Chicago Together." And almost all of his campaign ads did not include him talking, but instead featured supporters lauding his specific accomplishments.
It was an effort to soften Emanuel's image with voters, some of whom have been angry with him over a 2012 teachers strike, his decision in 2013 to close 50 schools and his ongoing struggle to tamp down the city's violent crime.
Opponents, particularly Garcia and Fioretti, sought to seize on the school closings and the city's spike in shootings on Emanuel's watch as reason for voters to replace the mayor.
Garcia repeatedly slammed Emanuel for not fulfilling a campaign promise to hire an additional 1,000 police officers while the mayor countered he reassigned hundreds of officers from desk jobs to street beats. Garcia vowed to hire 1,000 additional cops but did not entirely account for how he'd pay for it. Fioretti promised to hire 500.
Wilson said he'd reopen at least half of the schools that Emanuel closed, without saying how he'd pay for it. Garcia and Fioretti pushed for an elected school board as the answer to Emanuel's appointed Board of Education voting to back his school closings.
In August, Emanuel's job approval rating bottomed out at 35 percent, according to a Chicago Tribune poll that also found for the first time that every major demographic group in the city disapproved of his performance as mayor. That same poll had Emanuel trailing in a hypothetical one-on-one matchup with Lewis.
For four years straight, Tribune polling showed voters backing the Chicago Teachers Union over Emanuel when it came to their disputes on how best to run the city's school system.
By the time candidates filed for office, Emanuel found himself against opponents with lower political profiles who struggled to gain traction and raise enough money to air their own TV ads. Since Emanuel took to the airwaves in November, his support has improved.
A Tribune poll published last Tuesday found Emanuel's support had rebounded, particularly among blacks. He held a 43 percent to 13 percent advantage over Garcia among black voters, with one-fourth of them still undecided. That was a stark turnaround compared with the August poll that found six-in-10 black voters disapproving of Emanuel's job performance and only one-in-four voters approving.
___
(Tribune reporters David Kidwell, John Chase, Jeff Coen, David Heinzmann and Patrick M. O'Connell contributed.)
Photo: Daniel X. O'Neil via Flickr