Chick-fil-A: Pigging Out On 'Biblical Principles'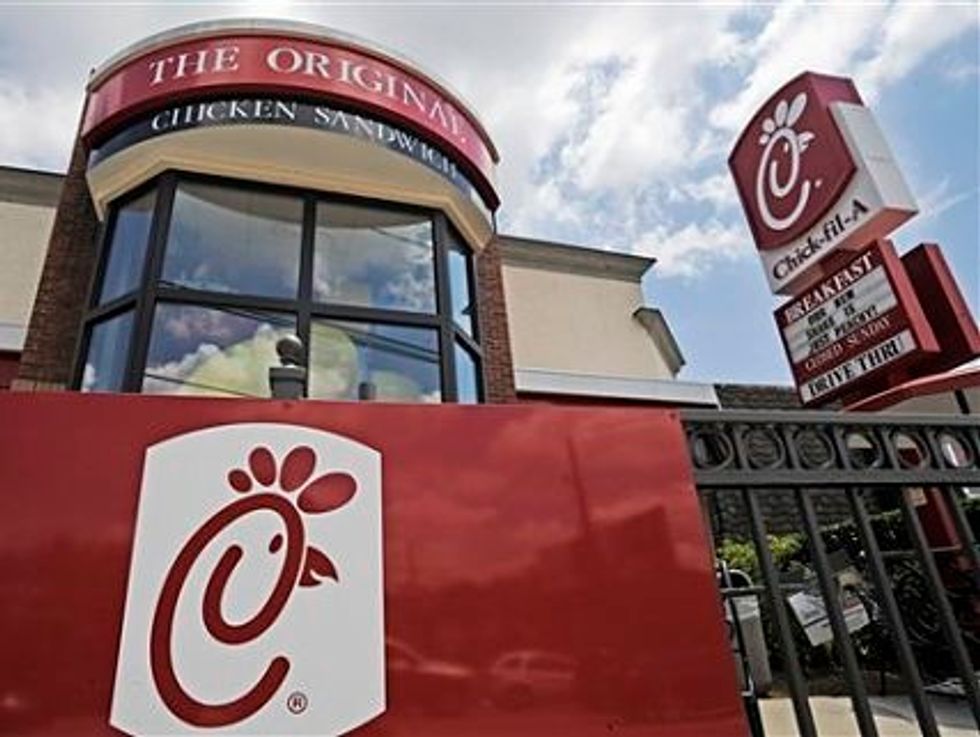 Watching the political pig-outs and kiss-ins at Chick-fil-A, a National Memo reader writes to ask exactly how a fast-food franchiser became a national symbol of religious devotion. He wonders why Dan Cathy, the Chick-fil-A chief who claims to operate his company according to "biblical principles," and his supporters on the religious right focus so exclusively on the prohibition against homosexuality in Leviticus.
It is a fair question that likewise occurs to me whenever someone like Cathy boasts publicly about his superior virtue. (Someone ought to remind him that he has grown rich by encouraging gluttony and fostering disease.) What of all the other strictures, prohibitions, and injunctions that anyone truly operating on biblical principles? As our reader observes:
 The Bible also condemns eating non-kosher foods such as lobster, shrimp and crab, and of course pork, so I expect you and yours will keep the faith by avoiding Long John Silver's and boycott Jimmy Dean's sausage.

The Bible endorses the mass slaughter of men, women, and children whose lands they covet, the institution of slavery, the exclusion of women from society during their [menstrual] periods…I expect that you're consistent in your beliefs [and] do so as well.

Similarly, the Bible prohibits the preparation and consumption of dairy and meat dishes together. I admit I am puzzled by many of Chick-fil-A's menu items such as:

"Breakfast Platter: A hearty meal featuring scrambled eggs, a breakfast portion of our famous boneless breast of chicken, a freshly baked buttermilk biscuit and white pepper gravy. Also available with a breakfast portion of our spicy chicken breast; or four strips of smoked applewood bacon; or a slice of pork sausage instead of chicken."
Of course, America's cafeteria Christians have long obeyed or ignored the Bible on a highly selective basis. They feel perfectly comfortable ignoring God's often-stated preference toward the poor, worshipping gold just as they were commanded never to do. While obsessing over gays and lesbians, they brush aside the rest of Leviticus entirely.
What about God's commandment that men grow beards? Dan Cathey appears to be clean-shaven. But do his cattle graze with other cattle? Does he grow more than one crop on the same field? And does he wear garments woven from more than one fabric? I suspect all these fundamentals are violated by him and his minions at Chick-fil-A every day.
Indeed, if America's religious rightists were living strictly by the Bible, then they would have had to put Newt Gingrich (and Callista) to death by stoning years ago, rather than entertain the silly notion that he should be president. According to Leviticus, the same penalty ought to have been inflicted on many, many other self-proclaimed "Biblical" conservatives, including about a substantial number of the Congressional class of 1994 that took over under the leadership of Gingrich.
Let's not get too far into Deuteronomy, except to note that it dictates he biblically correct treatment of anyone sufficient misguided to follow another religion (such as Mormons, for instance). If the Republicans took its commandments literally, Mitt Romney could not become their nominee for President – because he would have been executed along with everyone else in the Church of Latter-Day Saints, including their children and their animals.
Perhaps we should be thankful that these phonies don't really mean it. They do enough harm as it is. But there is a term describing people who advertise their strict adherence to religious law (even when they don't exploit that status to oppress the innocent or to boost fried chicken sales).  It's synonymous with self-righteous hypocrisy.