China Blasts Proposal To Name D.C. Street For Dissident Liu Xiaobo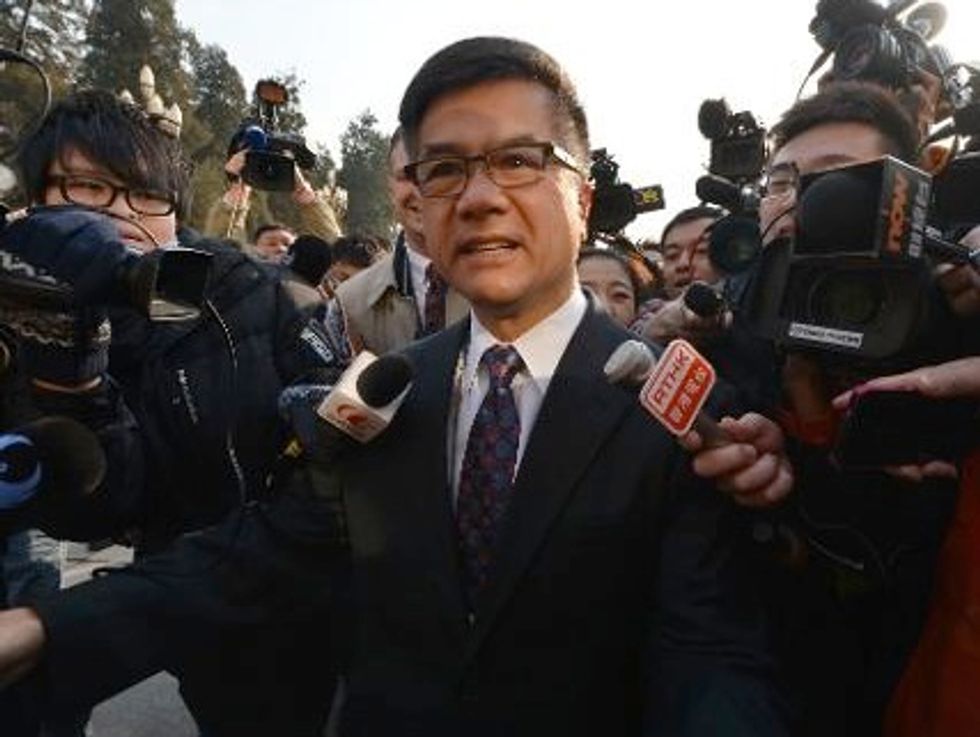 By Stuart Leavenworth, McClatchy Foreign Staff
BEIJING — China reacted brusquely Wednesday to a vote in the U.S. Congress that approved renaming a street outside the Chinese embassy in Washington after China's most famous political prisoner.
A Foreign Ministry spokeswoman, Hua Chunying, labeled as "purely a farce" the vote by the House Appropriations Committee to name the street for Liu Xiaobo, who was sentenced to 11 years in prison in 2009 for "inciting subversion of state power." Liu's crime was gathering signatures for a human rights charter similar to one that helped end communist rule in the former Czechoslovakia.
Liu won the Nobel Peace Prize in 2010, angering China's Communist Party and raising his profile but doing little so far to expedite his release.
In an effort to increase pressure on China, the House Appropriations Committee on Tuesday approved an amendment to a must-pass State Department spending bill that directs the secretary of state to rename the street outside the Chinese embassy "Liu Xiaobo Plaza."
If the full House of Representatives passes the bill, as is expected, and the Senate and President Barack Obama also approve it, the official address of the Chinese embassy would become 1 Liu Xiaobo Plaza.
"Every piece of incoming mail to the embassy would bear the name of the imprisoned Nobel laureate," said Rep. Frank Wolf, a Virginia Republican who proposed the amendment and who's one of China's most vehement U.S. critics.
Wolf's pressure play has been all but ignored by the media in China, where Liu's name is "sensitive" and largely censored. Among Western experts on China, there's been a debate on the wisdom of the congressional move, with some seeing it as the latest "tit for tat" that prevents China and United States from fully engaging on issues that divide them.
Supporters note that Congress previously has renamed streets in Washington to honor international defenders of human rights. In 1984, it honored Soviet dissident Andrei Sakharov by renaming part of the street in front of the Soviet embassy.
Wolf originally sought his amendment to highlight the 25th anniversary of China's crackdown on the 1989 Tiananmen Square demonstrations, of which Liu was an enthusiastic participant.
"This modest effort would undoubtedly give hope to the Chinese people who continue to yearn for basic human rights and representative democracy, and would remind their oppressors that they are in fact on the wrong side of history," Wolf and other members of the House said in support of the amendment.
On Twitter and other social media, commenters have wondered whether China would retaliate by naming a street outside the U.S. embassy in Beijing after a U.S. nemesis, such as former National Security Agency contractor Edward Snowden. When asked whether China would respond in such a manner, Hua, the Foreign Ministry spokeswoman, smiled and dodged the question.
"What kind of measures do you think China should adopt?" she asked. She then issued a broadside against Liu, saying he's "a criminal who has been sentenced according to law by Chinese judicial authority due to violation of Chinese law."
Two hours before she spoke, U.S. Ambassador Max Baucus delivered his first substantive speech in China since he took the post earlier this year. Speaking to a Beijing luncheon of U.S. business organizations based in China, Baucus noted the strong economic ties between the countries and the commitment of Obama and Chinese President Xi Jinping to a "new model" of relations.
Baucus, however, also mentioned two issues that divide the two countries: cyberspying and human rights.
"In the past year, China has arrested several moderate voices who had peacefully advocated for such basic things as good governance and the rights of ethnic minorities and the rule of law," Baucus said.
While Baucus didn't name names, it was likely he was referring to Pu Zhiqiang, who was arrested last month, and Xu Zhiyong, who was sentenced to four years in prison earlier this year. Both were detained on charges similar to those that sent Liu to prison.
Before he became the ambassador, Baucus was a member of Congress for 38 years, including 35 in the Senate. It's unknown how he views the House's attempt to rename the street for Liu. According to U.S. embassy staff, the ambassador, after lunching with business leaders, didn't have time to take questions Wednesday from reporters.
AFP Photo/Mark Ralston