As China Cracks Down On Dissent, Activists Press U.S. To Raise Issue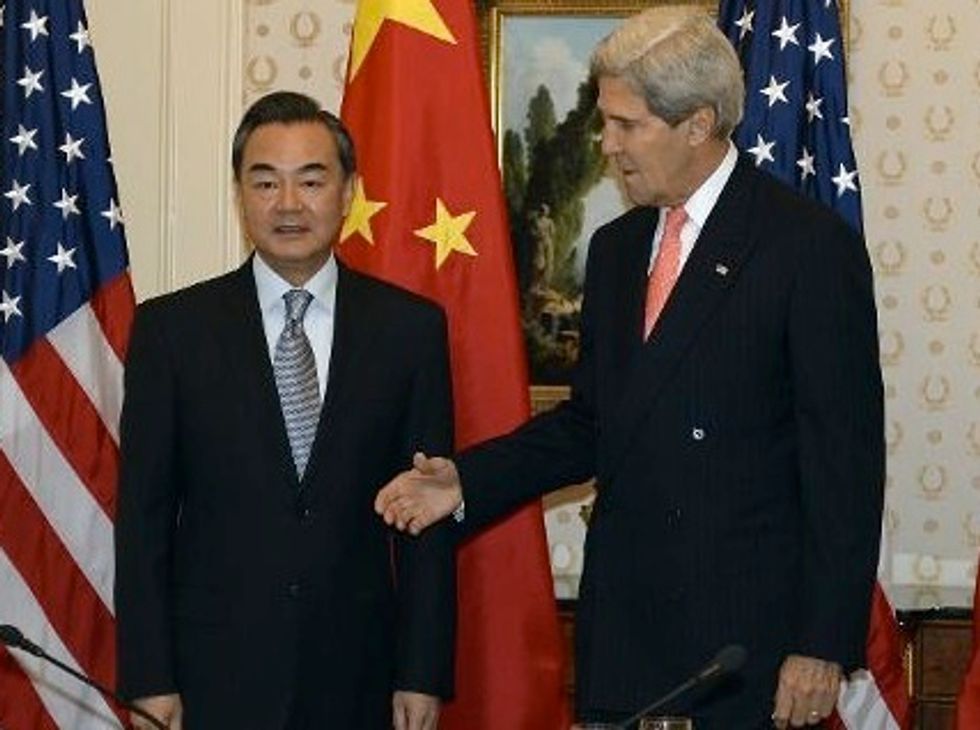 By Stuart Leavenworth, McClatchy Foreign Staff
BEIJING — With Secretary of State John Kerry and other U.S. officials in the midst of two days of meetings with their Chinese counterparts, human rights activists are urging them to elevate a topic that President Xi Jinping would rather dodge: his government's increasingly harsh treatment of critics and civic activists.
Since Xi assumed his post last year, China has stepped up detentions and imprisonments of prominent lawyers, religious leaders, advocates for ethnic groups and those seeking to remember the 25th anniversary of Tiananmen Square last month.
On Wednesday, a leading Tibetan writer, Tsering Woeser, said she'd been put under house arrest after being invited to visit the U.S. Embassy in Beijing, presumably to join a function with Kerry.
Sophie Richardson, the China director for the advocacy group Human Rights Watch, said it was difficult to know whether the Chinese president was directing such police actions or was delegating decisions to hard-liners. Regardless, she said, "the scope and scale of detentions and arrests, and the kind of behavior that is now considered problematic, bodes very badly for Xi's tenure. … There used to be more clarity on where the red lines were drawn."
Kerry and other top U.S. officials, including Treasury Secretary Jacob Lew, are in Beijing for an annual get-together with the Chinese hierarchy known as the Strategic Economic Dialogue. The gathering results in face-to-face meetings with officials from both countries, including those with expertise in energy, public health, environment, banking, trade, economic development, national security and international relations.
In advance of the dialogue, Beijing and the White House have tried to rebut the conventional criticism of their strained relationship: that China sees the United States as a declining power and that the Obama administration, for its part, is intent on "containing" China's rise.
In an opening speech Wednesday, Xi said the two countries had common interests that outweighed their differences, including the need to work together on a trade agreement, counterterrorism, climate change and other issues of mutual concern. "The foundation of Sino-U.S. friendship lies in the people, and our hope in youth," Xi was quoted as saying by China's state-run media.
Kerry said Wednesday, "We are convinced that the United States and China do not have to be rivals, but can be partners and find things to cooperate on that are important to the security of the region."
Despite such comments, the U.S.-China relationship remains tense, stoked by China's territorial ambitions in the East and South China seas and by the White House's decision to indict Chinese military officials on charges of hacking U.S. corporate secrets.
China has seized on the indictments to accuse the United States of cyber-hypocrisy, propaganda aided this week by claims that Washington had hired a German intelligence employee to spy on the government of Chancellor Angela Merkel.
Visiting Beijing on Monday, Merkel was asked about accusations that the U.S. had lured a German citizen to spy against his own country. "If the allegations are true, it would be a clear contradiction as to what I consider to be trusting cooperation between agencies and partners," she said at a Beijing news conference, presumably to the delight of her Chinese hosts.
Given the state of relations between the United States and China, some diplomats see little to be gained by pressing issues of human rights. Richardson disagrees, saying a strong message could be sent at these meetings if individual U.S. agencies were to press human rights concerns that related to their own particular priorities.
AFP Photo/Timothy Clary