China Executes 13 For Terrorism-Related Crimes; More Sentenced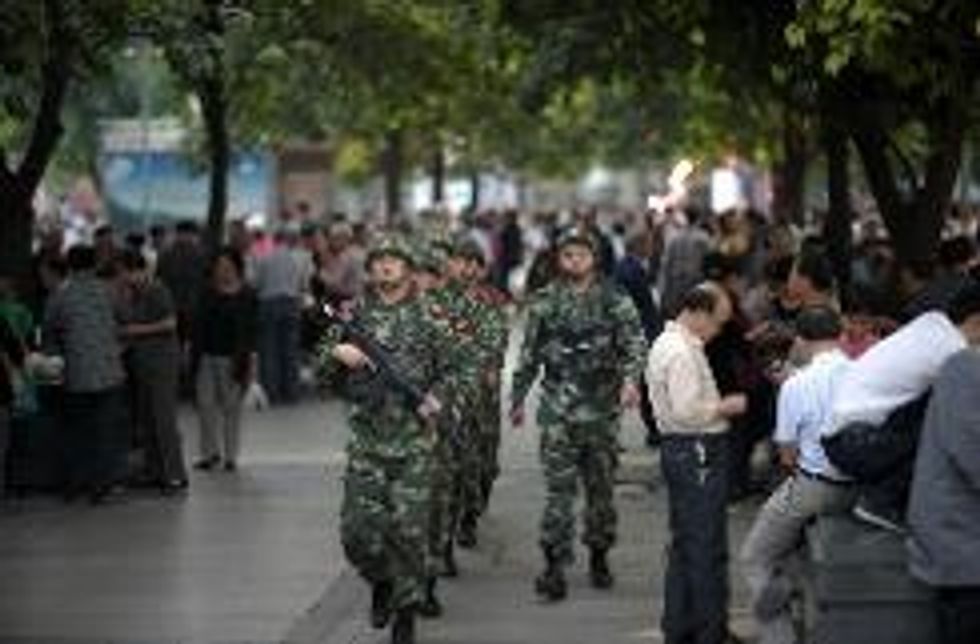 By Julie Makinen, Los Angeles Times
SHANGHAI — China on Monday said it had executed 13 people for terrorism-related crimes and sentenced three more to death, stepping up a law enforcement and public relations campaign against a rising tide of violence.
Those who were put to death had been found guilty of crimes including homicide, arson, making explosives and organizing, leading and participating in a terrorist group, according to a report late Monday by the state-run New China News Agency. All their cases were heard by courts in the restive northwestern province of Xinjiang, in the cities of Aksu, Turpan and Hotan.
In a separate report, the news agency said three people had been sentenced to death and five others to prison in connection with a deadly terrorist attack in Beijing's Tiananmen Square in October. Two pedestrians were killed and about 40 people were injured in the incident, in which a vehicle drove through a crowd of tourists and then burst into flames in front of the Forbidden City in the center of the Chinese capital.
Authorities have blamed the Tiananmen attack on separatists from Xinjiang. The region in the far west is the heartland of China's ethnic Uighur minority, who complain of discrimination and the growing influx of the majority ethnic Han into their cities and towns.
In the wake of a string of terrorist attacks in Xinjiang and far outside the region, Chinese authorities launched a highly visible counterterrorism campaign nationwide in recent weeks.
Beat cops in Shanghai and other cities have been armed, provincial anti-terrorism squads have been formed, and troops in fatigues wielding automatic weapons have been posted around the capital. Thousands of neighborhood-watch-type volunteers have been recruited to patrol in Beijing and even been offered insurance in the event they are injured on the job.
In Xinjiang, authorities have offered rewards to the public for tips on extremist activity and recently held a mass sentencing in a stadium for 55 people convicted of violent crimes. Police later distributed videos of the event, attended by 7,000 people, to the media.
President Xi Jinping has ordered troops in Xinjiang to deliver a "crushing blow" to separatist and extremist forces. In April, he undertook a multi-day inspection tour of Xinjiang, which he called the "front line" in the battle against terrorism. Hours after he left, a bomb exploded at a train station in Urumqi, Xinjiang's capital, killing several people.
The violence has not abated. On May 22, 43 people died at a market in Urumqi when attackers tossed bombs out of car windows. More than 90 people were injured in the attack.
Authorities have been alarmed by the growing lethality and sophistication of the attacks and a noticeable shift in targets; whereas extremists previously had been directing their attacks primarily at government facilities in Xinjiang, such as police stations, the assaults in recent months have focused on "soft" targets including train stations and markets.
Although authorities were once quick to move terrorist incidents off the front pages — a deadly attack in March at a train station in the southern province of Yunnan was declared "solved" within a few days and few further details were forthcoming about the perpetrators — officials now seem to be adopting a more visible response to the situation.
On Monday, state-run media reported that more than 60 suspects had been arrested in Xinjiang in the last three weeks since the government began asking the public for tips on terrorism-related activities. The 60 are suspected of making 160 "blast devices," and police said they had seized more than 80 pounds of explosives.
©afp.com