China Finds No Terror Link To 153 Nationals On Malaysia Plane
@AFP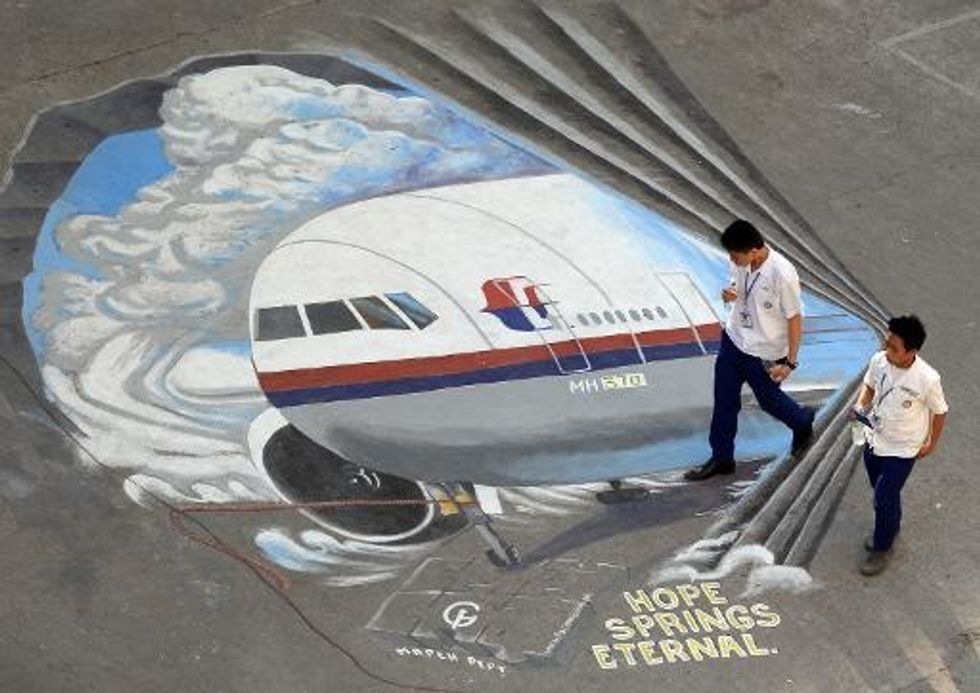 Kuala Lumpur (AFP) – Intelligence checks on 153 Chinese passengers on a missing Malaysian airliner produced no red flags, China said Tuesday, as Malaysia marshaled ships and planes from 26 countries to search an area the size of Australia.
Eleven days after contact was lost with Malaysia Airlines Flight 370 and its 239 passengers and crew, there has been minimal progress in determining precisely what happened or where the plane ended up.
Lending fresh weight to the belief that the plane was deliberately diverted, the New York Times reported that the first turn it made off its flight path was programmed into the Boeing 777's computer navigation system, probably by someone in the cockpit.
Rather than manually operating the plane's controls, whoever altered Flight 370's path typed seven or eight keystrokes into a computer situated between the captain and the co-pilot, the newspaper said, quoting U.S. officials.
The head of Malaysia Airlines, Ahmad Jauhari Yahya, said he was unable to confirm the report.
"The aircraft was programmed to fly to Beijing … (but) once you are in the aircraft, anything is possible," he told a daily press briefing.
Two thirds of those on board were Chinese, and Malaysia had asked authorities in Beijing to run an exhaustive background check on all their nationals as part of a probe into everyone aboard.
Particular attention was paid to a passenger from China's Muslim ethnic Uighur minority.
On Tuesday China's ambassador to Malaysia Huang Huikang said no evidence had been found that would link anyone to a possible hijacking or terrorist attack on the jet.
The current search area, which was only properly identified after a week of fruitlessly scouring the South China Sea, is enormous — stretching from the depths of the Indian Ocean, up and over the Himalayas and into central Asia.
Transport Minister Hishammuddin Hussein said it covered a total of 2.24 million square nautical miles — slightly larger than Australia.
China's state media has been vocally critical of Malaysia's handling of the investigation, saying valuable time and resources were wasted in the hours and days immediately after the aircraft disappeared on March 8.
Desperate relatives of the Chinese passengers threatened to go on hunger strike Tuesday, demanding that Malaysia's ambassador brief them in person.
Malaysian officials insist they are investigating all the passengers and crew, but for the moment the focus is clearly on the two pilots — Captain Zaharie Ahmad Shah and First Officer Fariq Abdul Hamid.
On Monday Ahmad Jauhari revealed that the last recorded words from the cockpit — "All right, good night" — were almost certainly spoken by the co-pilot, Fariq.
The identity was deemed important given that the final message came around the time the plane's two automated signalling systems were disabled and it veered off course just as it was being handed over from Malaysian to Vietnamese air traffic control.
Despite some confusion about when the systems were switched off, Hishammuddin stressed that investigators still believe the series of events were consistent with "deliberate action" by someone on the plane.
The nonchalant style of the verbal sign-off had been queried in some quarters, but a Boeing 777 pilot told AFP it was "completely normal" for a pilot leaving his domestic air space.
Police have searched both pilots' homes and are examining a flight simulator that Captain Zaharie, 53, had assembled at his home.
Malaysian media reported that Zaharie was distantly related to the daughter-in-law of opposition leader Anwar Ibrahim, aas well as being a member of his political party.
Anwar said Tuesday he was "disgusted" by the suggestion the plane may have been sabotaged as an act of revenge hours after he was convicted on a sodomy charge widely seen as politically motivated.
Hishammuddin said the search for the missing aircraft should remain "above politics".
Twenty-six countries are now involved in that search in a northern corridor over south and central Asia, and a southern corridor stretching deep into the southern Indian Ocean towards Australia.
A French expert who took part in the search for Air France Flight 447, which crashed in the Atlantic in 2009, said finding the Malaysian plane was a much tougher proposition.
"Here we simply have no idea of the location of the aircraft, because there were no ACARS signals," said Jean-Paul Troadec, a special adviser with France's civil aviation accident investigation agency.
Malaysia has deployed its navy and air force to the southern corridor, where Australia is taking the lead in scouring a huge section of ocean off its west coast.
"It will take at least a few weeks to search the area thoroughly," said John Young of the Australian Maritime Safety Authority.
The U.S. Pacific Fleet withdrew a guided missile destroyer, saying the area was simply too big for such a vessel to make an effective contribution.
"The Indian Ocean goes so far, there probably aren't enough ships and aircraft in the world to search every inch of it," Fleet spokesman Commander William Marks told CNN.
AFP Photo/ Ted Aljibe