China, Iran Say They're 'Strategic Partners' As U.S. Watches Warily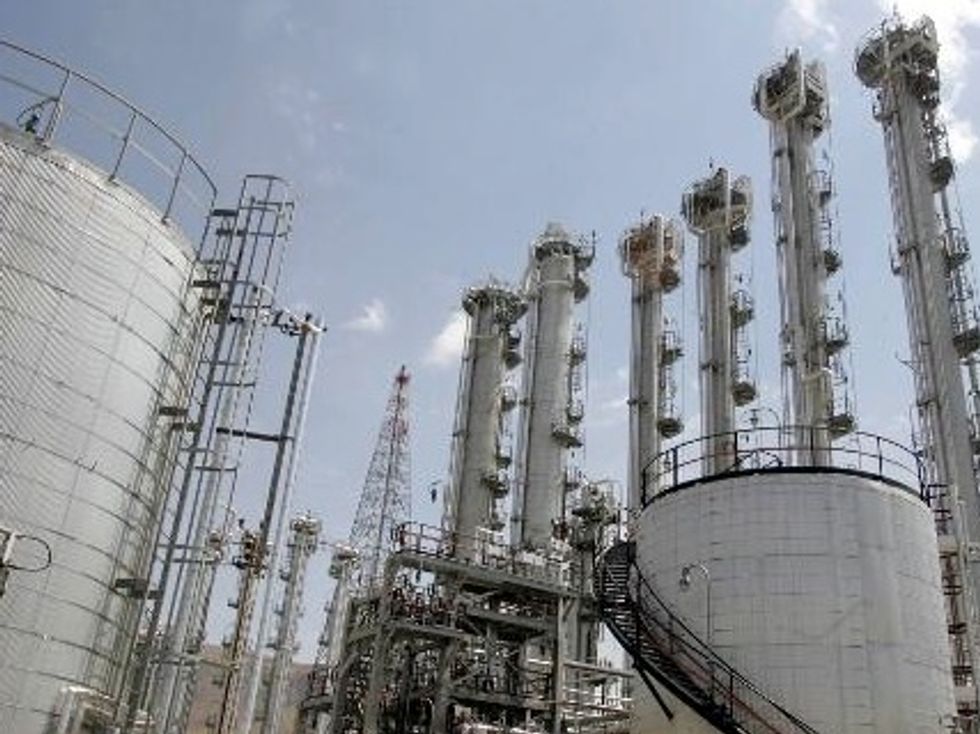 By Stuart Leavenworth, McClatchy Foreign Staff
BEIJING — China and Iran announced this week that they're deepening their military ties, with Tehran going so far as to claim that China now sees Iran as a "strategic partner."
The announcement came as Hossein Dehqan, Iran's minister of defense and armed forces logistics, prepared to conclude a four-day visit Wednesday in Beijing, where he met his Chinese counterpart, Chang Wanquan. It also came amid a clash between the United States and China over alleged assistance by Chinese businesses to Iran's nuclear program.
On April 29, the U.S. State Department issued a $5 million reward for information leading to the arrest and conviction of a Chinese businessman, Li Fangwei, also known as "Karl Lee," who was indicted in 2009 on charges of using U.S. financial institutions to help Iran sidestep U.S. sanctions.
That same day, the U.S. Treasury imposed sanctions on eight of Li's Chinese businesses, an action that prompted a strong response from Chinese officials. Foreign Ministry spokesman Qin Gang said, "China resolutely opposes the U.S. citing domestic laws to unilaterally impose sanctions on Chinese companies or individuals."
Both authoritarian governments, China and Iran share some common interests, including standing up to U.S. influence in the Middle East and Asia. Even so, Sino-Persian relations have wavered over the years, with China helping Iran militarily at times but trying to keep a low profile.
"Too close an association would endanger China's economically vital relationship with the United States," said John Garver, a professor of international affairs at the Georgia Institute of Technology. "There are different voices and views within China about how the close the China-Iran relationship should be, and how much risk would be entailed by cooperating with Iran against the U.S."
China is Iran's largest purchaser of oil and its biggest trading partner, but there have been recent economic tensions between them. Last week Tehran canceled a $2.5 billion deal with a Chinese company to develop the enormous Azadegan oil field in the southwest of Iran. The Chinese state company reportedly had delayed in meeting its contract obligations.
Garver says the warm-up in military ties between the countries might have something to do with the failed oil field contract. "It is not uncommon for China to ratchet up cooperation in some areas when problems arise in others," he said.
Iran's Dehqan arrived Sunday in Beijing, China's Xinhua news service reported Monday. State media ran photos of Dehqan and Chang in uniform, and quoted Chang as saying he's confident that "the friendly relations between the two countries as well as the armed forces will be reinforced."
An Iranian news story went further, attributing a quote that offered a more sweeping description of the relationship to Chang that Chinese state media didn't report.
"Given Iran and China's common views over many important political-security, regional and international issues, Beijing assumes Tehran as its strategic partner," Chang was quoted as saying by Fars News Agency, which is thought to have links with Iran's Revolutionary Guards.
The United States closely watches China's relationship with Tehran, partly because of a temporary deal struck in November that would relieve Iran of about $7 billion in sanctions in return for restraining its nuclear activities. While China publicly opposes any attempt by Iran to develop nuclear weapons, it has a long history of helping Tehran develop its missile systems and nuclear reactors.
(EDITORS: STORY CAN END HERE)
Starting in the 1980s, China assisted Iran with construction of a research reactor and later a uranium hexafluoride enrichment plant. Under growing international scrutiny, China ended direct nuclear assistance to Iran more than a decade ago, but it's allegedly allowed Chinese companies to keep supplying Tehran with restricted materials.
Li, for instance, is accused of supplying Iran with guidance devices that could be used for missiles and high-grade alloys that could be used to enrich uranium. U.S. officials say Li made millions from such sales, a claim that's difficult to verify.
McClatchy was unsuccessful in contacting Li or officials from his main company, LIMMIT, based in the northeastern city of Dalian. But in an interview last year with Reuters, Li denied selling materials to Iran in violation of U.S. sanctions.
"Sure, we did business with Iran, but we did not export the goods they said we did, missiles or whatever," Li said. "We still get inquiries from Iranian clients, but we don't respond to them."
In a commentary Tuesday in China Daily, a leading Chinese academic urged the United States to "stop playing the role of cop" in the Li case. "Sanctions, China insists, can only be legitimate if they are authorized by the U.N.," wrote Wang Honggang, a deputy at the China Institutes of Contemporary International Relations. "One country should not impose sanctions on another just because its domestic law has been violated."
U.S. officials, however, say they'll continue to prosecute individuals and companies that seek to assist Iran with banned materials. "We will continue vigorously to enforce our sanctions, even as we explore the possibility of a comprehensive deal addressing Iran's nuclear program," Treasury Undersecretary David Cohen said in a statement last week.
U.S. prosecutors stand little chance of bringing Li to justice, according to one legal expert McClatchy contacted. The United States doesn't have an extradition treaty with China, and while facing charges Li is unlikely to travel to a country where he'd risk arrest and extradition.
While China could take steps on its own to arrest Li, "I expect that China does not want to set a precedent of handing one of its nationals over to U.S. authorities for prosecution," said Margaret Lewis, an extradition expert and professor at the Seton Hall University School of Law.
AFP Photo/Atta Kenare