China July Exports, Imports Unexpectedly Jump
@AFP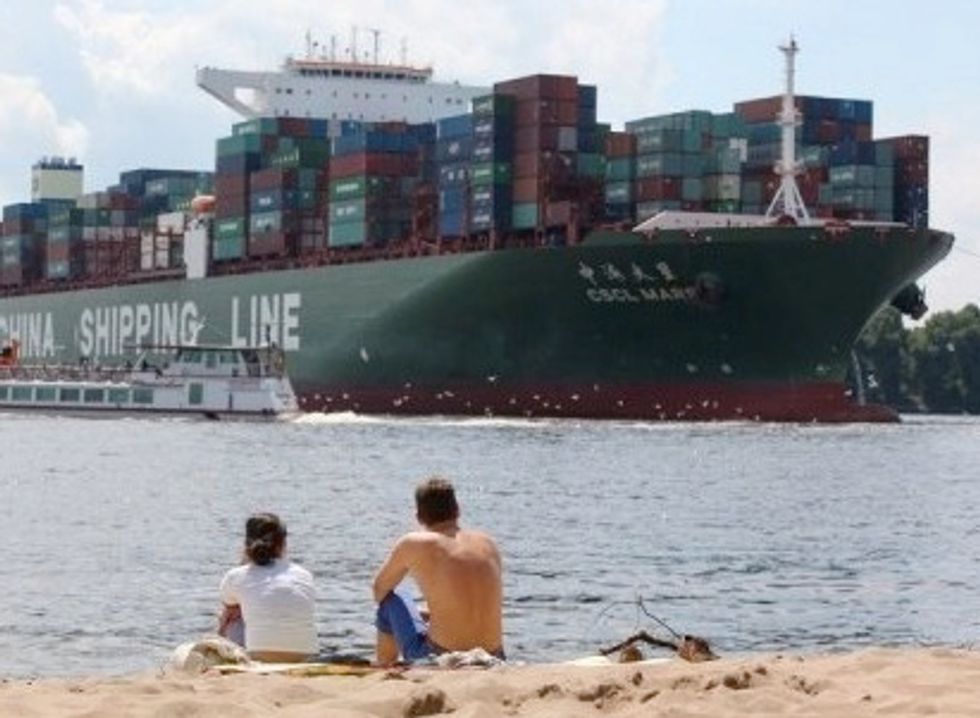 BEIJING, China (AFP) – China's imports and exports showed an unexpected jump in July, government data showed Thursday in a positive sign for the world's second-biggest economy after persistent weakness raised concerns over growth.
Bigger-than-expected gains in imports outpaced those of exports, causing the overall trade surplus to fall 29.6 percent year-on-year to $17.8 billion, Customs announced.
Analysts saw the trade data as largely positive after mixed messages last week when private and official surveys of the country's important manufacturing sector showed contradictory results.
China's economy — seen as a potential driver of global recovery — recorded its worst performance in 13 years in 2012, with gross domestic product expanding 7.8 percent.
Analysts had expected a rebound this year, but growth dipped to 7.7 percent in the January-March period and slowed further to 7.5 percent in the second quarter. Several other statistics have also indicated weakness.
Beijing is attempting to rebalance the Asian giant away from reliance on investment and exports and towards consumer spending as the main driver for growth.
The trade figures marked a rebound after exports and imports both declined in June, with the gain in imports being the first since April.
Exports increased 5.1 percent year-on-year to $186.0 billion, while imports rose 10.9 percent to $168.2 billion, the data showed.
Two-way trade rose 7.8 percent year-on-year, slightly lower than the government's eight percent target for this year but "showing a stabilising and recovering trend", according to Customs.
The figures surprised analysts.
A survey of 14 economists by Dow Jones Newswires had forecast exports to gain a median 2.8 percent and imports to rise 1.3 percent. The median prediction for the trade surplus was $27.2 billion.
Alaistair Chan, an economist at Moody's Analytics, called the results surprisingly good, though cautioned against overoptimism.
"We had expected imports to perform better than exports and hence for the trade surplus to fall, but the jump in imports was higher than expected," he wrote in a report.
But he added: "July seems to reflect a return to a 'normal', relatively uninspiring trend after a weak June, rather than the beginning of an acceleration in growth. While the worst seems to be over, the upturn will be relatively flat."
Yao Wei, a Hong Kong-based economist with Societe Generale said that while the export growth was "reasonable" and reflected a stabilising yet weak foreign demand, the rebound in imports was "confusing".
"Even though the government had announced some supportive measures, they should not show effects so soon — the fundamentals in the economy did not support such a strong rebound," she told AFP.
Last week, British banking giant HSBC's purchasing managers' index indicated contraction in China's manufacturing sector, while the government's showed a surprise expansion.
Yao warned that uncertainties would remain in the fourth quarter as authorities turned cautious about credit expansion.
"The key issue is that the central bank does not want credit growth to be too fast or continue for too long a time," she said.
"But infrastructure investment cannot carry on without credit support. This is a contradiction that has yet to be dealt with properly."
Economists at Nomura International in Hong Kong said the data suggested that growth, despite recent tightened credit conditions in China, "may remain resilient in the short term", though beyond that the outlook was less positive.
"We do not expect this bounce-back to be sustainable," they wrote in a report. "We continue to expect growth to fall below 7 percent in 2014."
Photo Credit: AFP/Bodo Marks