China To Parade High-Tech Weaponry In Signal Of Strength, And Shop Window
@reuters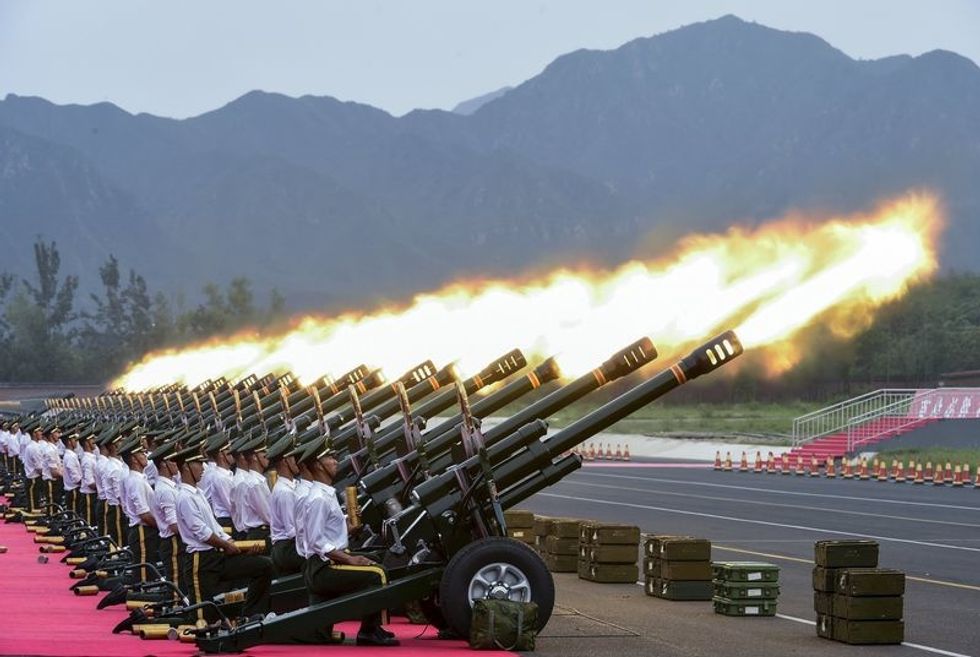 By Megha Rajagopalan
BEIJING (Reuters) – From ballistic missiles to fighter jets, China has rolled out a host of high-tech weaponry ahead of a parade next week commemorating victory over Japan in World War Two, in a signal of Beijing's growing confidence in its military might.
China has poured capital into developing its home-grown weapons industry with an eye toward export markets as it projects greater military power in disputed waters in the South and East China Seas.
Qu Rui, a military official and deputy director of the office organizing the parade, says all the weapons and equipment on show would be Chinese-made, 84 percent shown for the first time. "They represent the new development, new achievements and new images of the building of the Chinese armed forces," he said at a recent briefing.
Chinese officials have repeatedly said the military parade is not directed at any other country, but diplomats and experts say countries with which Beijing has territorial disputes, including Japan, the Philippines, Vietnam, Malaysia and Brunei, may react with uneasiness to the broad display of military power.
"It's possible that Japan and Southeast Asian countries will interpret this as a kind of warning to them," said Xie Yue, a political scientist at Tongji University. "I can't say whether that's warranted or not."
State media has reported that the parade, which involves more than 10 foreign military delegations including Russia, is the first in which China has showed off such a broad array of weapons.
BIGGEST DISPLAY YET
Qu said 12,000 Chinese troops would take part, along with 500 pieces of equipment and nearly 200 aircraft. Air echelons on display will include bombers, fighters and carrier-based aircraft.
Several ballistic missiles – including one that analysts say is capable of reaching a U.S. base in Guam – were spotted during parade rehearsals, Shao Yongling, a senior colonel from the PLA Second Artillery Command College, told the state-owned Global Times newspaper.
The Second Artillery Force, the nuclear force, is set to display seven types of missiles including conventional and nuclear models, the official Xinhua news agency reported, citing unnamed military sources. "The scale and number of missiles will surpass any previous outing," the source told Xinhua.
The parade will also involve modern tanks and missile-launchers, state media has reported. An upgraded long-range bomber will also be on display, flying in formation over Beijing's Tiananmen Square on Thursday, a leading pilot of the formation told Xinhua.
The latest version of the J-15 aircraft carrier-based fighter jet has also been seen in rehearsals, Beijing-based air defense expert Fu Qianshao told the Global Times. Medium-sized early warning and control aircraft, used for surveillance and other missions, will lead ten formations at the parade.
A formation of military helicopters flew over Beijing during a parade rehearsal last weekend as tanks rolled through parts of the capital.
Sino-Japan relations have long been affected by what China sees as Japan's failure to atone for its occupation of parts of China before and during the war. Western and Chinese historians estimate millions of Chinese civilians were killed.
Jack Midgley, a defense expert at Deloitte, said next week's parade was not necessarily meant to send a message to the West or other countries in the region.
"It's to demonstrate China has achieved first-world status with its military, and to display its products for foreign buyers," he said, adding much of the weaponry will already be familiar to foreign military analysts and intelligence services.
(Reporting by Megha Rajagopalan; Editing by Ian Geoghegan)
Photo: Paramilitary policemen and members of a gun salute team fire cannons during a training session for a military parade to mark the 70th anniversary of the end of the World War Two, at a military base in Beijing, China, August 1, 2015. China will hold the parade on September 3, Picture taken August 1, 2015. (REUTERS/Stringer)