'Chocolate King' Is Landslide Winner In Ukraine, Rejects Annexation Of Crimea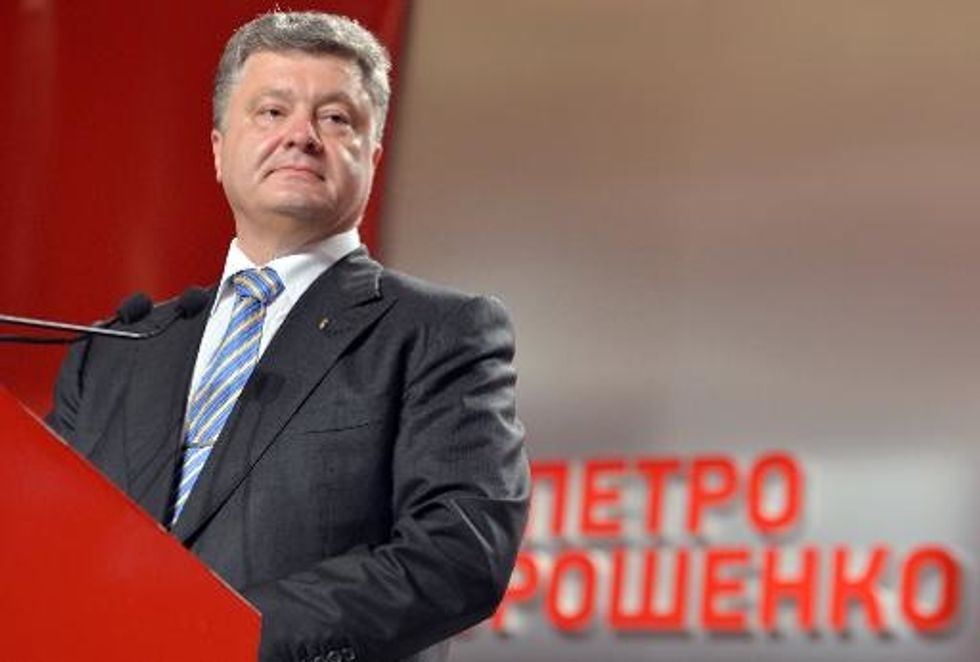 By Roy Gutman, McClatchy Foreign Staff

DONETSK, Ukraine — Ukrainians on Sunday appeared to have chosen Petro Poroshenko, the billionaire "Chocolate King," as their first president since a pro-European revolution ousted pro-Russian President Viktor Yanukovych.
Exit polls showed Poroshenko winning at least of 55.9 per cent of the vote, a result that if confirmed by the official count would be landslide over Yulia Tymoshenko, the former prime minister, in a field of 19 candidates. With Poroshencko winning an absolute majority of the votes, there will be no need for a second round.
Tymoshenko, who the exit polls gave at most 12.8 per cent of the vote, conceded defeat. She declared the outcome "democratic," indicating that she will not contest it.
Poroschenko said in Kiev that his first action as president will be to visit the embattled eastern Ukrainian area know as Donbas, where armed separatists, with the backing of neighboring Russia, have seized police stations, staged a referendum and declared "people's republics."
Central authorities in Kiev called off the vote in Donbas' main centers of Donetsk and Luhansk, angering voters who went to polling stations to register their support for a united Ukraine. But they allowed it to go forward in Mariupol, a major Donbas city, and smaller towns and villages.
Poroshenko also promised talks with Russia, whose president, Vladimir Putin, recently referred to eastern and southern Ukraine as "Novorossiya" or "New Russia," implying designs on the region after Russia's annexation of Crimea in March. (The two people's republics announced Saturday they were uniting under the name "Novorossiya.")
"Russia is our neighbor. Relations with the Russian Federation have assumed the greatest importance over the past 200 years," Poroschenko said. "I am convinced that we can hold talks" with Russia, he said, stipulating that the U.S. and European Union must also take part in talks. "We have much to discuss," he added.
But he stressed that Ukraine will never recognize the "illegitimate referendum" in Crimea and what he termed Russia's "occupation."
President Barack Obama called the election "another important step" in Kiev's efforts "to unify the country and reach out to all of its citizens." He noted that in parts of eastern Ukraine, "some courageous Ukrainians still were able to cast their ballots. "
But the polls never opened in Donetsk and Lugansk, where armed separatists stalk the streets in balaclavas.
"Kiev decided that we would not open the polls in Donetsk because of threats against voters," said Maxim Rodinsky, press secretary of the city administration, which the "Donetsk People's Republic" hopes to supplant.
Would-be voters traveled from throughout the city of 950,000 to Donetsk's airport after media reports Friday that a polling station would be set up there for those who couldn't vote in their home districts. But the airport authority, fearing violence, asked that the plan to be canceled. A flag of the "Donetsk People's Republic" hangs over the outside entrance to the departure hall.
Like many others, Klavdia Matveevna Stovbchotaya, 80, went from one school to another, hoping to vote. "I went to School Number 45 in Lenin Street, also to School 34," she said. "Everything is closed. The directors of our schools are afraid of everything."
"I am very angry I cannot vote," said Max Smaga, a computer programmer who's had to quit work because of clashes on the highway to work. "We are Ukrainians. We want to live in this country. It is our motherland."
"I want to vote, because I want to live in a united Ukraine," said Natalia Urievna Sedova, 56. "To vote is your duty."
The decision by the central government led major monitoring bodies to pull out, starting with the intergovernmental Organization for Security and Cooperation in Europe. "What are we going to observe?" Gisella Matthei of the OSCE said. "We decided to withdraw Friday night. It's too dangerous."
The last monitoring group to leave was the nongovernmental Committee for Open Democracy, based in Bradenton, Fla. "We were being followed," said John Mraz, its spokesman. "And we listened to intelligence services, who said we were being watched."
Hooded "people's republic" gunmen ordered him repeatedly to put away his camera, and threatened him with a switchblade knife and a gun. He recalled walking down a side street with members of his group and running into around 30 men in balaclavas, carrying bats and other weapons.
In Odessa in the country's west, where violence in early May claimed the lives of 48 people, elections proceeded without any serious problems.
That was also true in some parts of eastern Ukraine, though voter turnout reportedly was low.
The big surprise was Mariupol, a city of a half million south of here where "people republic" gunmen seized a building and brought in mortars, rocket-propelled grenades and assault rifles just a few blocks from the regional election headquarters and a polling station.
"There were no incidents, not only at our polling station but also in the whole city," said Igor Anatolievich Shevchenko, chairman of Polling Station 14. But he said the turnout was just 10 per cent — well be the 50 per cent or more for the whole of Ukraine.
He also worried that they were not yet out of the woods.
"We still have all night to get (the results) ready — and to be scared."
In Tel'manovo, a village visited by McClatchy on Saturday, a local administration official who spoke on the condition of anonymity said the election had gone smoothly. "We had no cases of attack, provocation, threats, etcetera.," he said. "Everything is all right. Only one thing is bad — the very low level of participation."
But in Novoazovsk, a town of 30,000 where the "People's Republic" flag hangs just below the flag of Ukraine, elections could not be conducted, because no one delivered the ballots, officials said.
Poroshenko has been a minister of trade and foreign affairs in past governments, speaks English, and has a low-key manner. The big question when he takes office is how he will manage to hold Ukraine together and cut corruption that has impoverished the countryside, particularly the Donbas region.
He must also rebuild a police force that in the east has been an enabler for the pro-Russian forces and reconstruct a military force that has proven to be ill-trained, ill-equipped and lacking the leadership to defend the country.
The "people's republics" meanwhile are expanding their grasp of the east. On Saturday, several thousand marched on the home of Ukraine's richest man, Rinat Akhmetov, threatening to burn it down. Akhmetov, who employs 300,000 people in his factories and mines, has denounced the uprising and called on his employees to rally against them.
But in pollution-plagued Mariupol, where he has major holdings, employees, complaining about poor pay and working conditions, have declined to participate in the midday protests — a sign that the region's population remains divided.
AFP Photo/Sergei Supinsky