Chris Christie Is Quickly Becoming The New Mitt Romney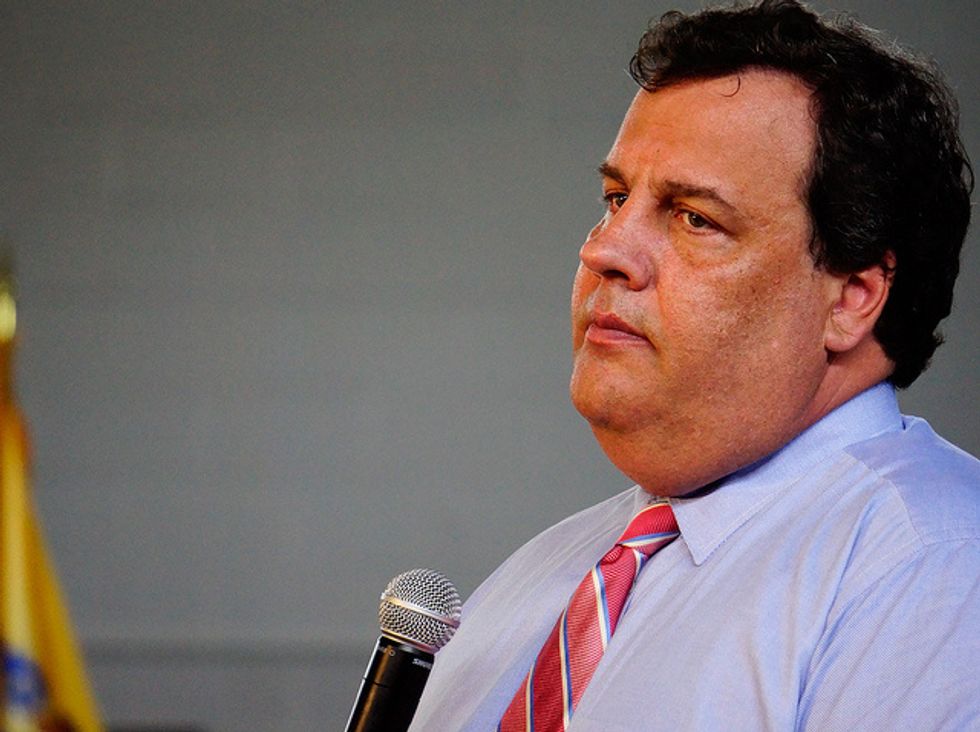 Republicans spent most of 2011 pretending that Mitt Romney wouldn't be their nominee for president. And when the 2012 primaries began, they did everything they could to damage their nominee before he could get to the general election.
The race for the 2016 GOP nomination is starting to hint at a remarkably similar shape.
Governor Chris Christie (R-NJ), fresh off his landslide re-election, is leading the pack of contenders to represent the Republican Party in the next presidential election. With 24 percent of the vote, he's ahead of Senator Rand Paul (R-KY) at 13 percent, Rep. Paul Ryan (R-WI) at 11 percent and Senator Ted Cruz (R-TX) with 10 percent in a new CNN poll. Senator Marco Rubio (R-FL) and Governor Rick Perry (R-TX) round out the frontrunners.
Like Romney and unlike his competitors, Christie has never been "a Tea Party favorite." And with a little less than half of Republican primary voters not identifying with that movement, the governor is fighting for one half of the base as his several opponents wrestle for the other.
The Tea Party's big mistake was not uniting behind any one candidate after Rick Perry's debate performances disqualified him. Instead, they fled from Not-Romney to Not-Romney, disparaging their eventual nominee's key legislative accomplishment and business record as one candidate after another failed to dethrone him.
With so many heroes of the Tea Party movement in the running, it appears that history could be on repeat. The New Republic's Nate Cohn suggests that Governor Scott Walker (R-WI) could be the candidate to unite the party — even if he isn't even cracking the top six in the CNN poll. Much of Walker's appeal will depend on how badly the GOP wants a Non-Christie.
The current governor of New Jersey has some decided advantages over the former governor of Massachusetts, even if their first terms were both marked by marginal economic gains.
First of all, Christie was re-elected in a blue state — a feat that Romney didn't even attempt to complete, after winning election with less than 50 percent of the vote.
The Garden State's governor is a natural, possibly even a Clinton-esque, campaigner who knows when to triangulate against both sides of the aisle. He — like George W. Bush before him — feels confident in running against an unpopular Congress, even if his party controls the bottom house. And he has never been pro-abortion rights, though his dabbling in gun control may put a similar crack in his conservative credibility.
Christie wasn't the godfather of Obamacare — but he did split the health reform baby by accepting Medicaid expansion while refusing to build a health care exchange for his state.
As the governor's frontrunner stance firms, the attacks on him will grow more severe. Already he's facing questions about his lobbying activities, which include slight connections to Bernie Madoff, and conservatives are blasting him for "bizarre behavior," such as possibly not supporting the opponent of Governor Andrew Cuomo (D-NY) even as Christie serves as the chairman of the Republican Governors Association.
Republicans only united around Mitt Romney after they failed to destroy him. The question now is whether they'll make the same mistake twice.  And if Christie succeeds in uniting the party, then the question becomes if he'll continue to follow Romney's flip-flopping path of not revealing what he actually feels about immigration reform until he loses the presidency.
Photo: Bob Jagendorf via Flickr