Chris McDaniel May Fight Mississippi GOP Senate Primary Loss In Court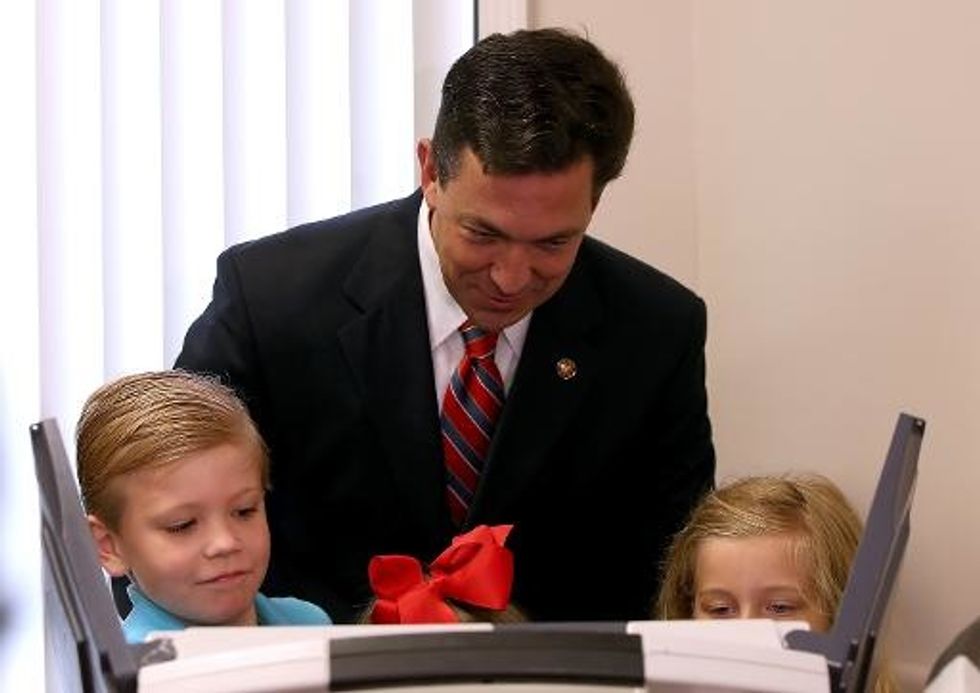 By Lisa Mascaro, Tribune Washington Bureau
WASHINGTON — Sen. Thad Cochran's comeback victory in Mississippi's Republican Senate primary hardened the differences between the GOP's Tea Party and establishment wings Wednesday, raising the threat that the bitterness of the last several months of campaigning could extend into the fall's general election.
Cochran's Tea Party challenger, Chris McDaniel, has refused to concede and in a statement Wednesday afternoon did not rule out the possibility of taking his case to court.
McDaniel and many of his supporters are incensed that Cochran achieved his victory in part by winning votes from Democrats, who were able to take part in the contest because of the state's open primary law.
Turnout in Tuesday's runoff was 67,000 votes higher than in the first round of voting earlier this month — a rare occurrence. Some of the biggest increases came in heavily black — and Democratic — areas, particularly in and around Jackson, the capital, and in smaller communities in the state's Delta region.
"If our party and our conservative movement are to coexist, it is paramount that we ensure the sanctity of the election process is upheld," McDaniel's statement said. "We must be absolutely certain that our Republican primary was won by Republican voters.
"In the coming days, our team will look into the irregularities to determine whether a challenge is warranted," the statement said. "After we've examined the data, we will make a decision about whether and how to (proceed)."
Establishment GOP figures praised Cochran's victory as an indication of an inclusive campaign. One of the architects of the strategy, Henry Barbour, the nephew of former Mississippi governor and Republican Party Chairman Haley Barbour, said Cochran's outreach to Democrats was "good for the party" — a way to broaden the GOP's shrinking base of older, white voters.
Sen. Lindsey Graham (R-S.C.), noted that "receiving African-American votes in the Republican primary is no easy thing" and said that "Republicans should celebrate the fact that African-Americans felt good enough about a Republican to think he's a fair man."
"If we start making that a bad thing, we'll be the authors of our own doom," Graham said.
But Tea Party activists derided the tactic as a sellout of conservative principles.
"This might be the moment the establishment GOP … died," said Adam Brandon, executive vice president of the Tea Party group FreedomWorks, which had dozens of volunteers in Mississippi.
"Our base is like, 'Seriously? You turned to Democrats to win?'"
Willie Simmons, a black Democratic state senator who stumped for votes for Cochran in his Delta-area district, said it was unclear whether the Democrats who helped propel Cochran to victory this week would vote for him again in the fall.
"Many of the individuals who voted for Sen. Cochran yesterday had good intentions, wanting to make sure he survived this particular fight," Simmons said.
Cochran's long history of supporting community health centers, Head Start preschool programs, and a historically black college in the Delta made his appeal an easier sell to Democratic voters, he said.
But, Simmons added, "you will find many individuals who supported him yesterday will go back home, do an assessment, look at the two candidates, will very well go back for the Democratic nominee."
Some figures in both parties have suggested that the GOP's internal division could give the Democratic Senate candidate, Travis Childers, a chance at winning the general election in November.
"The math's in our favor," said Rickey L. Cole, chairman of the Mississippi Democratic Party.
But establishment Republicans dismissed that idea, saying that they expect cooler heads would prevail once Tea Party activists recovered from the sting of the loss and returned their attention to the GOP's main goal of taking control of the Senate from Democrats this fall.
Childers, a conservative former congressman, has struggled to raise campaign funds and is running in a state that has not elected a Democratic senator since 1982.
"It'll take a while for us to heal the wounds from a very spirited primary, and we'll do that," said Mississippi's other Republican senator, Roger Wicker.
But McDaniel so far has shown no sign of backing away from the angry stand he took on election night.
"There are millions of people who feel like strangers in their own party," McDaniel said in a speech Tuesday in which he refused to concede the race. "So much for principle."
AFP Photo/Justin Sullivan
Interested in U.S. politics? Sign up for our daily email newsletter!