Former Christie Allies Convicted In N.J. 'Bridgegate' Trial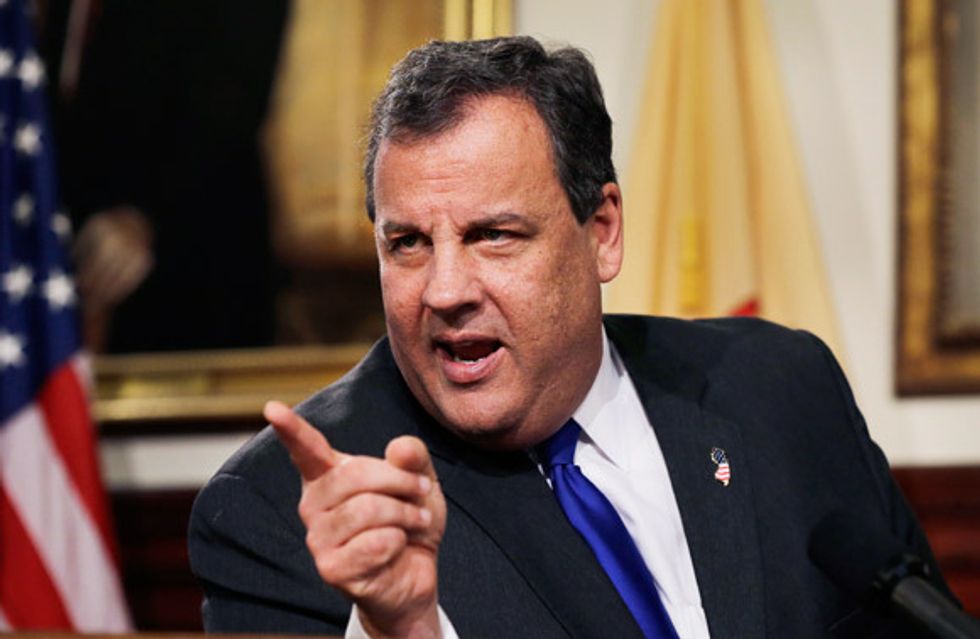 NEW YORK (Reuters) – Two former allies of New Jersey Governor Chris Christie were convicted on Friday for their roles in the "Bridgegate" lane closure scandal, following a six-week trial that served to further tarnish the Republican's damaged reputation.
Bridget Kelly, the governor's former deputy chief of staff, and Bill Baroni, former deputy executive director of the Port Authority of New York and New Jersey, were found guilty in Newark federal court on all counts, the U.S. Attorney's office in New Jersey said on Twitter.
Kelly and Baroni were convicted of fraud, conspiracy and depriving the residents of Fort Lee, New Jersey, of their civil rights.
Christie, who has repeatedly denied any advance knowledge of the scheme, is a top adviser for Republican presidential candidate Donald Trump.
"Let me be clear once again, I had no knowledge prior to or during these lane realignments, and had no role in authorizing them," Christie said in a statement following the verdict.
"Anything said to the contrary over the past six weeks in court is simply untrue."
The scandal has dogged Christie, once seen as a rising political star and a potential presidential nominee before his campaign for the White House failed this year.
The two officials were accused of shutting down access lanes at the George Washington Bridge in September 2013 in Fort Lee, New Jersey, creating a massive days-long traffic jam to punish the town's mayor, Mark Sokolich, for declining to endorse Christie's reelection campaign.
The bridge, which connect New Jersey to Manhattan, is one of the country's busiest.
Lawyers for Kelly and Baroni vowed to appeal.
"This is not over," Michael Critchley, Kelly's lawyer, said outside the courthouse, with his arm around a weeping Kelly. He said the judge had erred during jury instructions.
Defense lawyers were furious when U.S. District Judge Susan Wigenton told jurors during deliberations in response to a question that they could convict Kelly and Baroni on conspiracy even if the act itself was not "intentionally punitive toward Mayor Sokolich."
Wigenton said prosecutors did not have to prove motive, even though their case had revolved around the political retribution.
"By answering the way you're answering, you're directing a verdict of guilty," an angry Critchley told Wigenton on Tuesday.
Baroni's lawyer, Michael Baldassare, told reporters on Friday the case was a "disgrace" and said the conviction would be overturned.
"I am innocent of these charges," a smiling Baroni said.
Kelly and Baroni's co-conspirator, former Port Authority official and confessed mastermind David Wildstein, pleaded guilty and appeared as the government's star witness, detailing how the three schemed to pay back Sokolich, a Democrat.
But Wildstein also implicated Christie, saying he and Baroni discussed the lane closures with the governor while they were ongoing. Christie, Wildstein testified, laughed at the notion that Sokolich was frustrated by the traffic.
At the time, Christie was eyeing a presidential run, and his aides believed that securing the backing of Democratic officials would burnish his national reputation, according to trial testimony.
Kelly, who took the stand in her defense, testified she had discussed the lane closures with Christie a month beforehand, though she said she thought at the time they were part of a legitimate traffic study.
Legal experts have said it is unlikely Christie would face any criminal consequences based on the trial testimony.
Kelly and Baroni's lawyers argued that Wildstein had orchestrated the plot himself and told them he was conducting a traffic study. Wildstein said on the stand the three of them knew all along that the study was a bogus cover story.
Prosecutors showed jurors numerous exchanges that Kelly and Baroni each had with Wildstein, who operated as a liaison between Baroni at the Port Authority and Kelly in the governor's office.
Those included Kelly's now-infamous email to Wildstein that prosecutors said launched the scheme, in which she wrote, "Time for some traffic problems in Fort Lee."
(Reporting by Joseph Ax; Editing by James Dalgleish)
IMAGE: Peter Stevens via Flickr