Christie Is Heading Back To Iowa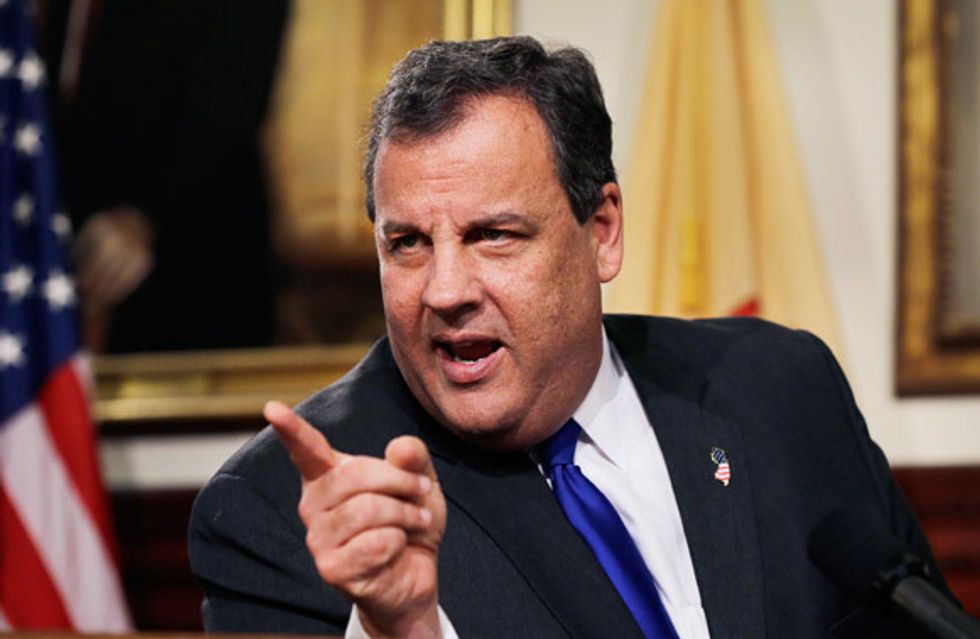 By Melissa Hayes and Charles Stile, The Record (Hackensack, N.J.)
TRENTON, N.J. — New Jersey Gov. Chris Christie goes to Iowa Thursday for another trip to the home of the earliest 2016 presidential contest, presenting himself to potential voters there after a series of actions as governor on issues from gun control to education reform that may improve his appeal with conservatives.
During an event in New York on Wednesday, Christie again denied that this trip has anything to do with presidential politics and he chided other possible Republican hopefuls who appeared to be running early campaigns by saying they had to do so because they lacked name recognition.
Christie aides acknowledged that they knew this trip would only increase the presidential talk about the two-term Republican governor who is battling the George Washington Bridge scandal. But the aides insisted that the Christie political team was not using this trip as a testing-of-the-waters strategy.
Republicans in Iowa say they want to hear from Christie directly, and they likely will get that chance at an event giving Christie the opportunity to display his ability to personally engage audiences and argue to them that the bridge scandal is behind him.
"It's easy for him to get on TV and wax poetic, what he wants to do for the country … but in Iowa, we like the one on one," said Chelle Adkins, a member of the Iowa Republican state committee. "We want to walk up to you and tap you on the shoulder and say, 'Hey, I have a question.'"
Christie plans to attend events for Iowa House Speaker Kraig Paulsen and Gov. Terry Branstad, both of whom are running for re-election. And there will be an opportunity to connect with voters with a stop at MJ's Restaurant in Marion and "An Evening at the Fair" fundraiser for Branstad at the Mississippi Valley Fairgrounds, which has lower ticket prices to encourage all levels of donors to attend.
"He needs to use this event to rebrand himself, reintroduce himself to Iowa voters," said Craig Robinson, who runs a popular conservative Republican website in Iowa.
This month Christie vetoed a Democratic bill that would have reduced the state's ammunition limit in gun magazines from 15 to 10 bullets. He's continued to push for additional changes to public employee pensions. And during an event in Nashville, Tenn., last week, he said Republicans shouldn't stop arguing against same-sex marriage — even though it is now legal in New Jersey.
This week Christie announced the creation of a commission to look at the effectiveness of school standardized tests in the state, and he rolled back — from 30 percent to 10 percent — the impact student performance on those tests would play in teacher evaluations this year.
The governor had been supportive of the new academic standards, called Common Core, which come with new testing metrics. Political conservatives have been pressuring state leaders to oppose the standards, which they believe represent a government intrusion into the classroom.
Christie isn't the only potential GOP presidential contender spending time in Iowa this summer. On Saturday, Texas Gov. Rick Perry will headline the North Iowa Conservative Event. Early next month, Kentucky Sen. Rand Paul will attend events for the Cerro Gordo County Republican Party and the Westside Conservative Club. There also are five potential candidates participating in the conservative Family Leadership Summit in Iowa on Aug. 9 — Louisiana Gov. Bobby Jindal, Sen. Ted Cruz of Texas, Perry, former Sen. Rick Santorum of Pennsylvania, and former Arkansas Gov. Mike Huckabee.
Christie maintained Wednesday that his trip has nothing to do with whether he's leaning toward running in 2016.
"I'm not leaning in any way because I'm not giving it a lot of thought at the moment," Christie said Wednesday. "I'm chairman of the Republican Governors Association, my job is to represent the governors, if I can."
Christie sat down Wednesday with John Harwood, chief Washington correspondent at CNBC, for a question-and-answer session at the annual Delivering Alpha Conference, a gathering in New York City of hedge-fund titans organized by CNBC and Institutional Investor.
When Harwood pointed out to Christie that with 2014 halfway over, other Republican contenders are taking steps toward running, the governor said he wasn't concerned.
"The folks who are leaning or actually doing stuff right now are oftentimes folks who people don't know all that well," he said. "I suffer from a lot of things; that's not one of them, so I'm in no rush to make those decisions."
The remark might have been a dig at Jindal, a presidential hopeful and vice chairman of the Republican Governors Association, who recently took an indirect jab at Christie when he told Time magazine that the 2016 race should be focused on policies and not personalities. Santorum narrowly won the Iowa Republican caucuses in 2012 but lost the presidential nomination to Mitt Romney, whom he later endorsed. Huckabee ran unsuccessfully for president in 2008 and won the Iowa GOP caucuses that year.
Christie said Wednesday that he is considering running and would decide later this year or early next year, but not before the midterm election in November, when 36 gubernatorial seats are up for grabs.
Next week the governor plans to hold a town hall event at Long Beach Island to continue his call for pension reforms. It will be his first "No Pain, No Gain," conversation at the Jersey Shore. Christie was scheduled to have a similar event in Long Branch on Tuesday but it was canceled due to severe thunderstorms.
Photo: Peter Stevens via Flickr
Interested in U.S. politics? Sign up for our daily email newsletter!