Christie Political Team Is Raising The Stakes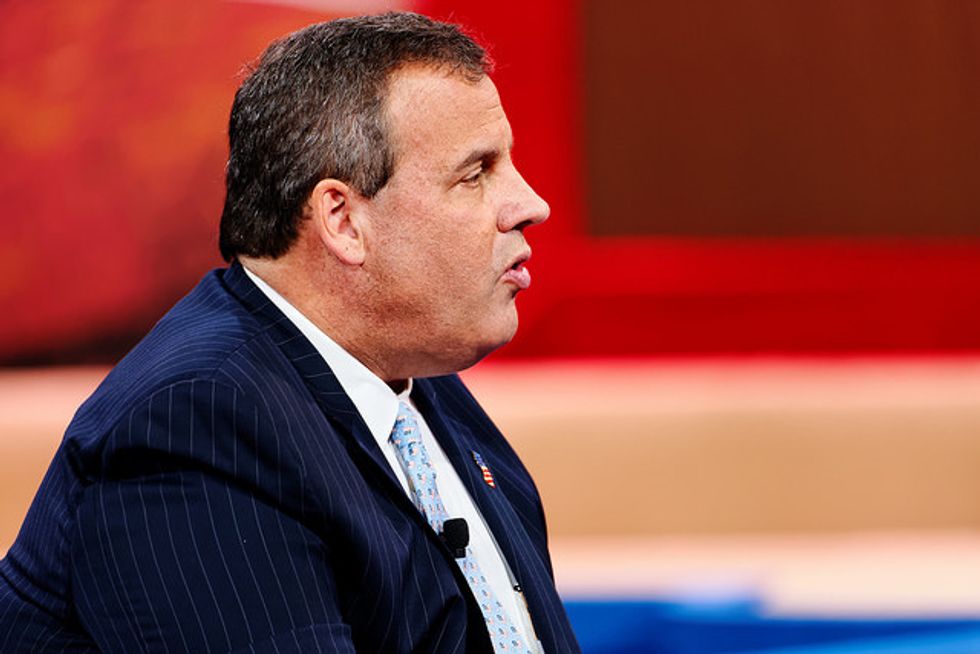 By Melissa Hayes, The Record (Hackensack, N.J.) (TNS)
TRENTON, N.J. — For months, deep-pocketed donors have had a place to send unlimited contributions to Jeb Bush and to Scott Walker.
Those who similarly wanted to support New Jersey Governor Chris Christie, who's falling behind his GOP rivals in the race for money as well as in the polls, have not. But Christie's political team announced on Thursday that it is catching up.
It has hired three veterans of former President George W. Bush's 2004 re-election campaign as well as seasoned fundraisers with ties to Christie, and has unveiled a super PAC, America Leads, that will begin accepting unlimited sums in support of Christie's likely presidential bid.
A key figure now in the mix is Phil Cox, who served as executive director of the Republican Governors Association, which raised $106 million when Christie was the group's chairman last year.
The announcements come just a few weeks before the April 15 deadline for committees to report on fundraising with the Federal Election Commission.
Those filings will show how Christie is stacking up against other potential candidates for the 2016 Republican nomination, including Jeb Bush, a former Florida governor, and Walker, the Wisconsin governor. Both have been gaining in recent polls.
"In a competitive Republican primary the initial fight is over the support of the party's mega donors," said Ben Dworkin, director of the Rebovich Institute for New Jersey Politics at Rider University. "You need a PAC and a SuperPAC and top people running each of them in order to get their support because all of them are being courted by your opponents.
"If you don't show the same desire and organization to get up and running," he continued, "they may well think that you're not ready to move ahead. So you have to move quickly."
Michael DuHaime, Christie's top political strategist, confirmed that Leadership Matters for America, the political committee that's hiring staff and raising money to finance the governor's travel as he considers running, hired Cary Evans, a regional political director on former President George W. Bush's 2004 campaign who has a lot of experience working in Nevada; Brian Jones, a former communications director for the Republican National Committee who worked on the last three Republican presidential campaigns; and Kevin Shuvalov, who worked for Bush in Iowa in 2000 and 2004.
The SuperPAC was established on Feb. 23 and has a Virginia mailing address, according to paperwork filed with the Federal Election Commission by Timothy Koch, a partner at Koch & Hoos, a political accounting and compliance firm.
Cox is serving as the SuperPAC's director. Paige Hahn, a former finance director at the Republican Governors Association, is the group's finance director, and Meredith O'Rourke, finance director of Florida Governor Rick Scott's campaign, is working as a fundraising consultant.
Cox said he got to know Christie through his work at the RGA last year when there were 36 gubernatorial contests.
"I worked closely with Governor Christie at the RGA and saw firsthand what a strong, effective leader he is for both our party and our nation," Cox said in a statement. "I've established this Super PAC because it's time for America to lead again, and I believe Governor Christie is exactly the kind of strong leader we need at this critical point in our nation's history."
The Wall Street Journal first reported the creation of the SuperPAC and new staff hires on Thursday, the same day Bloomberg News reported it had a list of 41 people who have donated to Leadership Matters for America.
Bloomberg did not have the amounts contributed, but donations to that committee are capped at $5,000 under campaign finance laws.
Among those who contributed are the Texas oilman Al Hill Jr., whose family inspired the television show Dallas, and the St. Louis financier Jeffrey Fox, son of an ambassador in President George W. Bush's administration, according to Bloomberg. Other donors include Jim Klote, a fundraiser for Mitt Romney's 2012 presidential campaign; New York investor Nick Loeb; and Greg Brown, chairman of the Rutgers board of governors and CEO of Motorola Solutions, according to the report.
Christie's positive ratings have plunged in New Jersey, and he had one of the lowest ratings among GOP presidential hopefuls in a recent Wall Street Journal/NBC News poll. It found that 57 percent of Republican primary voters said they could not vote for Christie for president, compared with 32 percent who said they could. In terms of voter support, Christie ranked 11th out of 14 potential GOP candidates. Florida Senator Marco Rubio had the highest number of GOP voters who said they could back him, 56 percent compared with 26 percent who said they could not. He was followed by Walker, with 53 percent saying they could vote for him and 17 percent who said they could not.
DuHaime said that Leadership Matters for America has held several successful fundraisers in New York, Connecticut, Florida and California and that more are planned in the coming weeks.
"Fundraising is going very well," he said. "Governor Christie is attracting financial support from prominent leaders all around the country."
The committee is holding a breakfast with Christie in Bernardsville, N.J., on Monday for a small group of so-called bundlers, who commit to raising $25,000 to $100,000 before the end of the month. Bundlers are fundraisers who can gather contributions from many individuals and present that sum to a campaign.
The Texas real estate developer Ray Washburne, who is serving as Leadership Matters' finance chairman, is holding an event for Christie in Houston this month, and another fundraiser in Philadelphia on March 25 is being hosted by U.S. Rep. Pat Meehan (R-PA), and Bob Asher, a Republican National Committee member from Pennsylvania, DuHaime confirmed.
Ken Langone, the billionaire co-founder of Home Depot who has been urging Christie to run since 2011, hosted a meet and greet in Jupiter, Fla., on Wednesday to introduce the governor to potential supporters. Langone hosted a similar event in New York City earlier this year, though neither event was a fundraiser.
Photo: Michael Vadon via Flickr