Christie Puts His Political Career On The Line As He Apologizes For Bridge Scandal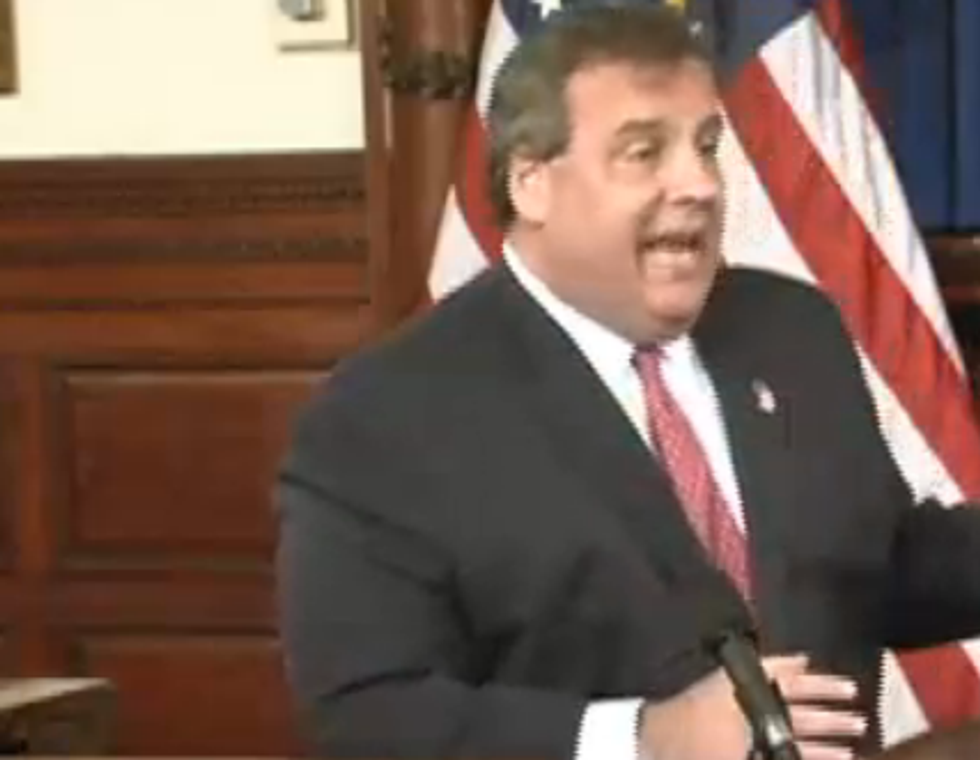 New Jersey governor Chris Christie put his political career on the line on Thursday by claiming that he had no knowledge of any political motivation behind the closure of lanes on the George Washington Bridge.
"I am embarrassed and humiliated," he said at a press conference at the state Capitol in Trenton. He went on to announce that he had dismissed his deputy chief of staff, Bridget Kelly. In the emails that became public on Wednesday, Kelly wrote, "Time for some traffic problems in Fort Lee."
Speculation — largely driven by the reporting of local papers and the staff of MSNBC's The Rachel Maddow Show — has risen for months that the lane closures in August, which lasted for four days, were an attempt to punish Fort Lee's Democratic mayor Mark Sokolich. Christie insists that he first learned of the involvement of his staff when the emails became public on Wednesday, although he later said he hadn't slept well "for two nights."
He promised to individually speak to his staff over the next few days and make any more revelations public. "I don't know," he said, when asked if he knew who made the decision to close part of the bridge. The governor seemed to believe a legitimate traffic study — the official reason given for the lane closure — may have been conducted, despite the revelations in the emails.
About four weeks ago, Christie held a press conference in which he jokingly dismissed the scandal.
"Unbeknownst to everybody I was actually the guy out there, I was in overalls and a hat," he said at the time. The governor claimed in Thursday's press conference that he had asked all of his staff, including Kelly, to come forward with any evidence of involvement an hour before he made those jokes to the press. He also claimed he would never have been so facetious about the increased traffic, which resulted in delays in emergency services, including an ambulance bringing a 91-year-old woman to a hospital. She later died.
Christie also said that he had "lost confidence" in his former campaign manager Bill Stepien, whom he has asked to withdraw his nomination to lead the state's Republican Party. Stepien will also not be employed to consult for the Republican Governors Association, of which Christie was recently elected chairman.
The New York Times' Kate Zernike recently argued that the stories of Christie's "petty political revenge" all "add up" to reinforce his image as a bully — a charge that the governor denied repeatedly during his press conference.
"I am not a bully," he said on Thursday, insisting several times that he was "heartbroken" by the revelations.
Christie's aides dismissed worries about the lane closures affecting kids by saying they were  "children of Buono voters"
"People don't go to the bathroom without asking his permission," Christie's Democratic opponent, State Senator Barbara Buono, told MSNBC's Lawrence O'Donnell on Wednesday. "But I have to tell you, those quotes were startling to me. They were horrifying that somebody would talk about children in that way. It's an abuse of trust of the public."
"I have absolutely nothing to hide," Christie said, when asked if he was willing to speak to law enforcement. Paul Fishman, New Jersey's U.S. Attorney, announced just before Christie's press conference that he was reviewing the decision to close the lanes.