Christie Tells D.C. Audience He's Still Thinking About Running For President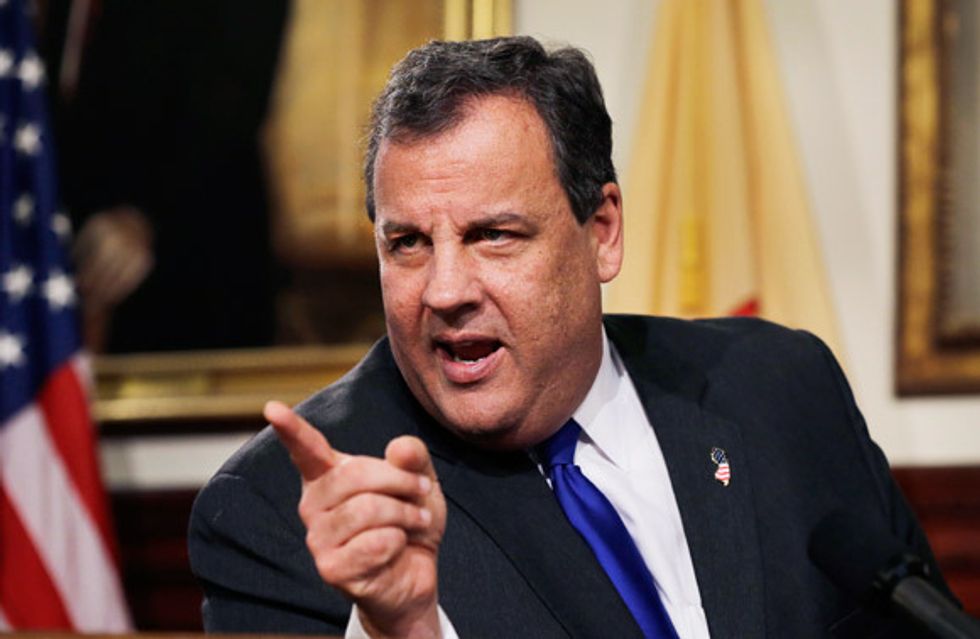 By Herb Jackson, The Record (Hackensack, NJ)
WASHINGTON — "Yes."
With that one word, New Jersey Gov. Chris Christie told a friendly Washington, D.C., audience Wednesday that he is still thinking about running for president, even as dual crises continue to bedevil his administration.
And with another word he told the high-profile crowd when he'll make a final decision. "Later."
Indeed, a confident Christie asserted Wednesday that the George Washington Bridge scandal and an $807 million state budget shortfall will not damage his political future. The lane-closing scandal "will all be a footnote" by the time he makes his decision, he told the crowd during an appearance at the 2014 Fiscal Summit sponsored by the Peter G. Peterson Foundation.
And he blamed the budget gap on state economists, including those on his staff who helped to write the budget last year. With trademark self-assuredness, Christie said he would "do what I have to do" to fill that gap, though he declined to say what. That will have to wait for an announcement next week, he said.
For 30 minutes, Christie answered questions from Bob Schieffer of CBS News in an ornate ballroom two blocks from the White House. The event marked another step in the governor's attempt to recover from the massive political setback he suffered in January when The Record reported that a former aide sent an email declaring it was "time for some traffic problems in Fort Lee."
Christie had previously mocked the suggestion that his staff was somehow involved in the closure of Fort Lee access lanes to the bridge last September. After the email's revelation, he immediately fired the aide, Deputy Chief of Staff Bridget Anne Kelly, and apologized to Fort Lee for four days of gridlock.
A New York law firm hired by the administration investigated and cleared the governor of any involvement, prompting complaints that the firm's report was a whitewash written by lawyers with political connections to the governor. Investigations continue by a special committee of the Legislature and a federal grand jury overseen by the U.S. attorney in Newark, while the Securities and Exchange Commission has reportedly begun to look at other financial moves by the Port Authority that helped Christie fund road improvements.
When asked by Schieffer, Christie said the scandal would not have any impact on his ability to close the budget gap.
"As far as the impact on my political future, I think it will have none because I didn't do anything," Christie said.
"In the end, what the people of New Jersey know about me is I tell them the truth. I told them I had nothing to do with it. And now you've had all kinds of people look at this for nearly 4½ months now and there hasn't been one suggestion that I knew anything about it," he said.
Christie said he was not the first leader to fire an aide who did things without his knowledge.
"I don't think that would hurt anybody's career and it's not going to hurt mine," Christie said.

The Peterson foundation is a non-partisan group that focuses on raising public awareness about how reducing long-term debt is vital to economic growth. The group's founder, Peter G. Peterson, introduced Christie as a "straight talker" who had worked with Democrats to address state pension obligations, and had charisma to spare.
Ironically, his appearance comes as the state continues to grapple with seemingly perennial budget woes as well as job growth that lags the nation overall and other states in the region. On Tuesday, Moody's Investors Service became the third major Wall Street ratings agency to lower New Jersey's credit rating, citing the state's "recurring revenue shortfalls and ongoing reliance on non-recurring resources."
Christie used statistics to show his actions in the best possible light, and did not hesitate to blame his predecessors, state courts and his own staff for the current problems.
On options for cutting the budget, for example, he said state courts had mandated that he spend $12 billion on education, but the state is legally free to reduce aid to all districts except a few dozen of the poorest, which courts have said must receive state aid.
He said former governors going back to Christie Whitman, a fellow Republican, had not made contributions to the state pension system, failing to mention payments made by Democrat Jon Corzine, his predecessor.
Christie himself did not make a contribution the first year he was in office because of a budget shortfall left by Corzine. He also declined to say, in response to a direct question by Schieffer, if the current shortfall would lead him to reduce a payment of $1.6 billion that is scheduled to be made before June 30.
Asked what happened to cause the current shortfall, Christie pointed to faulty estimates by his own economists, which he said were in sync with projections by the non-partisan Office of Legislative Services.
He said that when he asked his chief economists "how you could be so wrong … they said they just missed it." The federal tax increases on high-income earners approved on Jan. 1, 2013, led many wealthy people to take capital gains and bonuses in 2012 to avoid the higher tax rate, he said.
That produced a windfall in 2013 for the state budget, but the state guessed wrong how much of that would continue this year, Christie said.
"They just said they underestimated how much high-end taxpayers would have accelerated capital gains, bonuses, everything else," Christie said. "That's a cold comfort to me, Bob, because now I have to fix it with 45 days left in my fiscal year."
The state's chief economist, Charles Steindel, was not available for comment Wednesday, a spokesman for Christie said, but Steindel took responsibility for the error at a legislative hearing last week.
David Rosen, the revenue expert at the Office of Legislative Services, said he was within $75 million of Christie's estimate of income-tax revenue for April of this year, but the governor's estimates for other taxes were more optimistic than Rosen's.
Photo: Peter Stevens via Flickr