Christie's Budget Does Not Raise Taxes Or Exact Major Cuts From State Services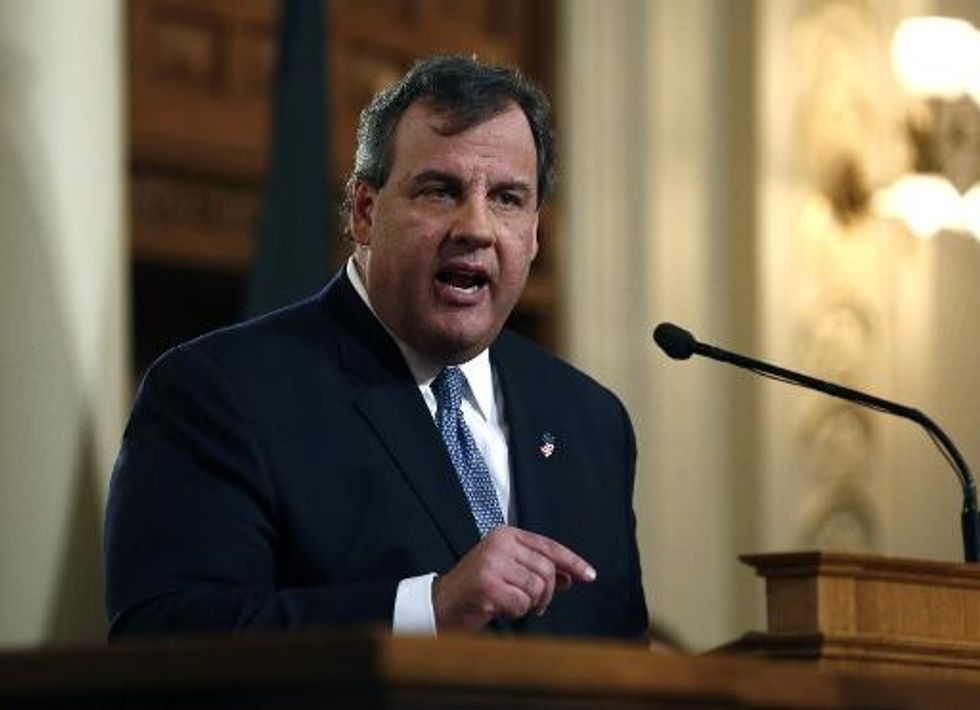 By John Reitmeyer, Michael Linhorst and Michael Phillis, The Record (Hackensack, NJ)
TRENTON, NJ—New Jersey Gov. Chris Christie on Tuesday unveiled a state spending plan that maintains aid for local schools, towns and property tax relief, and doesn't raise taxes or cut significantly from any state programs or services.
But while the proposed budget — at $34.45 billion, the largest in state history — also makes a record $2.25 billion payment into New Jersey's underfunded public employee pension system, the Republican governor set the stage for a fight with Democratic legislative leaders over the growing cost of those workers' benefits.
"We have made investments in this budget, but they are constrained," Christie said. "We have provided for some key investments this year, but as time goes on, pension payments will take a larger and larger share of the budget."
A toned-down and at times hoarse Christie offered his latest budget — his fifth since taking office in early 2010 — during a roughly 30-minute speech before a joint session of the Legislature. He emphasized that no taxes would be increased and that some loopholes in corporate taxes would be closed.
His budget proposal did not include the signature income-tax cut Christie had repeatedly pressed for on the heels of his 20-point re-election in 2013, before news broke in January of his own staff's involvement in the September lane closures at the George Washington Bridge. That continuing scandal, with federal prosecutors and a legislative committee conducting separate investigations, has taken a toll on Christie's popularity, with public opinion polls showing voters now only narrowly approve of his job performance. He made no reference to the controversy in his address.
Democrats credited Christie for leaving out the hard-charging attacks that were the hallmark of his first term in office and a big part of the carefully choreographed persona that carried him to national prominence.
But they were harshly critical of what they saw as the governor's decision to cast blame on public employees for the rising cost of their pension benefits, what Christie called an "entitlement."
"I was a little offended by the word 'entitlement,' it is something people have paid into," Senate President Stephen Sweeney, a Democrat, said at a new conference after the budget address.
Christie said the state's fiscal choices are limited by the swelling cost of its pension obligation as well as the cost of debt service and employee health benefits.
"Due to these exploding entitlement costs, we are failing our taxpayers when we refuse to honestly address these problems and try to fool them into believing that choices do not need to be made," he said.
But Democrats rejected his message that the state was necessarily headed toward a fiscal crisis, maintaining that changes put in place in a 2011 bipartisan accord — trading benefits concessions on the part of employees with a commitment by the state to fund the pension system — needed time to work.
"If we stay the course, the pension system will be fine," Sweeney said.
The problem, said Senate Majority Leader Loretta Weinberg, a Democrat, is that Christie's policies haven't grown the state economy enough to make the pension payment more affordable and that business tax breaks haven't yielded the jobs they were expected to yield.
"The problems we have are the problems of our economy," said Weinberg, who is also the co-chairwoman of the legislative committee investigating the GWB lane closures.
Republican lawmakers, meanwhile, praised Christie for being honest about the state's fiscal problems and for making it clear that difficult choices will have to be made in the near future.
"The governor laid out the choices very, very clearly," said Senate Minority Leader Tom Kean Jr., a Republican.
"The sooner we face the music, the better off we're going to be," said Assembly Republican Leader Jon Bramnick.
Christie's budget address won praise from the state's business community.
"The fact this budget calls for no tax increases is good news for everyone in New Jersey," said Thomas Bracken, chief executive of the state Chamber of Commerce.

But union leaders voiced concern.
"New Jersey's middle class, working families want to know when their property taxes are going to go down and how we're going to create jobs," said Charles Wowkanech, president of the New Jersey State AFL-CIO.
The budget speech starts a process of formal committee hearings and behind-the-scenes negotiations that is scheduled to culminate with the adoption of a new spending plan before the next state fiscal year beginning July 1.
"There is so much work that is ahead of us," said Assembly Budget Chairman Gary Schaer, a Democrat.
Included in the $34.4 billion spending total is $7.8 billion in direct aid for local schools, a little more than the total in the current $33 billion budget. Another $1.5 billion in aid will go to municipalities and $1.2 billion to homeowners in the form of direct property tax relief — in both cases, also slight increases.
The pension payment — part of the 2011 accord — is set to increase about $600 million, and debt payments will go up another $300 million. Despite the emphasis placed on pensions by Christie, his address did not specify what reforms he sought and his budget anticipates no savings from changes in benefits.
The budget incorporates business tax cuts of $616.5 million — a continuation of an earlier Christie economic initiative. But his budget for fiscal 2015 also plans to generate about $205 million by closing loopholes in taxes paid largely by corporations. Christie said that would create "a level playing field for our middle class taxpayers" and was an element of "tax fairness."
In a briefing with reporters on Tuesday afternoon, state Treasurer Andrew Sidamon-Eristoff explained why the new spending plan did not include the income-tax cut Christie had once been hoping to put forward.
"We gave everything serious consideration," Sidamon-Eristoff said. "We have limited resources, and we have some significant non-discretionary needs that we have to address."
When asked later if that is a disappointment, Assembly Republican Budget Officer Declan O'Scanlon, instead praised Christie's broader stewardship of state finances coming out of the last recession.
"I think the governor's budget speaks for itself," O'Scanlon said.
The state treasurer acknowledged during the briefing that the Christie administration was lowering its revenue projection for the current fiscal year, which runs through June 30, and cutting about $700 million in spending, largely to offset revenue shortfalls. Still, the treasurer said revenues would grow by 5.8 percent in the new fiscal year from that reduced level.
But the new budget won't generate enough revenue to allow the Christie administration to carry out its plan to reduce the state's reliance on borrowing to cover the cost of transportation improvements, reversing the ambitious "pay-go" initiative Christie first put forward in 2011.
AFP Photo/Jeff Zelevansky