Christie's Mexico Delegation Includes Aides, Executives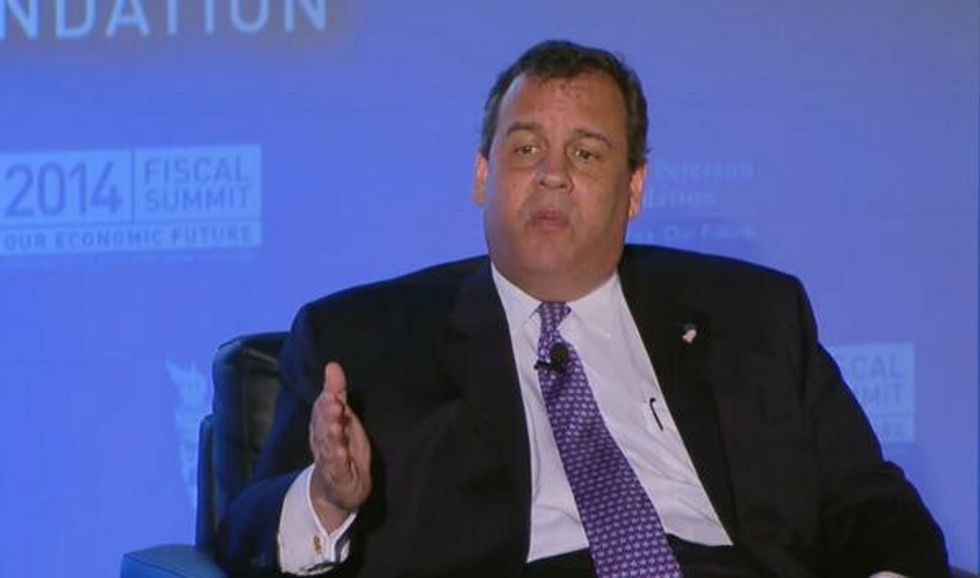 By John Reitmeyer and Melissa Hayes, The Record
TRENTON, N.J. — The delegation joining Gov. Chris Christie in Mexico this week includes the head of New Jersey's Economic Development Authority and executives from major corporations, but also a former U.S. ambassador to Brazil and some of Christie's closest advisers.
The three-day trip, which is being billed as a trade mission, is receiving financial backing from Choose New Jersey, the non-profit business advocacy group that has supported Christie and also paid for his first international mission, to Israel in 2012.
Christie is scheduled to arrive in Mexico City Wednesday morning and has a packed schedule that includes a meeting with Mexican President Enrique Pena Nieto, according to details released by his office. Meetings with Mexican business leaders are planned for Wednesday, and on Friday the governor is scheduled to travel to the nearby state of Puebla.
Joining Christie on the trip is a 15-member delegation, Christie's office announced on Monday. The group includes some of his closest aides and advisers, including Robert Grady, a private equity fund manager who also runs New Jersey's $80 billion public employee pension system, and Richard Bagger, a former Christie chief of staff now senior vice president for corporate affairs at Celgene Corp., a Summit-based pharmaceutical company.
Another Christie confidant, Michele Brown, who serves as chief executive of the New Jersey Economic Development Authority, is also in the delegation.
Choose New Jersey, the non-profit organization that aims to improve the state's business climate, is being represented by board member Laurence Downes, and by Tracye McDaniel, the organization's president and chief executive officer.
The group, founded in 2010, receives support from major corporations, including Bank of America, Prudential and Verizon. Companies that give $150,000 annually for three years get "board member" status, and those contributing $25,000 annually for three years receive "partner" status, according to the organization's web site.
Federal tax records indicate the group raised $2.88 million in 2012, and spent $3.15 million. A spokeswoman for Choose New Jersey did not return a call seeking comment on Monday.
In 2012, the organization spent $42,000 on Christie's five-night trip to Israel, including costs of accommodations and meals for Christie staffers. Taxpayers paid about $40,000 in security costs for the trip, which also included time in Jordan.
Before the trip to the Middle East, McDaniel said the group's involvement was to help demonstrate "New Jersey is out there and we mean business."
Also in the delegation for the Mexico trip is Ralph Izzo, chairman of Public Service Enterprise Group; Greg Brown, chief executive of Motorola Solutions; and Clifford Sobel, a former U.S. ambassador to Brazil who is now managing partner at Valor Capital Group.
The delegation also includes Leo Cervantes, owner of Highland-based Chilangos Restaurant; Pedro Matar, owner of the El Aguila restaurant chain; Al Zapanta, president of the U.S.-Mexico Chamber of Commerce; Mauricio Doehner, vice president of corporate affairs for Mexican cement producer CEMEX; Fermin Garcia, pastor at Unity Church Group in Tijuana, Mexico; Martin Perez, president of the Latino Leadership Alliance of New Jersey; and Raul Rendon Ponce, founder of Minnesota-based BioPlastic Solutions.
Although the trip is being billed as a trade mission — New Jersey and Mexico share more than $5 billion worth of goods annually — it also comes as Christie is considering whether to run for president in 2016 and as immigration and the U.S. border with Mexico have become major issues.
Bagger, Downes, Grady and Sobel all made contributions to Christie's campaign for re-election last year. The governor won 51 percent of New Jersey's Latino vote.
Several staff members are accompanying Christie to Mexico.
Tim Larsen, Christie's chief of photography and visual communications, arrived in Mexico City early Tuesday morning followed later in the day by Maria Comella, the governor's deputy chief of staff for communications, and Lauren Fritts, the director of digital media. Two members of Christie's security detail arrived in Mexico on Tuesday afternoon.
Photo: Fiscal Summit via Twitter