Church Nativity Scene Shows Jesus As Caged Refugee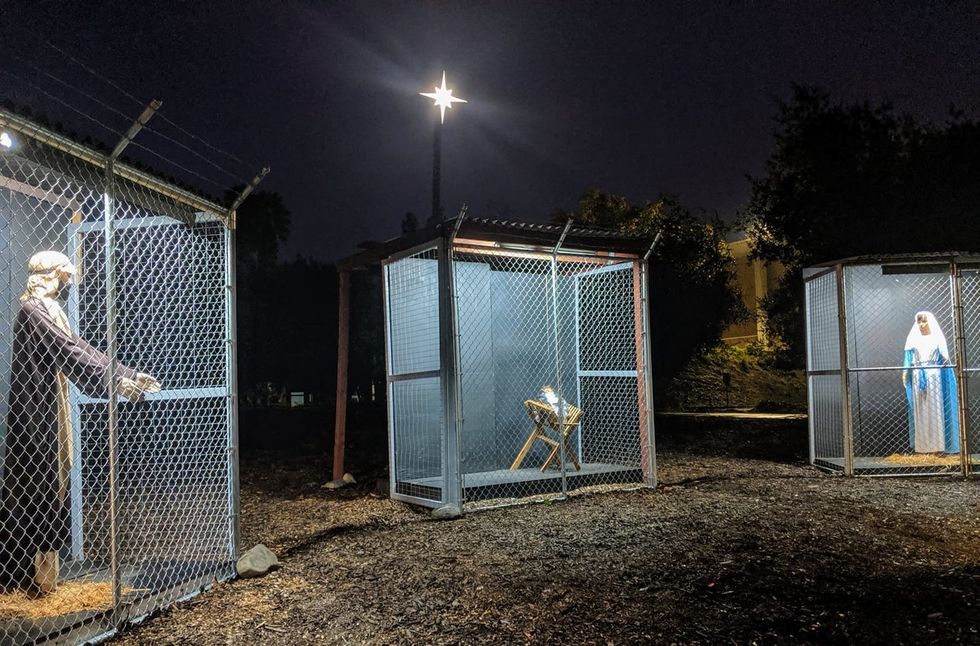 A Methodist church in Claremont, California, displays a nativity scene outside the church with Jesus, Mary, and Joseph in separate cages, CNN reported Monday. The infant Jesus, alone in his cage, is wrapped in a foil blanket like those given to children at detention facilities along the U.S.-Mexico border.
The nativity display draws attention to Donald Trump's policy of separating families — even those seeking asylum — at the border.
"What if this family sought refuge in our country today?" Karen Clark Ristine, senior minister of the church, wrote on Facebook about the nativity scene. "Imagine Joseph and Mary separated at the border and Jesus no older than two taken from his mother and placed behind the fences of a Border Patrol detention center as more than 5,500 children have been the past three years," she added.
In the Bible, Mary and Joseph fled to Egypt with a young infant Jesus to escape a threat of violence from King Herod.
"We don't see it as political; we see it as theological," Ristine told the Los Angeles Times. Members of her church have "seen how these asylum seekers have been greeted and treated," she added. "We wanted the Holy Family to stand in for those nameless people because they also were refugees."
Rep. Judy Chu (D-CA), the congresswoman representing Claremont, said she was proud of the congregation for putting together such a powerful display.
"I've been to the immigrant children prison camps at the border, and I know the harm caused by this policy of family separation," Chu said in an email. "This scene does a remarkable job of recreating the feeling of loneliness and fear created by the Trump administration. I'm proud to represent a congregation like Claremont United Methodist which is doing so much to highlight the plight of today's refugees with this powerful nativity scene."
The Trump administration has been roundly criticized for implementing a family separation policy targeting families crossing the southern border. More than 5,400 children have been separated from their family since 2017, according to the ACLU. As Ristine noted, many of the families were fleeing violence and looking for a safe place to be.
Doctors and lawyers visiting children ripped away from their parents have described truly horrible conditions at detention centers.
"The conditions within which they are held could be compared to torture facilities," Dr. Lucio Sevier, a board-certified physician, wrote in a medical declaration. "To deny parents the ability to wash their infant's bottles is unconscionable and could be considered intentional mental and emotional abuse."
An investigation by Trump's own administration found "separated children exhibited more fear, feelings of abandonment, and post-traumatic stress than did children who were not separated." Some of the children separated from their family were survivors of kidnap or rape, while others had "witnessed the rape or murder of family members or were fleeing threats against their own lives."
Despite a 2018 court order prohibiting the Trump administration from continuing its family separation policy, the ACLU filed court documents in July 2019 alleging family separation was continuing to happen.
"It is shocking that the Trump administration continues to take babies from their parents," Lee Gelernt, deputy director of the ACLU's Immigrants' Rights Project, told NPR.
It's the second year in a row churches have used nativity scenes to draw attention to the Trump administration's family separation policy.
In 2018, the Saint Susanna Parish in Dedham, Massachusetts, displayed baby Jesus in a cage in its nativity scene. That same year, an Austin couple also displayed Jesus in a cage in their front yard, with Mary and Joseph standing to one side, and a quote from the Statue of Liberty on the other: "Give me your tired, your poor, your huddled masses yearning to be free."
In Claremont, the Holy Family is reunited in a nativity scene inside the church. As of October, more than 350 children separated by the Trump administration are still waiting to be reunited with their families.
Published with permission of The American Independent Foundation.
Photo Credit: Rev. Karen Clark Risitne via American Independent