Cilic Routs Nishikori To Win U.S. Open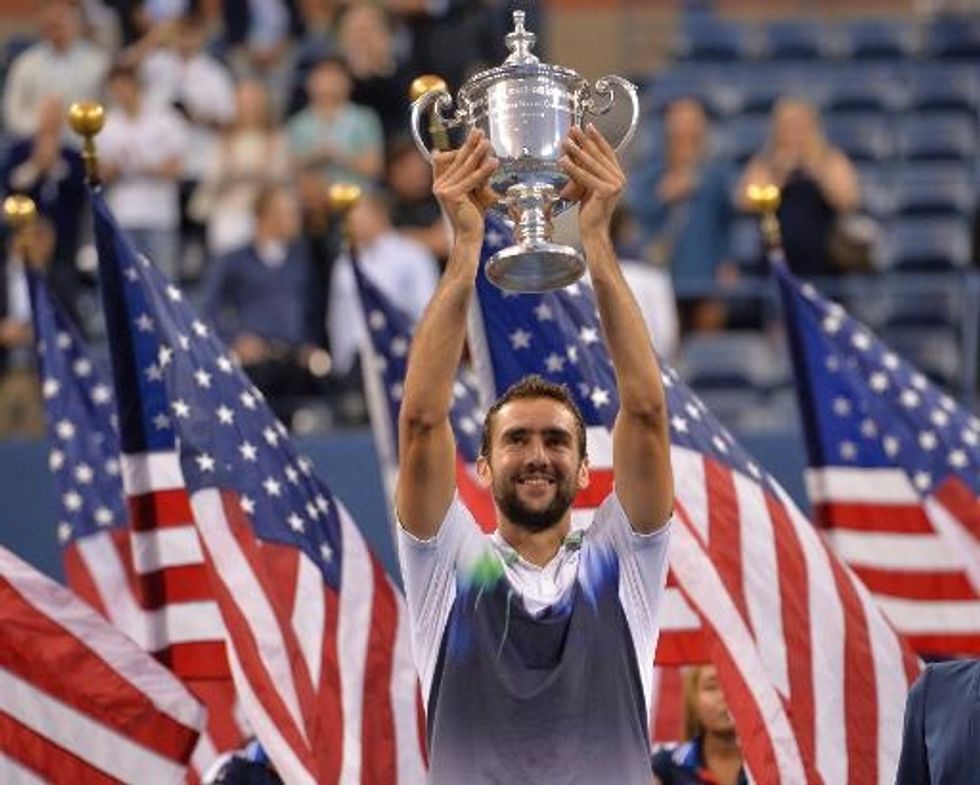 New York (AFP) — Marin Cilic clinched his first Grand Slam title, shattering Kei Nishikori's bid to become the first Asian man to win a major with a 6-3, 6-3, 6-3 victory in the U.S. Open final.
Cilic, the 14th-seeded 25-year-old, becomes the first Croatian man to win a major since Goran Ivanisevic, now his coach, at Wimbledon in 2001.
It also comes 12 months after he was forced to skip the tournament to serve out a controversial doping ban.
Cilic, playing in his 28th Grand Slam event, is the lowest-ranked champion since Pete Sampras, then 17th in the world, claimed the 2002 title in New York.
But victory was well-deserved with Cilic saving eight of nine break points, firing 17 aces and 38 winners past a weary-looking Nishikori who had defeated three top five players to make his maiden major final — Milos Raonic, Stan Wawrinka and world number one Novak Djokovic.
"There has been a lot of hard work in these last few years and especially this last year. I think my team has brought something special to me, especially Goran," said Cilic who, like Nishikori, was making his debut in a major final.
"We've been working really hard but the most important thing that he has brought to me is joy in tennis and always having fun. I enjoyed my best tennis over here and played the best ever in my life."
Cilic also told his fellow professionals that the likes of Djokovic, Roger Federer and 2013 champion Rafael Nadal, absent this year through injury, can be defeated.
"I feel that for all the other players that are working hard, I think this is a big sign that if you're working hard things are going to pay off," he said.
Nishikori admitted he had been outplayed.
"Marin was playing really well today, I couldn't play my tennis. It's a tough loss but I am happy to get to my first final," said Nishikori. "But I will get the trophy next time — it was a fun two weeks."
Monday's final was the first at a major not to feature either Djokovic, Federer or Nadal since the 2005 Australian Open — so long ago that it was pre-Twitter.
It was also a battle of contrasting styles between the 5ft 10in (1.78m), 150lbs (68kg) Nishikori and the bigger, heavier 6ft 6in (1.98m), 180lbs (82kg) Cilic who had knocked out five-time champion Federer in the semi-finals.
– Cool conditions –
Under overcast skies and on the coolest day of a two-week tournament marked by punishing heat and high humidity, the championship match began inside a half-full Arthur Ashe Stadium.
Once he had saved a break point in the first game, Cilic was comfortably the dominant player breaking for 4-2 and claiming the opening set in 33 low-key minutes when Nishikori, on the defensive and pinned behind the baseline, patted a meek backhand into the net.
The big Croat's 11 winners to the Japanese's two illustrated the one-sided nature of the contest.
The winner of 20 of the previous 21 men's finals in New York had claimed the first set.
However, Nishikori had dropped the opener to both Raonic and Wawrinka in the fourth round and quarter-finals but still came out on top.
Cilic, finding the tightest angles, pounced again in the third game of the second set when his opponent sliced another apologetic backhand into the net.
He backed it up for 3-1 after Nishikori was unable to convert two break points.
Four successive aces helped Cilic to 4-2 which was soon 5-2 as he clinched his third break of the final.
Nishikori briefly rallied for a first break of the match but Cilic went to set point courtesy of a misdirected overhead by the 10th seed and sealed it 6-3 with a pinpoint forehand drive which found the corner.
The 24-year-old Japanese player, who had spent more than 16 hours on court to make the final, cracked again to fall 1-3 down in the third set off a wild, wide backhand.
Cilic then saved three more break points for a 5-2 lead before Nishikori clung on with a hold.
Moments later, it was all over as Cilic went effortlessly to three match points.
He double-faulted on the first but claimed the title after one hour 54 minutes with a sweet backhand crosscourt.
Want more sports news? Sign up for our daily email newsletter!