The Cincinnati Enquirer Endorses Hillary, And Other Miracles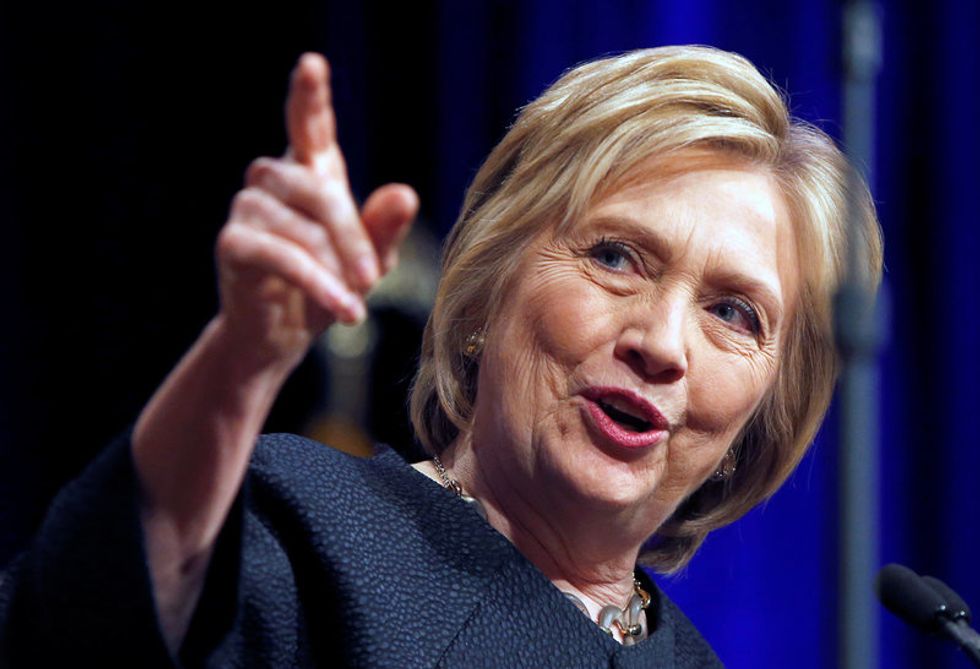 The last time The Cincinnati Enquirer endorsed a Democrat for president was in 1916, when Woodrow Wilson was running for re-election during World War I.
An interesting year, that one. It launched artist Norman Rockwell's first cover for The Saturday Evening Post, which starred a disgruntled boy pushing a baby stroller as his buddies mocked him, and later gave birth to Margaret Sanger's first family planning clinic in America, at 46 Amboy Street in Brooklyn, New York.
I'm not suggesting one led to the other, but wouldn't Rockwell's cover have been a fun birth control poster for the clinic? Two things make me smile at the thought of that: the imagined negotiations between Rockwell and Sanger and the certainty of reader hate mail headed my way because I dare suggest such a thing. The fun never ends here; I swear it.
Considering the Enquirer's history of otherwise supporting Republican presidential candidates, it might have helped some folks if this year's endorsement had begun with an editor's note: "Maybe sit down for this one."
"The Enquirer has supported Republicans for president for almost a century — a tradition this editorial board doesn't take lightly," the editorial began.
"But this is not a traditional race, and these are not traditional times. Our country needs calm, thoughtful leadership to deal with the challenges we face at home and abroad. We need a leader who will bring out the best in all Americans, not the worst.
"That's why there is only one choice when we elect a president in November: Hillary Clinton."
Donald Trump, the Enquirer added, "is a clear and present danger to our country."
I first found out about the Enquirer's editorial from a friend in Cincinnati who texted six words to me before sunrise last Saturday: "God lives, and he's in Cincinnati."
It was an odd message from an avowed agnostic, but we are in those times, my friends.
Meanwhile, in Phoenix.
The Arizona Republic was founded in 1890, and not once has that newspaper endorsed a Democrat for president of the United States.
Until this past Tuesday.
Somebody at the Republic sure had a lot of fun writing this one:
"Clinton retains her composure under pressure. She's tough. She doesn't back down.
"Trump responds to criticism with the petulance of verbal spit wads."
And this:
"We understand that Trump's candidacy tapped a deep discontent among those who feel left behind by a changed economy and shifting demographics.
"Their concerns deserve to be discussed with respect.
"Ironically, Trump hasn't done that. He has merely pandered. Instead of offering solutions, he hangs scapegoats like pinatas and invites people to take a swing."
Add the recent endorsements for Clinton from The Dallas Morning News and the Houston Chronicle and one can't help but wonder whether maybe there is a higher power after all and it's even mightier than the collective bankroll of Republican high-end donors.
How much does a newspaper endorsement matter?
Normally, not a lot.
But these are not normal times.
Cue NPR: "A 2011 study pointed out one scenario where a newspaper editorial board may make a difference: when a newspaper bucks its own tradition.
"In that study, Democratic endorsements from conservative papers seemed to have more influence than a Republican endorsement from that paper would, and the same concept applied to left-leaning papers endorsing conservative candidates.
"In the case of the 2016 election, it seems The New York Times may actually have less influence on its readership than The Cincinnati Enquirer, at least when it comes to endorsements. And the Enquirer is in a swing state."
Yes, it is.
And I'm here in O-H (clap, clap) I-O to tell you that The Cincinnati Enquirer's editorial is the talk of the Buckeye State right now. Much of the reaction fell somewhere between "how dare they" and "somebody grab me a chair," but all of it is a whole lot more interesting than the usual yawn of a reception we see for editorial endorsements in these here parts.
Our season of slumber is over in the battleground state.
We are wide-awake now.
Connie Schultz is a Pulitzer Prize-winning columnist and professional in residence at Kent State University's school of journalism. She is the author of two books, including "…and His Lovely Wife," which chronicled the successful race of her husband, Sherrod Brown, for the U.S. Senate. To find out more about Connie Schultz (con.schultz@yahoo.com) and read her past columns, please visit the Creators Syndicate webpage at www.creators.com.
Photo: U.S. Democratic presidential candidate Hillary Clinton speaks to the attendees of the United Food & Commercial Workers convention in Las Vegas, Nevada, U.S. May 26, 2016. REUTERS/Steve Marcus