Citigroup To Pay $7 Billion To Settle Subprime Mortgage Investigations
@AFP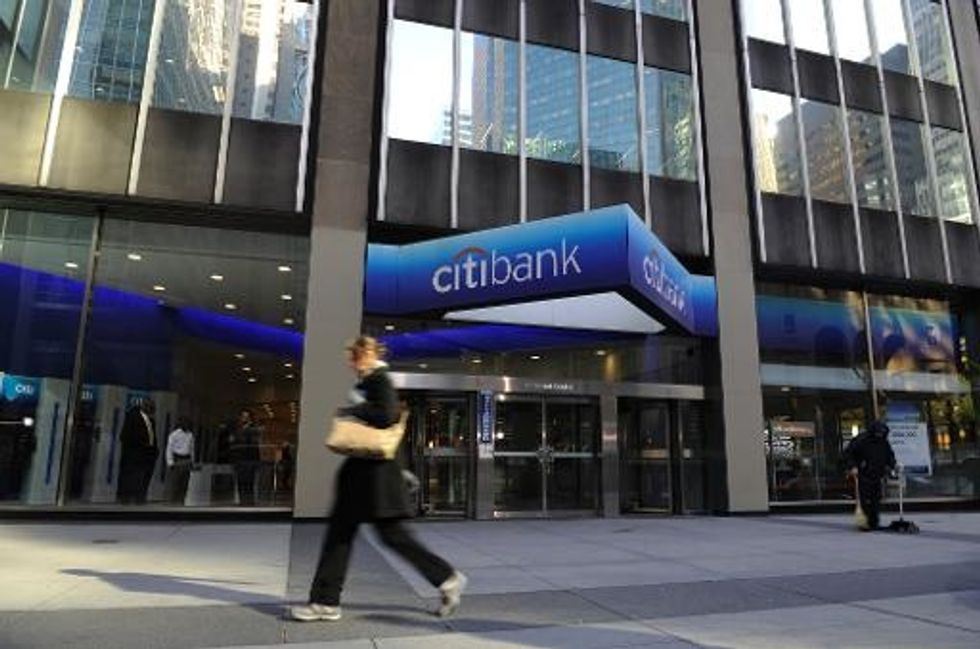 New York (AFP) – Citigroup will pay $7 billion to settle claims it misled investors about mortgage-linked securities ahead of the financial crisis in the latest U.S. crackdown on a banking giant, officials said Monday.
U.S. Attorney General Eric Holder, calling Citi's conduct "egregious," said the investigations showed the bank concealed defects in loans, misrepresented facts –including the level of risk in mortgages–and made false statements to investors.
Citigroup acknowledged its misdeeds under the terms of the settlement agreement.
The agreement includes a $4 billion civil penalty, the largest of its kind under a financial enforcement recovery law, the Justice Department said.
"This historic penalty is appropriate given the strength of the evidence of the wrongdoing committed by Citi," Holder said. "The bank's activities contributed mightily to the financial crisis that devastated our economy in 2008."
While the settlement takes care of civil claims against Citi, it does not release individuals from civil charges, or release Citigroup and individuals from potential criminal prosecution.
"We believe that this settlement is in the best interests of our shareholders, and allows us to move forward and to focus on the future, not the past," said Citigroup chief executive Michael Corbat.
Under the mortgage settlement, Citigroup will pay $4.5 billion in cash and $2.5 billion in consumer relief.
The cash component, in addition to the $4 billion civil penalty, includes $500 million in compensatory payments to states attorneys general and the Federal Deposit Insurance Corporation.
Consumer relief includes financing for the construction of affordable rental housing and mortgage loan principal reduction.
The Citi settlement comes amid a broader U.S. government fraud crackdown on large banks, and follows a similar $13 billion U.S. mortgage deal with JPMorgan Chase. The government also is in talks with Bank of America about a potential settlement.
The Justice Department last week extracted a guilty plea and an $8.9 billion settlement from French bank BNP Paribas for violating U.S. economic sanctions, and Switzerland's Credit Suisse in May agreed to pay $2.6 billion in fines for enabling tax evasion.
Holder, who has said that nobody is "too big to jail," vowed more actions against big financial players.
"This action is merely the latest step in our active and ongoing pursuit of those whose activities defrauded the American people and inflicted grave damage on our financial markets," he said.
"Citi is not the first financial institution to be held accountable by this Justice Department, and it will certainly not be the last."
The settlement weighed on Citi's second-quarter earning reported Monday.
The company took a $3.8 billion pre-tax charge, which dragged Citi's earnings down 96 percent to $181 million.
Besides the huge legal charge, Citi's results were marred by an industry-wide drop in trading revenue that is also expected to hit JPMorgan Chase, Goldman Sachs and others when they report earnings later this week.
Those effects were offset by lower operating costs following corporate reorganizations, better credit quality and improved results in several categories of investment banking.
Excluding the legal settlement, Citi's results translated to profits of $1.24 per share, much better than the $1.05 projected by analysts. Including the legal charges, earnings were just three cents per share.
Revenues dropped to $19.3 billion from $20.5 billion a year ago. Analysts had projected revenues of $18.9 billion.
The settlement comes on the heels of other problems at Citi in 2014.
In February, the bank announced it was cutting its 2013 earnings by $235 million due to fraud in its Mexican unit. Citi has since fired at least 12 employees in the debacle. Government investigations are ongoing in the U.S. and Mexico.
In March, the Federal Reserve rejected Citigroup capital plan for returning cash to shareholders, dealing a blow to CEO Corbat's efforts to rehabilitate Citi after the financial crisis.
Citi shares jumped 3.3 percent to $48.57 in midday trade.
AFP Photo
This story has been updated