For Civilians Fleeing In Gaza, Escape Options Are Few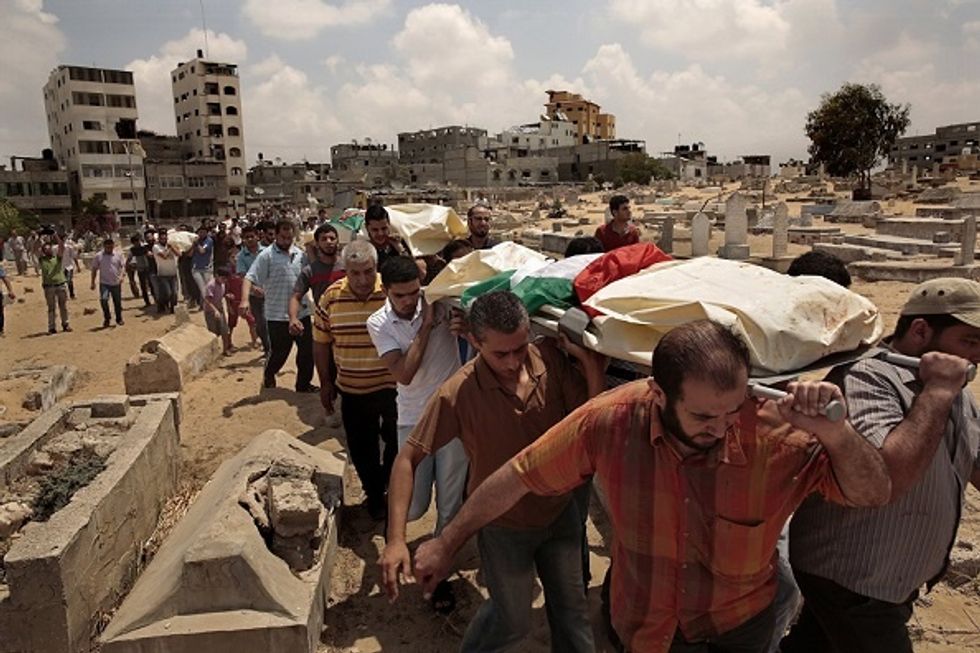 By Alexandra Zavis, Los Angeles Times
GAZA CITY — A lonely figure in a striped button-down shirt stood silently Tuesday among a crush of emergency workers and journalists, watching as rescuers with a crane tried to reach a foot sticking out from the rubble of a high-rise office tower.
Ahmed Shaban Derbass' brother and four sisters had escaped the relentless shelling that killed at least 74 people Sunday on the eastern outskirts of Gaza City. A friend offered them the keys to his office in the center of the city, where Israel had instructed civilians to take shelter.
But late Monday, as families across the Gaza Strip were gathering to break their daytime fast for the Muslim holy month of Ramadan, two Israeli rockets slammed into the tower.
The building's top floors collapsed. Derbass said his siblings were killed, along with a brother-in-law and five children ages 4 to 12.
The foot protruding from the fifth floor belonged to his sister Soura.
Israel's 15-day campaign against the Islamic militant group Hamas, which controls the Gaza Strip, and its allies has sent tens of thousands of people fleeing, seeking safety wherever they can find it.
Israel says it makes every effort to warn civilians to leave before an attack, dropping leaflets and sending recorded messages to Gazans' cellphones. It blames Hamas for operating in civilian areas and putting residents in harm's way. But many who live in the Mediterranean coastal enclave, one of the most densely populated places on Earth, say they have no place to go.
About 43 percent of the territory is subject to Israeli evacuation warnings or has been declared a no-go zone, according to the United Nations humanitarian agency. For most, leaving is not an option. Israel and Egypt have closed the borders to Gaza, where Hamas took control in 2007. Only the injured, the sick and those with foreign passports are allowed to leave.
"Gaza is unique in the annals of modern warfare in being a conflict zone with a fence around it, so civilians have no place to flee," said Chris Gunness, spokesman for the U.N. relief agency for Palestinian refugees.
More than 118,000 of Gaza's 1.8 million people are sheltering at 77 schools operated by the agency. But the schools are overcrowded and many people feel unsafe there, preferring to move in with friends and relatives or pitch a makeshift tent on the lawns of the main hospital in Gaza City.
On Monday evening, a shell hit a school in the city, injuring a girl and forcing the relocation of about 300 people, Gunness said. The next day, when the agency sent a team to investigate during a window arranged with the Israeli military, the school was hit again.
"We told them three times what was there," Gunness said. "They have the exact GPS coordinates, and there was a U.N. flag on it."
The offensive continued Tuesday. Israeli forces operating from the air, land and sea targeted 260 sites, including concealed rocket launchers, a weapons manufacturing facility and command centers, the military said. Other targets included three mosques that Israel said were being used by Hamas and its allies to store weapons, hold gatherings and launch attacks.
More than 50 Gaza residents were killed, lifting the Palestinian death toll in the campaign to at least 625, local health officials said. Most of those killed have been civilians, according to the United Nations. The fighting has also claimed the lives of 29 Israelis: 27 soldiers and two civilians who were killed in rocket and mortar fire from Gaza. Israel said 87 rockets were fired at it Tuesday.
Diplomatic efforts to achieve a cease-fire have yielded no apparent breakthrough, but Secretary of State John F. Kerry reiterated U.S. support for truce initiative proposed by Egypt, while also opening the door to wider negotiations.
"Just reaching a cease-fire, clearly, is not enough," Kerry said on a visit to Cairo. He said it was imperative to also address "all the concerns that have brought us to where we are today."
Kerry met with officials who included Egyptian President Abdel-Fattah el-Sissi, Arab League leader Nabil Elaraby and the intelligence chief for the Palestinian Authority, Majid Faraj. Egyptian Foreign Minister Sameh Shoukri said his government had no plans to alter the terms of its truce proposal. Israel accepted the proposal but Hamas, which is suspicious of el-Sissi's government, rejected it.
The U.N. relief agency has appealed for $115 million to provide displaced Palestinians with food, water, shelter, health care and therapy for traumatized children.
Gunness said the agency was doing the best it could to accommodate displaced Palestinians in the schools. "But these were schools that were built for children to be educated in, not for thousands of desperate people to come live in," he said.
Among the new arrivals at a school Monday were Salah Tarakhan and nine family members.
As shelling intensified along Gaza's northern border with Israel on Monday, Palestinian families streamed south from the towns of Beit Hanoun and Beit Lahiya, walking as fast as they could.
"This is just like 1948," when more than 700,000 Palestinians fled their homes during the war that led to the creation of Israel, Tarakhan said as he hurried south with his family. "They are driving us from our houses."
The family had spent four days huddled in a room at the back of their house in Beit Hanoun. But when their neighbor's home was hit, they fled, leaving bread baking in the oven. With no idea where to go, they followed a column of people for two hours and arrived at a school that had just opened its doors.
Flushed and exhausted, they headed straight for a classroom and sank into a row of desks and chairs. Five other families were already staying there, and still more were arriving from Beit Lahiya. Tarakhan went looking for food, water or a mattress. He came back empty-handed.
"I wanted to wash my face, but I couldn't find any water," he said.
In the center of Gaza City the next day, rescue workers struggled for hours to dislodge the rubble and free the body of Derbass' sister, sending sheets of white office paper fluttering to the ground. The thud of artillery fire echoed around them. A jet streaked by, causing many in the crowd to flinch.
The rescuers decided that the structure was too unstable to continue, so they wrapped the exposed leg in a sheet and left the body wedged on the fifth floor. Defeated, the brother made his way to the Shifa hospital morgue to collect the remains of other family members for a hasty burial. He has one surviving sister, who is living with her husband's family.
"There were just body parts in the bags," said Derbass, 38, who works at a children's hospital.
"I want you to know who they are," he added.
His brother, a newlywed, was an accountant; two of his sisters were teachers; another was a pharmacist. "None of us are terrorists," he said. "None of us have any charge against us, and even if we did, they shouldn't attack our families."
One sister, a brother-in-law and their children were German citizens, he said. They had fled the shelling in Beit Lahiya, moving in with the rest of the family in the eastern Gaza City neighborhood of Shajaiya. A few days later, Israeli ground forces, backed by tanks, moved into the area overnight, exchanging intense fire with militants they said had built tunnels under the homes to strike at Israel. At first light, almost the entire neighborhood fled.
Derbass was able to move his wife and three children in with a work colleague, but there was no room for the rest of the family. They thought they would be safe in the office tower.
"There is no safe place in Gaza," Derbass said.
Photo: Carolyn Cole/Los Angeles Times/MCT