IS Claims U.S. Woman Killed In Coalition Raid On Syria
@AFP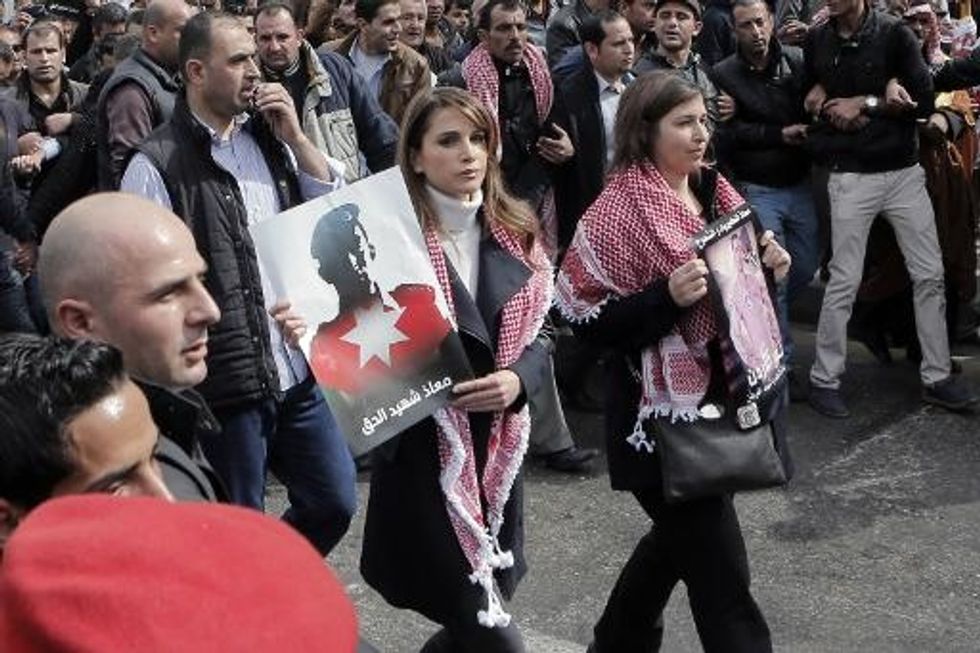 Beirut (AFP) – The Islamic State group said a coalition air strike Friday killed an American woman it was holding hostage in Syria, in a claim that could not be immediately verified.
In Jordan, meanwhile, thousands of people marched to demand retribution against IS for murdering a captive pilot.
The jihadists' claim came as Amman said dozens of its jet fighters had struck IS, widening their campaign from Syria to include targets in neighboring Iraq.
Britain-based monitor the Syrian Observatory for Human Rights said more than 30 IS jihadists were killed in coalition raids Friday around Raqa, the "capital" in Syria of the jihadists' self-proclaimed caliphate.
In a statement on jihadist websites, IS said the woman, whom it named as Kayla Jean Mueller, was buried under rubble after a raid by a Jordanian warplane in Raqa.
"The plane from the crusader coalition bombed a position outside the city of Raqa after Friday prayers," it said.
"No fighter was wounded but we can confirm that an American hostage was killed in the strikes."
The statement did not show any pictures of a body and there was no independent confirmation of the claim.
U.S. officials declined to comment.
"I cannot confirm those reports in any way. I'm not going into specifics of Americans held overseas," State Department spokeswoman Marie Harf said.
Earlier Friday, thousands of people marched in Amman in solidarity with Maaz al-Kassasbeh, the young Jordanian pilot whose burning alive IS showed in a video released this week.
"We are all Maaz… We are all Jordan," they chanted, some holding placards aloft that read: "Yes to punishment. Yes to the eradication of terrorism."
Jordan's Queen Rania joined the marchers after weekly prayers at the Al-Husseini mosque, holding a portrait of the pilot with the words "Maaz the martyr of righteousness."
Jordanian Foreign Minister Nasser Judeh declined to reveal Amman's military plans but said it would hit the militants with all its might.
"We're going to go after them and we will eradicate them… We are at the forefront. This is our fight," he told CNN late Thursday.
Jordan has conducted regular air raids against IS across the border in Syria as part of a U.S.-led campaign against the Sunni extremist group.
Asked by Fox News if Jordan was now also targeting IS in Iraq, he replied: "That's right. Today, more Syria than Iraq. It is an ongoing effort."
He added: "They are in Iraq and they are in Syria and therefore you have to target them wherever they are."
American F-16 and F-22 jets provided cover for the Jordanian warplanes, with additional support from refueling tankers and surveillance aircraft, U.S. officials said.
On Thursday, King Abdullah II and Queen Rania visited Kassasbeh's family, which has urged the government to "destroy" the jihadists, to pay their condolences.
IS had offered to spare Kassasbeh's life and free Japanese journalist Kenji Goto — who was later beheaded — in exchange for Rishawi.
But Jordanian television suggested Kassasbeh was killed on January 3, before IS offered to spare him and free Goto in return for Rishawi's release.
Following the pilot's capture, coalition member the United Arab Emirates withdrew from strike missions over fears for the safety of its pilots, a U.S. official said.
The UAE government daily Al-Ittihad said Friday Abu Dhabi was concerned over the coalition's failure to arm Sunni tribes in Iraq, which are helping government forces and other militia to battle IS in the western Anbar province.
"Neither air strikes nor a media war are sufficient to defeat" IS, the paper said.
On Thursday, the U.S. military said it was deploying search and rescue planes to northern Iraq in a move designed to shorten the response time needed to reach any pilots who end up in IS-held territory.
Last year, IS seized swathes of territory in Syria and Iraq and declared the caliphate in areas under its control, imposing its brutal interpretation of Islam and committing widespread atrocities.
Jihadists have flocked to Syria since anti-government protests broke out in 2011 and escalated into a multi-sided civil war in which more than 200,000 people have died.
At least 82 people, including 18 children, have been killed by regime bombardment on a rebel-held area near Damascus since Thursday, the Syrian Observatory for Human Rights said.
The bombardment followed rebel rocket fire on Damascus that killed ten people, including a child.
AFP Photo