Clarence Thomas Is The Worst Thing To Happen To This Country In My Lifetime
@LucianKTruscott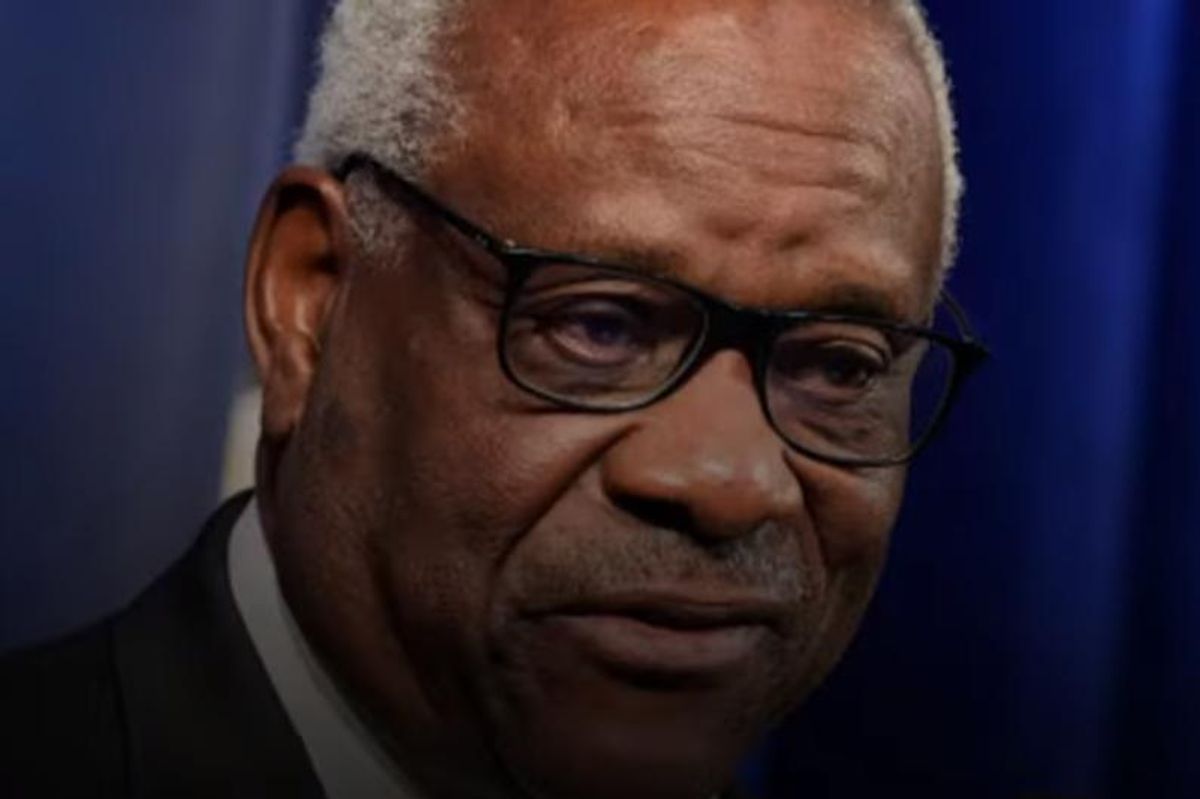 I don't say that lightly. After reading ProPublica's latest report on Thomas' trips – by private jet, natch – to be the featured speaker and star draw at two gatherings of wealthy donors to the ultra-conservative Koch network in Palm Springs, I spent the rest of the day putting that thought to the test. Worse than Richard Nixon? A pussycat compared to Clarence. George Wallace? The racist Alabama governor repented, made several appointments of Black people to his last administration, and asked Black citizens of his state for forgiveness before he died. Joe McCarthy? His sidekick Roy Cohn? As much damage as they did to the people who lost their jobs, were blacklisted, or even committed suicide due to McCarthy's and Cohn's manic pursuit of purported "communists," those two were pikers compared to the Supreme Court's current longest-sitting justice.
Donald Trump? He did his best to do his worst for four years, but he's not in the White House, and Clarence Thomas is still sitting on the Supreme Court – the Court's longest sitting justice as I write this – stripping Americans of their rights, making sure death row inmates get the needle, and voting to line the already-deep pockets of the wealthy with even more money than they already have. Sure, Trump is running for president again with announced plans to do further damage to our democracy, but at least he has to be voted back into office. Clarence Thomas is on the Supreme Court until he dies, and there is absolutely no way to stop him from doing whatever the hell he wants for as long as he want to. It is a quirk of our Constitution that the founders – all white, all male, and all landed gentry – created nine kings or queens at the same time they were allegedly throwing off the strictures of living under the Crown.
Thomas' part in the Dobbs decision alone would qualify him (along with four of his far-right colleagues) as a paragon of iniquity, not just as a member of the Supreme Court, but as a human being. In my newsfeed today, right under yet another ProPublica investigation revealing yet more evidence of Thomas' unethical, self-aggrandizing, disgusting behavior, there was this story from The Guardian: "U.S. Mother Sentenced to Two Years For Giving Daughter Abortion Pills." The medication abortion involving the mother and daughter in Nebraska took place in April of 2022, just weeks before Dobbs v. Jackson Women's Health Organization would end the constitutional right to abortion granted in the Roe v. Wade decision of the Supreme Court in 1973, but Nebraska already had a law on the books banning abortion after 20 weeks of pregnancy. After the Dobbs decision, Nebraska tried but failed to pass a law that would have banned abortion from the moment of conception with no exceptions except saving a mother's life. The current law in Nebraska bans abortion after 12 weeks and "0 days," as the law spells it out.
I could go on. In April of 2022, a Texas woman was charged with murder for a "self-induced abortion." The woman had miscarried and allegedly told a member of the staff at the county hospital that she had tried to induce the miscarriage. The charges were later dropped because Texas law bans doctors from performing abortions after six weeks, or giving abortion pills after 49 days, but there is no law imposing criminal penalties on women for having abortions. Suffice to say that the Dobbs decision, which is already compelling women in many states to travel to other states to exercise a right that was guaranteed by the Constitution just a year ago, is going to cost the lives of thousands, if not tens or hundreds of thousands of women over the next decades – women who would not die if Thomas and the rest of his so-called Christian brethren had not imposed their religious beliefs on the rest of the citizens of this country.
But just give them time. Even though Justice Alito wrote the Dobbs decision (seemingly with a crayon on construction paper) we are in the world of what is now known as the "Thomas court." He wrote the decision finding New York State's gun law unconstitutional because it did not follow the nation's "historical tradition" of gun laws. For Thomas, that tradition began with the fact that there was no law banning the carrying of guns by private individuals at the time the Constitution was written.
And I could go on. In the Dobbs decision, Thomas wrote a concurrence suggesting that the same logic in that case should be applied to contraception. The next time an abortion case is brought before the court, Thomas will try to ban the procedure as a matter of constitutional law, rather than "returning abortion to the states," as Dobbs purported to do.
Thomas has no respect for precedent. He wants the court to reconsider N.Y. Times Co. v. Sullivan, the landmark 1964 case that established the current regime of libel laws in this country. Thomas joined in Shelby County v. Holder, the case which eviscerated the Voting Rights Act. Almost immediately after that decision, states in the deep South and then all around the country began imposing restrictions on the right to vote, from requiring photo ID's to imposing racist redistricting. Most recently, Thomas joined in the decision that banned colleges from using race as a factor in their admissions policies, commonly called affirmative action, meant to account for decades of using race as a factor in college admissions to keep Blacks out of colleges, a policy Thomas himself benefitted from.
But it isn't the hypocrisy that rankles. It isn't even his contempt for what we might call the rules. It is his contempt for us, for the people over which he sees himself ruling. To Thomas, he has not been granted power by virtue of what we used to call his "elevation" to the court, because elevation presupposes that the power belongs to the people or the system or the government that elevated him. His attitude seems to be that the power is simply his.
How he has used that power so far and how he might use it in the future is of the greatest concern. It is not unreasonable to suspect that he would like to reverse Brown v. Board of Education and do further damage to the Civil Rights Laws of the mid-1960's. Thomas is a one-man wrecking ball that has been swinging away at democratic principles for 32 years, and at 75 years of age, with a coterie of younger right-wingers on the court with him, he could spend another decade or more doing everything he can to turn back the clock in this country.
If there is anyone who has done more to bring on more racial and economic inequality than Clarence Thomas while availing himself of the privileges he has gained from the court decisions he has joined, I don't know who that is. I dream of the day when private jets will be banned from the skies because of their contribution to global warming just to prevent Clarence Thomas from glomming flights on his rich buddy's jets. A swan dive into irrationality, I know, but a boy can dream, can't he?
Lucian K. Truscott IV, a graduate of West Point, has had a 50-year career as a journalist, novelist, and screenwriter. He has covered Watergate, the Stonewall riots, and wars in Lebanon, Iraq, and Afghanistan. He is also the author of five bestselling novels. You can subscribe to his daily columns at luciantruscott.substack.com and follow him on Twitter @LucianKTruscott and on Facebook at Lucian K. Truscott IV.
Please consider subscribing to Lucian Truscott Newsletter, from which this is reprinted with permission.