Clinton Campaign Has A Money Problem: People Don't Think She Needs It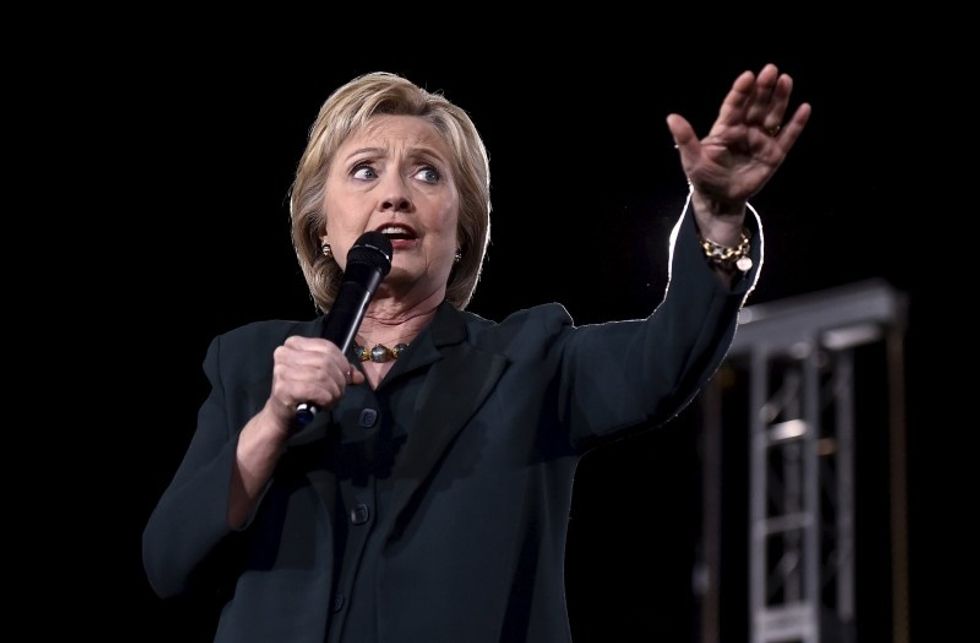 Hillary Clinton may have won two of the past three states on the Democratic nominating schedule (a third, South Carolina, is on its way), but reports indicate she has been struggling to raise the money necessary to keep up with her success. While her campaign started off the month with $18 million more than Sanders, according to the Los Angeles Times, she has not raised new campaign funds as quickly as her rival.
A cash flow issue might have been the last problem the Clinton camp expected: She had widespread support from numerous Democratic party donors. She appealed to women voters, who were expected to coalesce around what has been the best chance this country has ever had to elect a woman president. But Bernie Sanders's candidacy has complicated her efforts to clinch the nomination early on.
Many of Clinton's donors have reached the individual donations cap, which is set at $2,700 during the primary season. "There are only so many people in Hollywood with $2,700 to give. Eventually you burn through them," a political insider who advised wealthy donors, told the Los Angeles Times.
In the 2016 election cycle, small donations — under $200, according to the FEC — have been key to powering the Sanders's campaign. He has received well over a million small donations, while Clinton has received around 700,000. Those smaller donations could fund Sanders's presidential ambitions all the way to Democratic convention. He recently told CBS News, "We're going to be there fighting until the day of the convention." Sanders has $14 million on hand, with nearly 75 percent coming from small contributions. 
"The problem for Clinton is nobody thinks she needs their money," said Nicco Mele to the LA Times. Mele had previously helped Vermont Governor Howard Dean fund his 2004 nomination run, which also relied on small donations made online. "Everyone in the world thinks Bernie can't survive without their money."
Meanwhile, Clinton campaign, has nearly $33 million on hand. According to OpenSecrets, a website that run by the Center for Responsive Politics that tracks political donations, over 75 percent of campaign donations came from large individual contributions, the sort that Clinton is running out of.
In the lead up to Super Tuesday — when 11 states will simultaneously hold their primaries and caucuses, and when Clinton hopes to cement an insurmountable lead over Sanders — Clinton will be holding 13 fundraising events. According to Politico, Bill and Chelsea Clinton are scheduled to attend a combined 20 events, not to mention the myriad events hosted by campaign aides and surrogates.
"They now know this is going to be a fight as prolonged as the Obama '08 fight was," said former Pennsylvania Gov. Ed Rendell to Politico. The former Democratic National Committee chairman and long time Clinton supporter, who has helped with Clinton's campaign fundraising, repeated comments made by other Clinton operatives when he said, "it's clear to me that this race will not be decided by who has the most money."
Pro-Clinton Super-PACs have also avoided stepping into the fray. They fear that directing their money against Sanders could further split the Democratic Party at a time of heightened animosity between the two candidates and their supporters: outside organizations have only spent $786,000 attacking the Vermont senator, most of it coming from a Republican-aligned organization.
Clinton, on the other hand, has borne the brunt of Republican attacks against the Democrats. Over $4 million has been spent attacking her, probably because the Republicans believe they will have an easier time beating a Jewish Democratic Socialist than they would beating a prominent former First Lady, senator, and secretary of state.