Clinton Controversy Highlights Gaps In Email Rules For Congress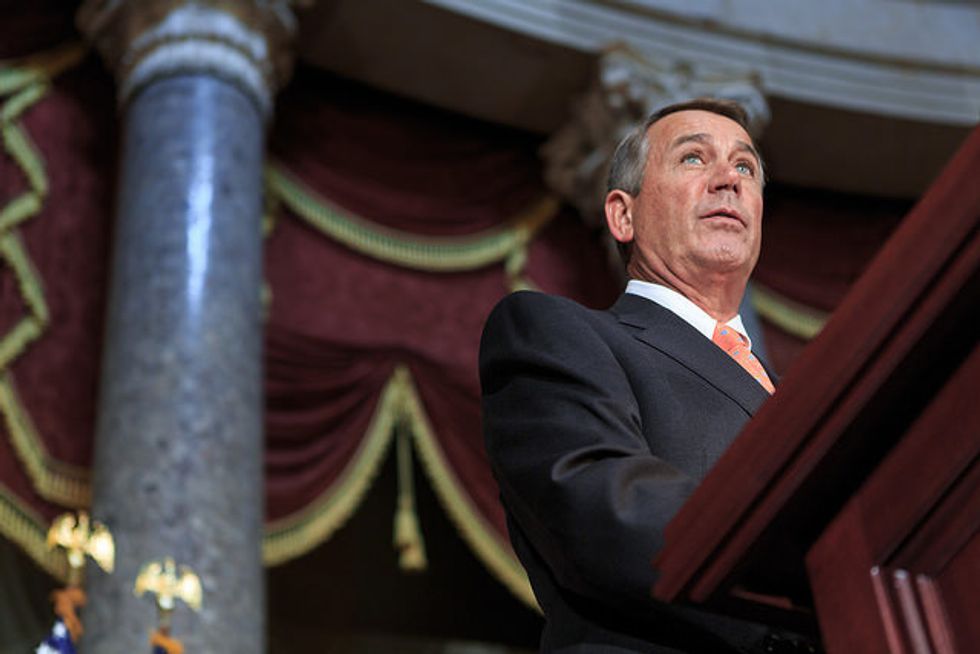 By Kate Ackley, CQ-Roll Call (TNS)
WASHINGTON — Despite gripes on Capitol Hill that Hillary Rodham Clinton's email practices may deprive the public of important insight into her tenure at the State Department, Congress has subjected itself to a hodgepodge of electronic data protocols, with much left to the whims of lawmakers.
Responding to reports that Clinton used a personal email server, instead of a government account, to conduct business as secretary of State, a spokesman for Speaker John A. Boehner last week blasted the actions as part of the administration's pattern of blocking transparency.
But the legislative branch, which has effectively exempted itself from the Freedom of Information Act, can keep its emails and other correspondence hidden for 20 years or more — and some forever.
"The best thing that may come out of this Hillary situation is that the House and Senate have to take a good hard look at their own procedures," said a former historian of the House Ray Smock, who is now director of the Robert C. Byrd Center for Legislative Studies at Shepherd University. "This is a big problem, and Congress has only had an occasional, piecemeal approach."
All emails and paperwork generated in a lawmaker's personal office remain that member's private property, according to Smock and other experts. And it is up to them whether they wish to make their records public and, if so, what restrictions they choose to place on them.
If Byrd had wanted, all of his personal office emails and other records could have vanished. Smock said Byrd choose to preserve his files, which are now available at the school's library.
The emails and other records of congressional committees are preserved at the National Archives' Center for Legislative Archives, although Congress determines which records are deemed official and maintains ownership of the documents.
Congressional committees have the authority to omit or further delay disclosure of certain emails and other records from public view if they contain private, classified or national security information. Records that pertain to congressional investigations can be closed for up to 50 years.
Officials with the Clerk of the House and the Secretary of the Senate did not respond to requests for information about guidelines for committee emails from lawmakers and their aides, including any protocols for using official or personal email accounts. The House Administration Committee also did not respond to requests for comment.
There are some clear prohibitions on lawmakers' use of their official email: They must never use their government email accounts to solicit campaign money or even most charitable contributions.
"I think lawmakers have the opposite problem [from Hillary Clinton]," said Ken Gross, a political law partner at Skadden Arps Slate Meagher & Flom. "They have to be more mindful of what they can't use their official email for."
The House and Senate approved a resolution in 2008 stating that lawmakers should "properly" maintain their papers, adding that each member of Congress "should take all necessary measures to manage and preserve the Member's own Congressional papers" and to make them available for "educational purposes at a time the Member considers appropriate." But the resolution does not compel them to do so.
Senate historian Donald A. Ritchie said his office helps senators find a place, typically a university library, to house their records.
Some senators have printed out their email collections, Ritchie said, though others, such as former Senator Scott P. Brown (R-MA), keep them in electronic form. "Scott Brown took his entire collection under his arm in his hard drive," Ritchie said.
Reading and searching old emails can become difficult as technology becomes obsolete. Smock said the Byrd archives spent $10,000 recently to clean up the hard drive of the late senator's electronic correspondence.
Historians and government disclosure groups say they want more consistency in congressional preservation of emails and other records.
"It's a labyrinth," said Frank Mackaman, president of the Association of Centers for the Study of Congress. "Our approach in dealing with donors is to try to get the fewest restrictions on the use of the material, but every case is an individual negotiation."
Archives opens most Senate committee records after 20 years, while most House committee records stay closed for 30 years.
"Our total holdings of electronic records from the legislative branch is over 56 terabytes of data," said Richard Hunt, who runs the Center for Legislative Archives at the National Archives.
Most emails are still closed to the public because the technology has only been used for the past two to three decades. Still, Hunt said, such records hold enormous value to historians or anyone interested in how Congress operates.
"They really show how our government works, or not," he said. "The files are pretty rich. There are some hidden gems in the collections."
Photo: Speaker Boehner via Flickr