Clinton: No Decision On White House Run Before Year's End
@AFP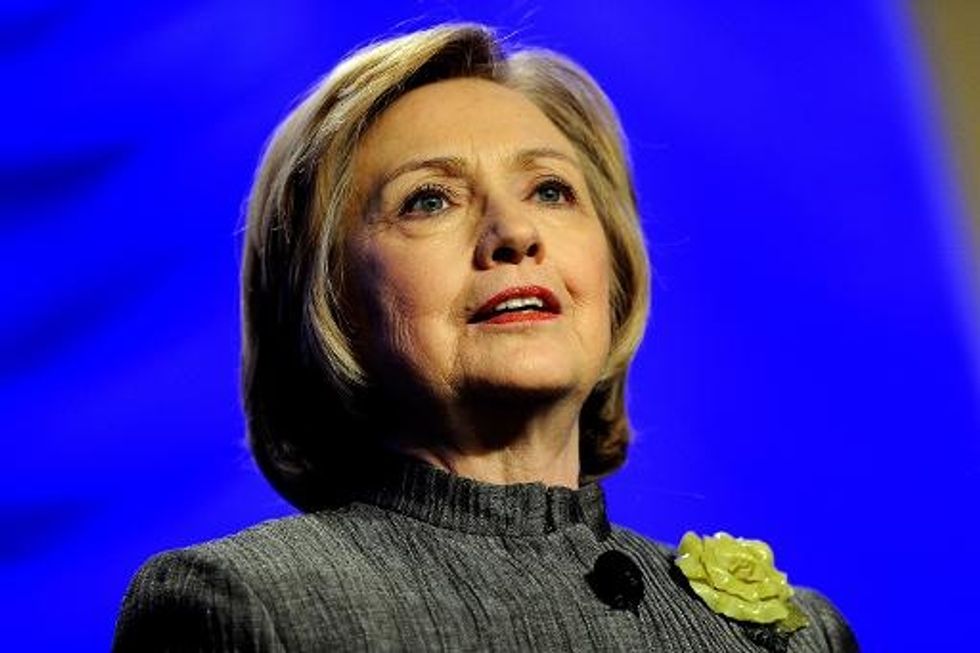 Washington (AFP) – Hillary Clinton won't make her intentions known about a possible White House before year's end, she said in an interview broadcast Sunday.
"I will be on the way to making a decision by the end of the year," she said in a taped interview with ABC television. "Certainly not before then."
Clinton's remark came as she embarks on a sweeping book tour for her latest memoir, Hard Choices.
"I just want to kind of get through this year, travel around the country, sign books, help in the midterm elections in the fall, and then take a deep breath and kind of go through my pluses and minuses about what I will -– and will not -– be thinking about as I make the decision," she said.
Her non-committal remarks notwithstanding, many see Clinton's book tour launch this week as an unofficial start to her expected presidential run.
Her book, scheduled for publication on June 10, is widely seen as a chance for her to re-craft and fine-tune her image ahead of a 2016 campaign.
Clinton, 66, who lost to President Barack Obama in their 2008 battle for the Democratic presidential nomination, is mulling a second White House run.
As has been her style, Clinton spoke opaquely about her political plans, careful not to rule out, or rule in, a future presidential bid.
Meanwhile, a poll released Sunday morning showed she has commanding support among Democrats, making her the prohibitive early favorite to lock up her party's nomination, if she seeks it.
The new ABC News-Washington Post poll found that 69 percent of Democrats and Democratic-leaning independents support Clinton as the party's presidential candidate.
Clinton also fared well among the broader U.S. public, with 67 percent of Americans viewing her as a strong leader, 60 percent saying she's honest and trustworthy, and 59 percent saying she has new ideas for the country's future.
The poll found that 59 percent of Americans approve of Clinton's overall job performance as secretary of state.
That number fell to 37 percent however when respondents were specifically asked about Clinton's handling of the attack in Benghazi, Libya where a U.S. ambassador and three other Americans were killed.
Clinton addressed the Benghazi controversy in her book, writing that she refuses to "exploit this tragedy over and over as a political tool" nor would she "minimize the sacrifice of those who served our country," according to excerpts released before publication.
In other excerpts released ahead of the book's publication, Clinton writes about mending fences with Obama after their bruising primary battle.
In their early meetings, she and Obama aired grievances, including over what Clinton called "the preposterous charge of racism" against her husband, Bill, for remarks he made on the campaign trail.
"Barack made clear that neither he nor his team believed that accusation," she said.
She also addresses sexism that surfaced against her during the primary campaign, saying "I knew that it arose from cultural and psychological attitudes about women's roles in society, but that didn't make it any easier for me and my supporters."
Clinton also writes about her views on Russian President Vladimir Putin, describing a memo she sent to Obama before leaving her post — months before the Ukraine crisis that the West accuses the Kremlin of choreographing.
In her book, Clinton says she told Obama: "Don't appear to eager to work together. Don't flatter Putin with high-level attention."
But many reviews suggest the former top U.S. diplomat's wide-ranging book suffers from too much diplomacy — leaving out the juicy details that reveal what was really going on behind the scenes — in order to preserve relationships and shape her image ahead of another presidential bid.
AFP Photo/Patrick Smith