Clinton Foreign Policy Memoir Distances Her From Obama
@AFP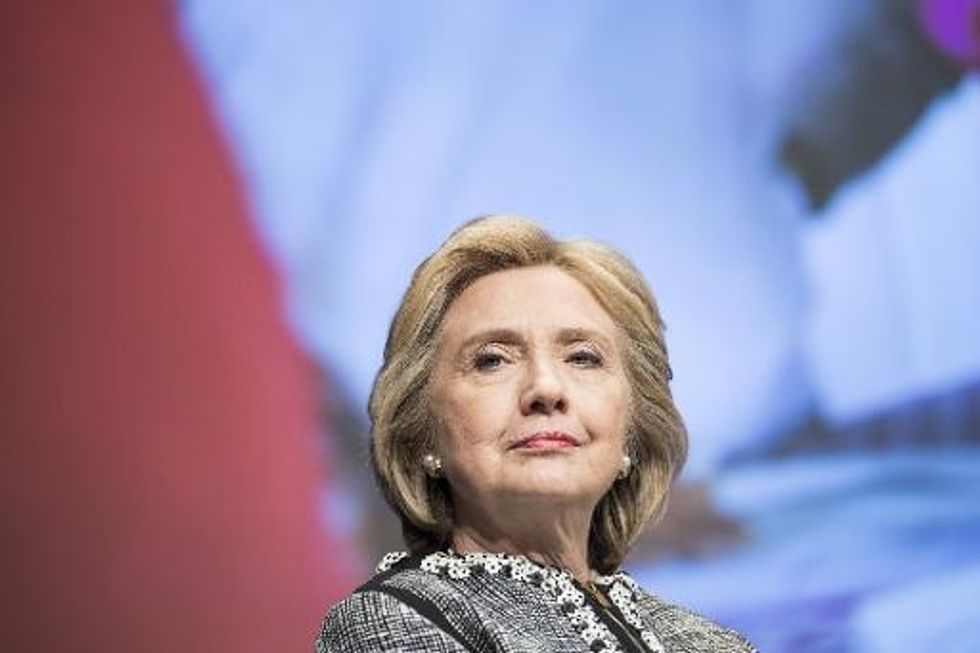 Washington (AFP) – Beginning a dry run for her seemingly inevitable U.S. presidential campaign, Hillary Clinton has put some space between herself and Barack Obama on foreign policy in her latest memoir.
In one of several passages recounting her differences with the president during her time serving at his secretary of state, Clinton said she favored arming rebels early in Syria's civil war.
Clinton's long-awaited book Hard Choices — seen as an unofficial start to her expected presidential run — is set for a June 10 release.
But CBS News, whose parent company owns the book's publisher Simon and Schuster, obtained a copy and leaked several passages on Thursday.
The book promises a treasure trove of details about her tenure, and Clinton launches a busy tour beginning next week in support of the book — but also of her 2016 prospects.
The memoir touches on the Iraq war, the Benghazi attack, Washington's ties with the Kremlin and Russia's invasion of neighbor Ukraine, as well as fallout from the Arab Spring.
The Syria episode illustrates a key break between Clinton, who lost the Democratic nomination to Obama in 2008, and a president whose popularity has plummeted in his second term.
"Wicked problems rarely have a right answer; in fact, part of what makes them wicked is that every option appears worse than the next. Increasingly that's how Syria appeared," she wrote.
Clinton said she was convinced that arming and training moderate Syrian rebels was the best way to turn the tide against strongman Bashar al-Assad.
"The risks of both action and inaction were high, (but) the president's inclination was to stay the present course and not take the significant further step of arming rebels," she added.
"No one likes to lose a debate, including me. But this was the president's call and I respected his deliberations and decision," she wrote, according to CBS.
"In this case, my position didn't prevail," she wrote.
Republican national security hawks like Senator John McCain have blasted Obama for delaying military aid to the rebels, saying such waffling has emboldened U.S. adversaries around the world.
Clinton also revealed details about a first, secret meeting with newly-minted nominee Obama prior to the 2008 Democratic convention, during which the two "stared at each other like two teenagers on an awkward first date."
"Both Barack and I and our staffs had long lists of grievances. It was time to clear the air," she wrote.
In passages that directly relate to today's headlines, Clinton addresses the State Department's efforts to secure the freedom of U.S. Army Sergeant Bowe Bergdahl, who was released into U.S. hands Saturday in an exchange that saw five Taliban leaders transferred out of the Guantanamo military prison.
"In every discussion about prisoners, we demanded the release of Army Sergeant Bowe Bergdahl, who had been captured in 2009. There would not be any agreement about prisoners without the sergeant coming home," she wrote, according to CBS.
"I acknowledged, as I had many times before, that opening the door to negotiations with the Taliban would be hard to swallow for many Americans after so many years of war."
Obama has come under intense criticism for agreeing to the prisoner exchange.
Clinton's book also describes her anguish over her "mistake" in voting to support the Iraq war resolution in 2002 when she was a U.S. senator.
"I thought I had acted in good faith and made the best decision I could with the information I had. And I wasn't alone in getting it wrong," she wrote.
"But I still got it wrong. Plain and simple."
Obama was not in the Senate at the time but has said he opposed the Iraq war from the start.
In excerpts about Russia's February invasion of Ukraine's Crimea, Clinton paints Russian President Vladimir Putin as a strongman with an "appetite for more power, territory and influence."
"He also proved over time to be thin-skinned and autocratic, resenting criticism and eventually cracking down on dissent and debate."
Putin on Wednesday called Clinton "weak," and upbraided her for comparing his aggressive actions to those of Adolf Hitler in the 1930s.
AFP Photo/Brendan Smialowski