Clinton Heads To Middle East Amid Ceasefire Rumors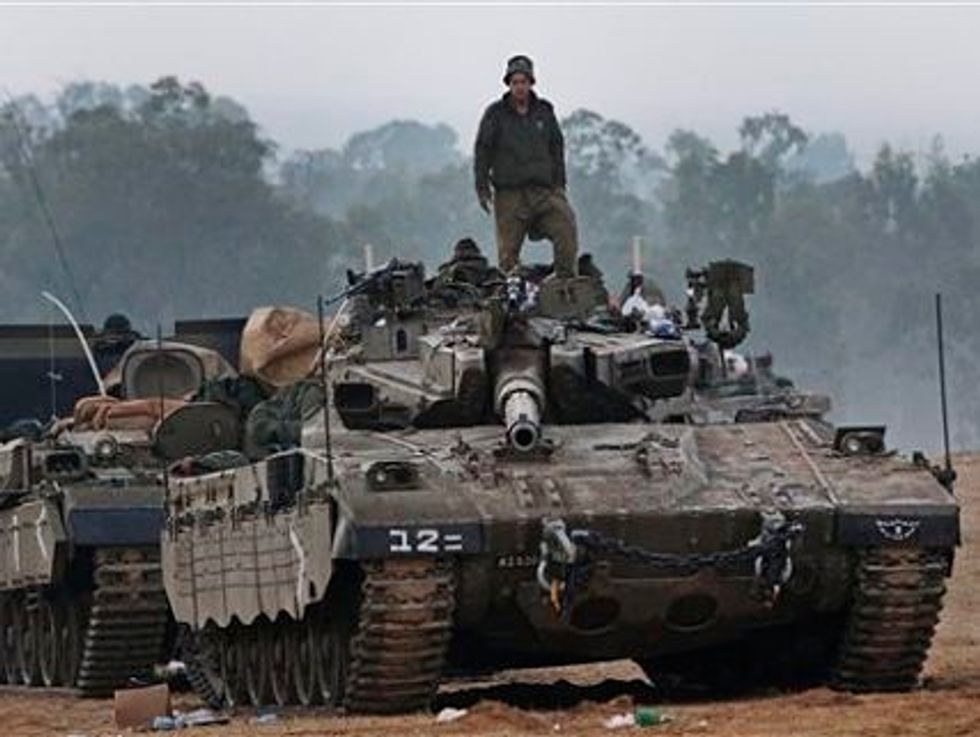 Secretary of State Hillary Clinton is en route to the Middle East to meet with Israeli prime minister Benjamin Netanyahu, as reports suggest that a ceasefire agreement in the week-long Gaza conflict may be imminent.
Tuesday afternoon, Hamas official Ayman Taha told Reuters , "An agreement for calm has been reached. It will be declared at 9 o'clock (1900 GMT) and go into effect at midnight (2200 GMT)."
Egyptian President Mohamed Morsi had hinted at such an agreement hours earlier, when he was quoted by Egypt's state media as saying that "the farce of Israeli aggression against the Gaza Strip will end on Tuesday," and that "efforts to conclude a truce between the Palestinian and Israeli sides will produce positive results in the next few hours." Egypt has taken an active role in the negotations, and relays messages between Hamas and the United States, which refuses to direectly engage with what it considers to be a terrorist organization.
Israel denies that the two sides have come to an agreement, however. Mark Regev, a spokesman for Prime Minister Netanyahu, told Reuters that "we're not there yet," and insisted that Israeli military operations in Gaza would continue while negotiations were ongoing.
After leaving a meeting with United Nations Secretary General Ban Ki-Moon, Netanyahu himself said that Israel would be a " willing partner " in efforts to stop the fighting, but warned that "if stronger military action proves necessary to stop the constant barrage of rockets, Israel will not hesitate to do what is necessary to defend our people."
Israel launched the military campaign in Gaza on November 13th, in response to Palestinian rocket fire into Israel. In the past week, more than 100 people have died in Gaza, along with at least three people in Israel.
Any ceasefire agreement would likely include the end of Israeli airstrikes in Gaza and Palestinian rocket attacks into Israel.
According to State Department spokeswoman Victoria Nuland, Clinton will make three stops on her hastily arranged Middle East trip: in Jersualem to meet with Netanyahu, in Ramallah, West Bank to meet with Palestinian officials, and in Cairo to meet with Egyptian leaders.
Nuland elaborated in a statement that Secretary Clinton "will emphasize the United States' interest in a peaceful outcome that protects and enhances Israel's security and regional stability; that can lead to improved conditions for the civilian residents of Gaza; and that can reopen the path to fulfill the aspirations of Palestinians and Israelis for two states living in peace and security."
Deploying Clinton for face-to-face meetings is President Barack Obama's most direct appeal so far for the cessation of hostilities. While the White House has vocally defended Israel's right to defend itself against attacks, Obama has also conceded that a ground war in Gaza would be very costly to both sides, and the peace process at large.
"Israel has every right to expect that it does not have missiles fired into its territory," Obama said Sunday.
"If that can be accomplished without a ramping up of military activity in Gaza, that's preferable," he continued. "It's not just preferable for the people of Gaza. It's also preferable for Israelis, because if Israeli troops are in Gaza, they're much more at risk of incurring fatalities or being wounded."
Photo credit: AP/Lefteris Pitarakis