Clinton Takes A Step Away From Obama On Islamic State; Will Democrats Follow?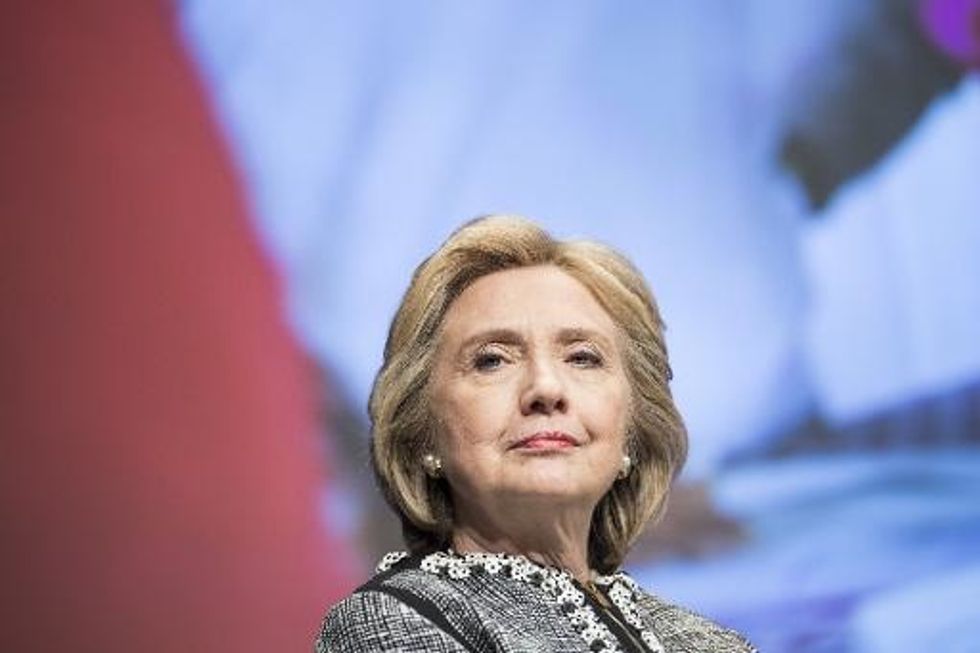 By Maeve Reston, Los Angeles Times
When President Barack Obama announced airstrikes this week in Iraq to address the humanitarian crisis and contain the alarming expansion of the Islamic State across Iraq, his reluctance was visible as he repeatedly said he would not send ground troops in Iraq.
It was an ironic twist for a president who defeated Hillary Rodham Clinton in the 2008 presidential race in part because of his vow to withdraw U.S troops from Iraq, a conflict for which Clinton had voted as a senator. But as he steps into the quagmire in Iraq, the term-limited president will not have to face war-weary voters at the ballot box as vulnerable Democratic colleagues — and possibly Clinton, if she decides to run for president in 2016 — will.
Obama's acknowledgment that Iraq's problems cannot be solved in weeks, and his refusal to outline a timetable, raised the possibility that his actions in Iraq could shadow the midterm election — creating another tricky issue for Democrats.
With many Americans wary of greater U.S. involvement in Iraq and Syria, there was no rush by vulnerable Senate Democrats this week to put out statements on the airstrikes. It remains to be seen whether they will forcefully back the president's actions on the campaign trail or try to focus more on other topics.
At the same time, with hawkish Republicans like Arizona Sen. John McCain and Florida Sen. Marco Rubio charging that Obama did not act quickly enough to contain Islamic State and urging a more robust military operation, Democrats could have an opening this fall to tie their Republican opponents to the unpopular war policies of former President George W. Bush and Vice President Dick Cheney.
The debate within the Democratic Party over whether Obama could have done more — at an earlier stage — to prevent the current crisis in Iraq and Syria may be stirred by Clinton's comments in a recent interview with the Atlantic magazine, which was published overnight Sunday.
In her new memoir, "Hard Choices," Clinton wrote about her regrets over her 2002 Senate vote authorizing Bush to use U.S. military power in Iraq, stating that she "got it wrong."
But the former secretary of state also asserted in the book that she advocated within the administration for greater U.S. involvement in Syria as the situation deteriorated. In the interview conducted Tuesday with the Atlantic's Jeffrey Goldberg, Clinton appeared to create more distance between her position and that of the Obama administration, emphasizing that she advocated for carefully vetting, training, and equipping "a core group of the Free Syrian Army."
Asked whether Islamic State would have the same strength today if the United States had done more to build up moderate Syrian opposition three years ago, Clinton said she didn't know.
But she immediately added that "the failure to help build up a credible fighting force of the people who were the originators of the protests against Assad — there were Islamists, there were secularists, there was everything in the middle — the failure to do that left a big vacuum, which the jihadists have now filled."
Obama did not accept that argument earlier this year when others said that the United States should have provided more military assistance to the Syrian opposition.
"Those who believe that two years ago, or three years ago, there was some swift resolution to this thing had we acted more forcefully, fundamentally misunderstand the nature of the conflict in Syria and the conditions on the ground there," he told Goldberg in an interview for Bloomberg. "When you have a professional army … fighting against a farmer, a carpenter, an engineer — who started out as protesters and suddenly now see themselves in the midst of a civil conflict — the notion that we could have — in a clean way that didn't commit U.S. military forces — changed the equation on the ground there was never true."
Clinton and her fellow Democrats will undoubtedly have more to say on the Iraq crisis in the coming weeks, but her comments suggested that she plans to use Syria as a way to subtly distinguish herself from Obama as she mulls a run for president.
Other Democrats will face that strategic decision even earlier as they look ahead to November.
AFP Photo/Brendan Smialowski
Interested in U.S. politics? Sign up for our daily email newsletter!