Clinton Unleashes Broadside Against Trump In Foreign Policy Speech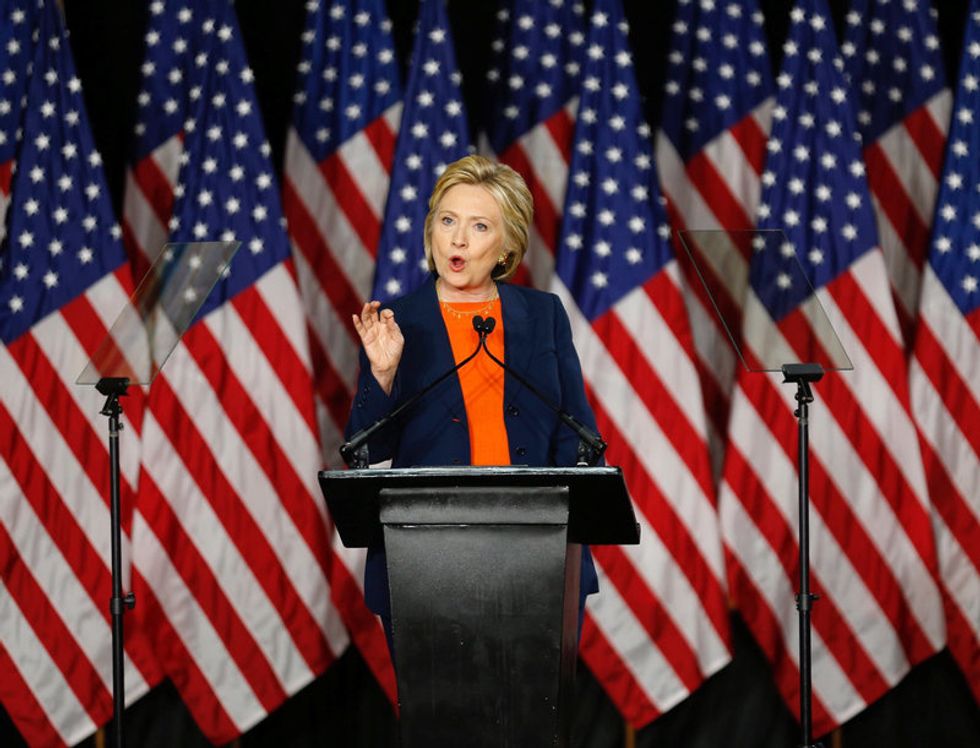 Hillary Clinton delivered a highly-anticipated foreign policy speech today in San Diego — a harsh rebuke Donald Trump's rhetoric, absence of serious policy proposals, and the threat he presents to the future of the country and the world.
"Americans aren't just electing a president in November; we're choosing our next commander-in-chief, a person we count on to answer questions of war and pace, life and death," she said. "The person the Republicans have nominated for president cannot do the job."
"Making Donald trump our Commander-in-Chief would be a historic mistake. It would fuel an ugly narrative about who we are, that were fearful, not confident," she said in one of her many direct broadsides against the Republican nominee. "You don't know America and you certainly don't deserve to lead it."
Her speech focused on more than the international ramifications of a Trump victory in November. Clinton called him out for his lack of concrete policy or plans for governance. "Donald Trump's ideas aren't just different; they are dangerously incoherent," said the former secretary of State. "They aren't even really ideas, just a series of bizarre rants, personal feuds and outright lies."
"This is not someone who should ever have the nuclear codes, because it's not hard to imagine Donald Trump leading us into war because someone got under his very thin skin," she said.
"He says he doesn't have to listen to our generals, ambassadors and other high officials because he has 'a very big brain.' He also said 'I know more about ISIS than the generals do, believe me.' You know what? I don't believe him," she said, calling into question the entire basis of his foreign policy credentials, which are non-existent outside of hotel and golf course deals, some of which he fails to repay the loans on.
Her remarks were the culmination of weeks of attacks by Trump against Clinton on everything from her time as Secretary of State to her husband's alleged infidelities, which Trump who has promised capitalize on, despite it having no bearing on Clinton's candidacy.
"Do we want him making those calls?" said Clinton. "Someone thin skinned and quick to anger, who lashes out at the smallest criticisms? Do we want his finger anywhere near the button?"
She went on to mention how his victory would embolden Russia and China, given Trump's praise of Russian President Vladimir Putin and his dismissal of the Tiananmen Square Massacre as "a riot." Clinton portrayed herself as a continuation of America's post-Cold War status as the sole global superpower, and a Trump presidency as a force that would threaten the international system the Americans spent decades setting up.
"Moscow and Beijing are deeply envious of our alliances around the world because they have nothing," she said. "If Donald trump gets his way, they will be celebrating in the Kremlin."
Surprisingly, Trump only managed to tweet twice about the eviscerating speech, before telling his supporters to join him for his next campaign stop in Redding, California.