Clinton's Simple Case For Obamacare: 'It's Better Than The Current System'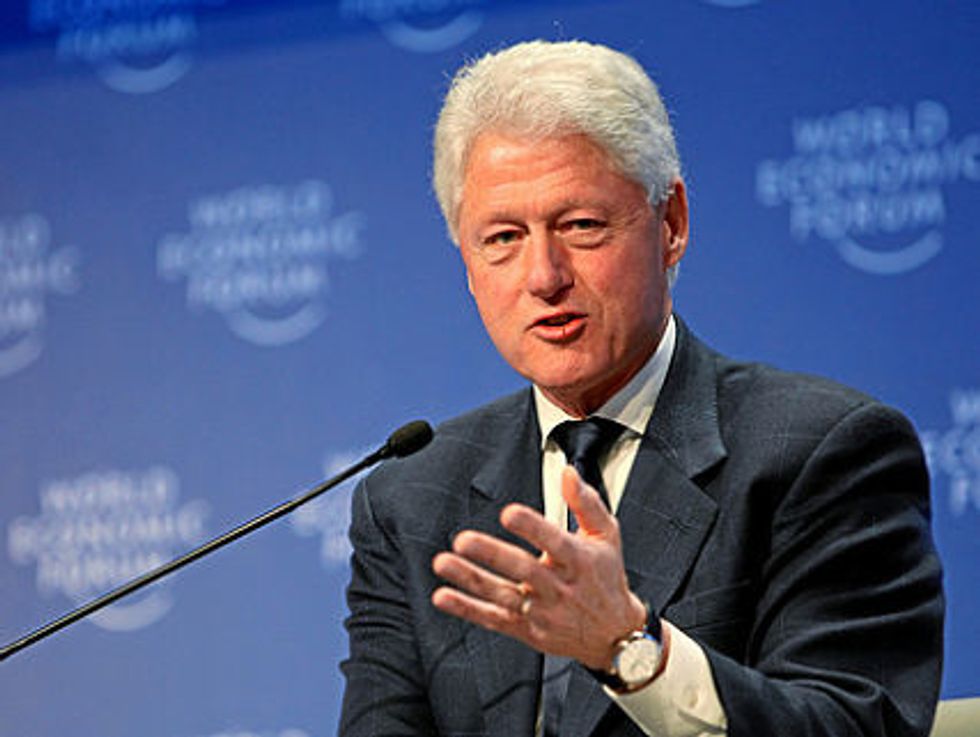 Bill Clinton made the economic case for implementing and improving the Affordable Care Act on Wednesday morning at the Clinton Presidential Library in Little Rock, Arkansas.
The White House asked the man who was dubbed "The Secretary of Explaining Sh*t" after last year's Democratic convention to explain the law, in an attempt to combat the massive campaign by Republicans to misinform voters and sabotage President Obama's signature legislative accomplishment.
"I have agreed to give this talk today because I am still amazed at how much misunderstanding there is about the current system of health care, how it works, how it compares with what other people in other countries pay for health care and what kind of results they get and what changes are actually occurring now and are going to occur in the future," he said.
Clinton was speaking in front of a small audience of doctors and health care professionals, but his audience was clearly the media and thousands watching the livestream of the speech online.
A Kaiser Family Foundation poll released the last week of August revealed that 51 percent of people polled said they "don't have enough information about the Affordable Care Act to understand how it will impact them and their family," and 44 percent were confused about or unaware of the current status of the law.
The former president noted that America is first "by a country mile" in the share of gross domestic product we spend on health care, at 17.9 percent. Yet our results are somewhere around 25th — at best — in the world.
He suggested our economy could be transformed if we could reduce that share to the 12 percent of GDP Switzerland and the Netherlands devote to health care.
"The difference between 17.9 percent and 12 percent is $1 trillion a year," he said. "A trillion dollars that could go to pay raises, or to hire new employees or to make investments that would make our economy grow faster or to provide more capital to start small businesses or to expand others or to support diversifying and strengthening agriculture. You name it. A trillion dollars is a lot of money to spot our competitors in a highly competitive global economy."
Obamacare is the best way to begin this transformation, he argued.
"It's better than the current system, which is unaffordable and downright unhealthy for millions of Americans," he said.

At the beginning of next month, Obamacare's open enrollment begins as state marketplaces allow millions of Americans to choose from newly regulated plans. Tens of millions of Americans who earn up to 138 percent of the poverty level will become eligible for Medicaid in states that have chosen to expand the program, and an estimated 26 million Americans will discover that they are eligible for tax credits to help them pay for insurance.
Clinton touted the benefits of the law that are already in place that have allowed students to stay on their parents' insurance until age 26, along with reforms that require insurance companies not consider pre-existing conditions for 17 million kids. In addition, more than 100 million Americans have seen the lifetime caps on their insurance policies disappear.
He also debunked one of the biggest lies from the right, that the law is leading to an epidemic of employers cutting workers to part-time, by noting that 90 percent of the jobs created since the law passed have been full-time.
"This law has already done a lot of good," Clinton said. "It's about to make 95 percent of us insured with access to affordable care. It has built-in incentives to lower costs and improve quality."
Clinton's affection for the law and the progress it promises was obvious, as he noted that it was more than a century ago when President Theodore Roosevelt first proposed that health care should be available to all Americans.
The former president — who began his first term in office with a failed attempt to reform the health care system — has used the analogy between Theodore Roosevelt and Franklin Roosevelt to describe how he feels about President Obama and the successful passage of the Affordable Care Act. He noted in 2009 that many of the things Theodore Roosevelt recommended "were not actually done until his cousin, Franklin Roosevelt, became president, you know, more than 20 years later."
But Clinton was also honest about improvements that need to be made to the law. He cited requirements for low-wage workers to cover their entire family or face penalties, along with complications created when the Supreme Court made it easy for states to opt out of Medicaid expansion.
He noted that though the House GOP has obsessively voted to repeal the law without presenting an alternative, other Republicans on the state and local levels have been working to implement the law properly. He cited Arkansas as example of how bipartisan cooperation can make the reforms work.
"You can't change a complex ecosystem like American health care this much without creating some problems," he said. "So there are some. But they can best be solved if we all work together to fix them."
Photo: World Economic Forum via Flickr.com