Closing Guantanamo: Obama's Sudoku
@AFP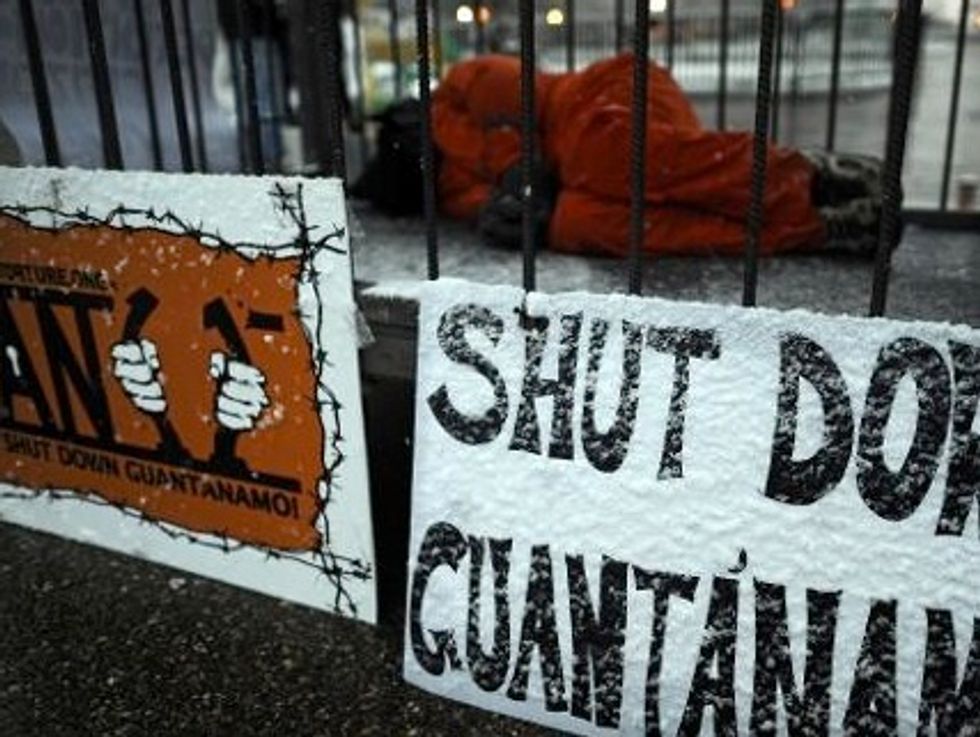 Guantanamo Bay Naval Base (Cuba) (AFP) – Closing Guantanamo prison may still top the White House's agenda, but the impossible headache that comes with it means President Barack Obama may have to postpone his campaign promise indefinitely.
Despite repeated vows to close Guantanamo Bay, the controversial U.S. military detention facility still holds 164 "war on terror" suspects. Most have never been charged or tried and face indefinite detention for so far unproven suspicions.
Obama, who vowed to close Guantanamo Bay in one of the first acts of his presidency in 2009, renewed his pledge Monday as he met with two officials he appointed to accomplish the task.
He told the pair, Clifford Sloan, the State Department's special envoy for Guantanamo Closure, and Paul Lewis, who holds the same position at the Pentagon, he remains adamant that the camp must be closed.
Obama also urged Congress to lift restrictions on detainee transfers, with his spokesman Jay Carney saying they have "significantly limited our ability to responsibly reduce the detainee population and ultimately close the facility."
"The Guantanamo facility continues to drain our resources and harm our standing in the world," Carney added.
But partly due to obstruction by Congress and the failure to find nations willing to take repatriated prisoners, as well as fears the inmates could either be tortured or return to violence in their home country, he has failed to live up to his promise.
"I don't see it ever closing," said David Remes, a lawyer representing several Guantanamo Bay prisoners.
"It's not a question of philosophical attitude… but they can't be transferred for practical reasons."
Guantanamo chief prosecutor Brigadier General Mark Martins acknowledged the fundamental challenges striking at the core of the effort to shutter the prison set up by Obama's predecessor George W. Bush in the aftermath of the 2001 attacks that killed nearly 3,000 people on US soil.
"What do you do if you can't try them, transfer them or release them?" Martins asked in an interview about the prisoners.
"It's a difficult problem, one of the hardest problems in modern national security policy and law."
Not an amusement park
"This is an example of what happens when politics gets into matters that ought to be simply decided by lawyers and by national security experts," Attorney General Eric Holder told reporters this week.
America's top law enforcement official has repeatedly called for the trial of the five men accused of plotting the September 11, 2001 attacks to take place in Manhattan and not at Guantanamo, where pretrial proceedings are under way.
And the Obama administration readily admits the prison is a headache that costs nearly $1 million per prisoner each year, for a total of almost $200 million even as Washington is recovering from a bruising recession.
"It is wildly expensive, it is inefficient and it operates outside America's best interests," said Pentagon spokesman Todd Breasseale.
Both the Bush and Obama administrations said that 84 of the detainees presented no security threat to the United States and cleared them for transfer. Among them are 56 Yemenis who were under a moratorium until May for transfer to their violence-wracked country.
"Fifty-one percent have been cleared for release since 2007 but they can't get home, that's outrageous," defense attorney Clive Stafford Smith said during a visit at Guantanamo.
Prison spokesman Commander John Filostrat, however, stressed that "it's not an amusement park" that can be closed easily from one day to the next.
"Until every detainee has left, we have to do the job safely and humanely," he added.
Seventy-one other cases are currently being reviewed in an attempt to empty the jail cells of the prison in southern Cuba.
But the slow drip, drip, drip of detainee transfers has barely made a dent.
Only two prisoners have been transferred since May, when Obama reiterated his pledge to close the prison and ended his self-imposed ban on transfers to Yemen.
"Yet no Yemeni has left the prison since 2010," said Omar Farah of the Center for Constitutional Rights.
The Obama administration is in talks with Sanaa to build a rehabilitation center that would house Guantanamo's 88 Yemeni prisoners — more than half the prison population.
"Gitmo can't close as long as that category (of prisoners) exists," said Remes, the lawyer representing several of the men.
"If we do two by two every few months, the next generation will still be dealing with this issue."
AFP Photo/Jewel Samad