CNN'S Disastrous Trump Town Hall Was Exactly What Network Bosses Want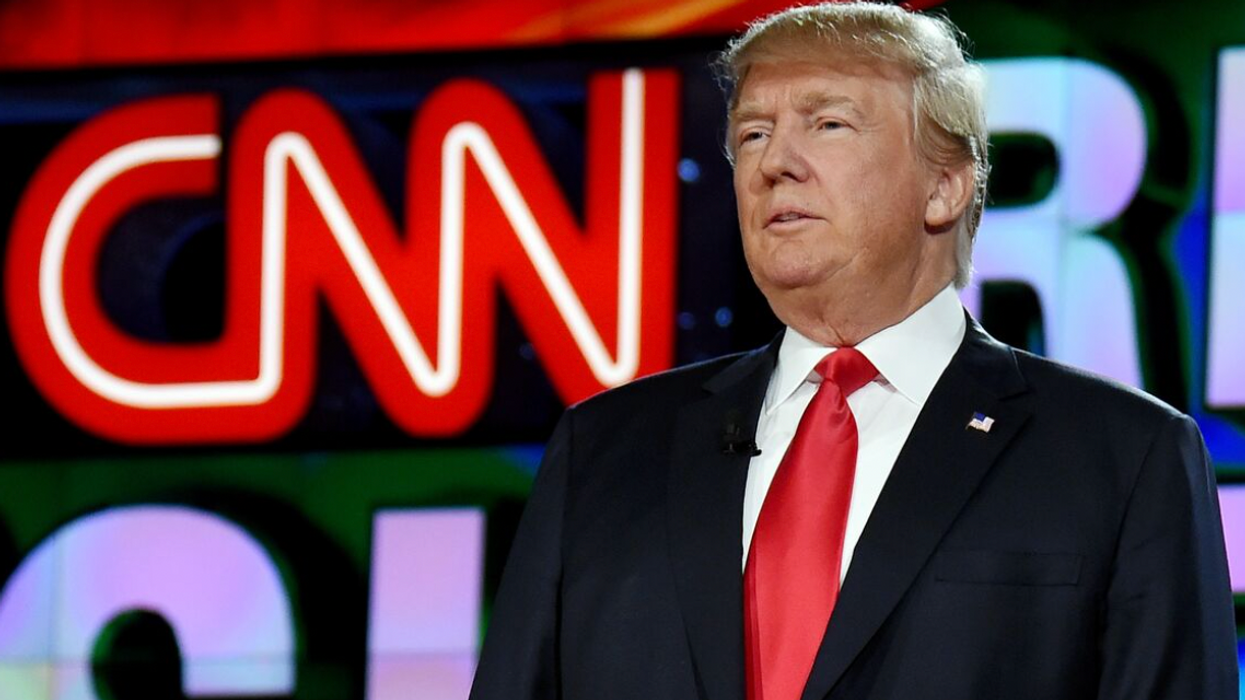 CNN's predictably calamitous town hall with former President Donald Trump is the natural extension of the ideological vision cultivated by the network's leaders.
You can tell that's the case because even as the network's journalists are describing the event as "awful" and "one of the worst hours I've ever seen on our air," CNN CEO Chris Licht is singing its praises, reportedly telling his staff that "America was served very well by what we did last night."
My colleague John Whitehouse documented last night's atrocities for MSNBC.com:
Some are trying to blame CNN's Kaitlan Collins, who moderated the event. There were some glaring Trump lies that she didn't correct. But on the whole, it's impossible to deny that she tried to some degree, and that it wasn't close to enough. Her colleague Jake Tapper gamely tried to clean up immediately after the event, before admitting that there wasn't enough time in the night to fact-check every false statement Trump made. The format forced Collins to try to interrupt Trump with various fact checks, which only turned him and the audience more against her as the night went on. It culminated with Trump calling Collins "a nasty person" — to big applause from the audience.
In a statement, a CNN spokesperson defended Collins as "a world-class journalist" who "asked tough, fair and revealing questions ... and fact-checked President Trump in real time." Yet primary fault for the disaster lies not with Collins, but with basic errors CNN made well before the town hall aired — decisions that guaranteed to push things beyond a breaking point. It's no coincidence that Fox News and conservatives loved this event: It was, literally, classic Republican propaganda that Fox News co-founder Roger Ailes, who died in 2017, likely would have applauded.
The town hall debacle brings back disturbing memories of CNN's coverage of the 2016 presidential campaign. Under Jeff Zucker — who had previously overseen Trump's NBC reality show The Apprentice — the network's spectacle-obsessed, horse race-focused treatment helped lift Trump to the presidency. CNN's new leaders seem to be returning to old practices as they seek to move the network to the political right. And that bodes ill for the quality of CNN's coverage as the 2024 presidential election looms.
CNN regularly built its coverage of the 2016 race around obsessive promotion of Trump's rallies, which the network frequently aired live and unedited. The network also hired a stable of unhinged pro-Trump contributors whose lies frequently turned segments into trainwrecks, including former Trump campaign manager and walking ethics disaster Corey Lewandowski.
None of this was enough for Trump, who prefers his propaganda purer. He regularly denounced the network as "fake news" and threatened on the campaign trail to halt the merger between its then-parent company Time Warner and AT&T.
Following Trump's election, out of guilt or duty or (most likely) pursuit of an audience, Zucker's network pivoted. There was still plenty to criticize about the network's coverage, particularly its nonstop platforming of dishonest pro-Trump pundits. But it also provided an outlet for journalists and commentators like Brianna Keilar, Jim Acosta, Brian Stelter, John Harwood, Chris Cuomo, and Don Lemon to take on Trump and his Fox News megaphone. The president responded with fury, and his denunciations of the network were followed with action: Trump's Justice Department tried to halt the AT&T-Time Warner merger, he seems to have tried to broker a sale of CNN to Rupert Murdoch, and his White House spiked Acosta's press pass.
These external attempts to bring CNN under MAGA control were unsuccessful. But a second try from within appears to have gotten the job done. Following a corporate spin-off and a merger in 2021 and 2022, CNN is now part of Warner Bros. Discovery. Those developments were overseen by David Zaslav, the company's CEO, and John Malone, a right-wing billionaire who was Discovery's largest shareholder and has a seat on the new conglomerate's board.
Malone, a legendary media investor who chairs Liberty Media, is a self-described libertarian and former member of the Cato Institute's board. A frequent donor to Republican candidates and causes, he chipped in $250,000 to Trump's inauguration fund, tens of thousands of dollars to Trump's 2020 campaign and political committees focused on his reelection, and even "contributed to Trump's 'Save America' PAC, which funded the January 6 rally" at which Trump encouraged the mob that stormed the U.S. Capitol, as my former colleague Parker Molloy reported.
Malone detailed his hopes for CNN in a November 2021 interview, as the corporate merger that would put him on the board of its parent company was underway. According to Malone, CNN needed to start emulating Fox News, which had spent the previous four years merging with Trump's White House and serving as his right-wing propaganda organ.
"Fox News, in my opinion, has followed an interesting trajectory of trying to have news news — I mean some actual journalism — embedded in a program schedule of all opinions," he explained. "And I think they've been relatively successful with that, with a service like Bret Baier, and Brit Hume before him, that tried to distinguish news from opinion."
"I would like to see CNN evolve back to the kind of journalism that it started with, and actually have journalists, which would be unique and refreshing," he added.
Malone has denied that he is "directly involved" in shaping CNN's programming to that vision. But he doesn't need to have a day-to-day role to influence the network. Licht, whom Zaslav hired as CEO of CNN last year after Zucker resigned over a relationship with a subordinate, seems to be operating from the same playbook.
Licht has engaged in a "strategy shift" geared at presenting "a new, more ideologically neutral CNN," as The Washington Post put it. Stelter and Harwood lost their jobs while Keilar was demoted. Cuomo and Lemon are also out — albeit for much more credible reasons — with their prime-time slots now filled by coverage from the network's anchors. These changes don't seem to be benefiting the business — CNN's ratings have tanked under Licht — but he's accomplishing Malone's ideological goal.
Those decisions set the stage for Wednesday's disaster. In a CNBC interview last week touting the town hall, Zaslav made clear that his network was deliberately avoiding the lessons of the past. "Republicans are on the air on CNN, Democrats are on the air. All voices should be heard on CNN," he said. "We've got a great political season coming. This is a new CNN."
That sounds a lot like the old 2016-vintage CNN. It's clear that's what Licht, Zaslav, and Malone want — a more compliant network that treats Trump like any other candidate, lets him make his case to viewers regardless of how frequently he lies, and gets attention that might generate ratings.
It's the Trump Show all over again. And we know how that one ends.
Reprinted with permission from Media Matters.