Co-Champions Crowned At Scripps National Spelling Bee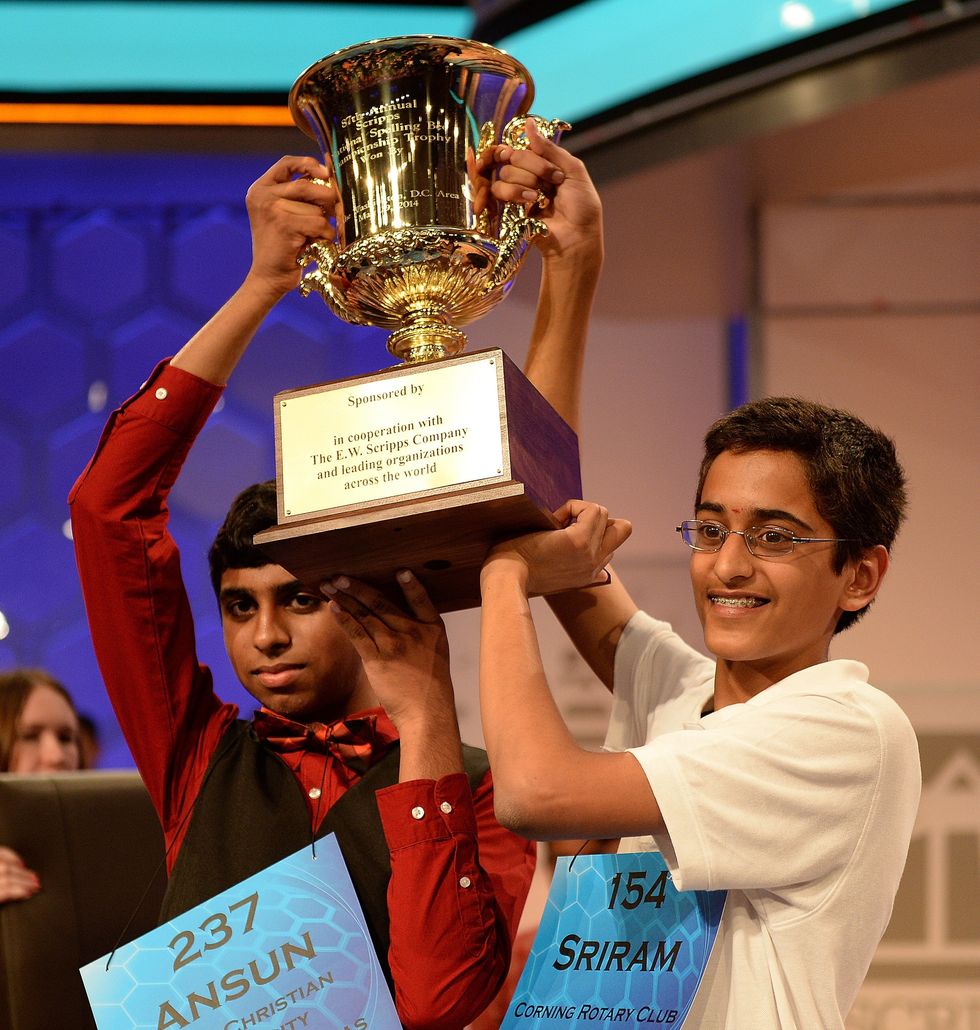 By Bartholomew Sullivan, Scripps News
NATIONAL HARBOR, MD — The Scripps National Spelling Bee crowned two winners Thursday night after a five-round duel in which neither could miss a word. In the end, Sriram Hathwar of Painted Post, N.Y., and Ansun Sujoe of Fort Worth, Texas, shared the prize.
It was just the fourth time in the bee's history, and the first in more than 50 years, that winners shared the winning title. Others were in 1950, 1957 and 1962.
Both boys were magnanimous in victory, with Sriram saying the competition was against the dictionary not a human opponent. "I'm happy to share this trophy with him," he said. Ansun said he had been happy just making the finals and "even happier" to have won.
The winning words were Sriram's stichomythia (dialogue in Greek drama) and Ansun's feuilleton (the features section of French newspapers).
The final rounds were a showdown between three boys of Indian descent, including Gokul Venkatachalam, 13, of Chesterfield, MO, then just two. Both finalists misspelled their words in the 16th round setting up a dramatic shootout in Rounds 17, 18, 19, 20, 21 and 22. They just never got a word wrong.
The bee began with a written test Tuesday taken by all 281 regional champions. By Wednesday evening, all but 46 had been eliminated by either a missed on-stage spelling or the application of their written test scores. The semifinal on-stage rounds of the bee Thursday morning knocked out 15 contenders. After written tests administered overnight, a further 19 were winnowed to 12 for Thursday night's prime-time contest on ESPN.
Scripps CEO Rich Boehne said the company has been associated with the iconic test or skill for so long that no one questions why it stays involved.
"At Scripps, we don't feel like we own the Spelling Bee," he said. "We just sort of hold it and nurture it and protect it and invest in it and build it on behalf of all the spellers across the whole country."
The 87th National Bee, held at the Gaylord National Resort and Convention Center south of the capital, is "a great American institution," Boehne added. "It showcases great kids and academics and learning and we just do it because it's so core to our culture."
Boehne said the spellers demonstrate that they will be "life-long learners," which he said is important because "you have to progress and change and evolve.
"These are kids who've evolved on stage; they evolve, live, right in front of all of us, building skills that really will benefit them the rest of their lives."
Five-time national contestant Sriram was an odds-on favorite after nailing favus, a hexagonal tile, and quatrefoil, meaning four-leafed, Thursday morning. He placed third in last year's national bee.
Of the final 12, two were from Florida, two were from Texas, two were from Virginia, and there were one each from California, Illinois, Missouri, New York and Ohio. The lone international speller, Tajaun Gibbison, 13, was from Mandeville, Jamaica, and was bounced out in the eighth round with chartula, a folded paper containing medicine. This year's finalists ranged in age from 11 to 15.
Another crowd favorite in the final rounds, Kate Miller, 14, of Abilene, Texas, succeeded with osteochondrous, but was sidelined by exochorion, the outer layer of an insect egg, and left the stage to a standing ovation. Later, she said would be taking home "a suitcase full of happy memories," and was glad she could ignore spelling for a while.
By far the most expressive participant in the finals, Jacob Williamson, 15, of Cape Coral, FL, was certain of his words and pumped his fists in the air on wins with rhadamanthine, munchausenism and carcharodont but fell to kabaragoya.
"It was a lot of fun," Jacob said later. "I thought I I knew that word, but I guess I didn't."
Other finalists fell to irbis (a snow leopard), aetites (a clay nodule), and hallenkirche, the latter missed by the youngest speller, 11-year-old Tejas Muthusamy of Glen Allen, Va.
Tejas later said he hoped to be back after studying "more esoteric words."
Chuck Myers/MCT