WATCH: Trump Bully Kid Tells Colbert He's Voting For Hillary Because Trump Is 'Too Childish'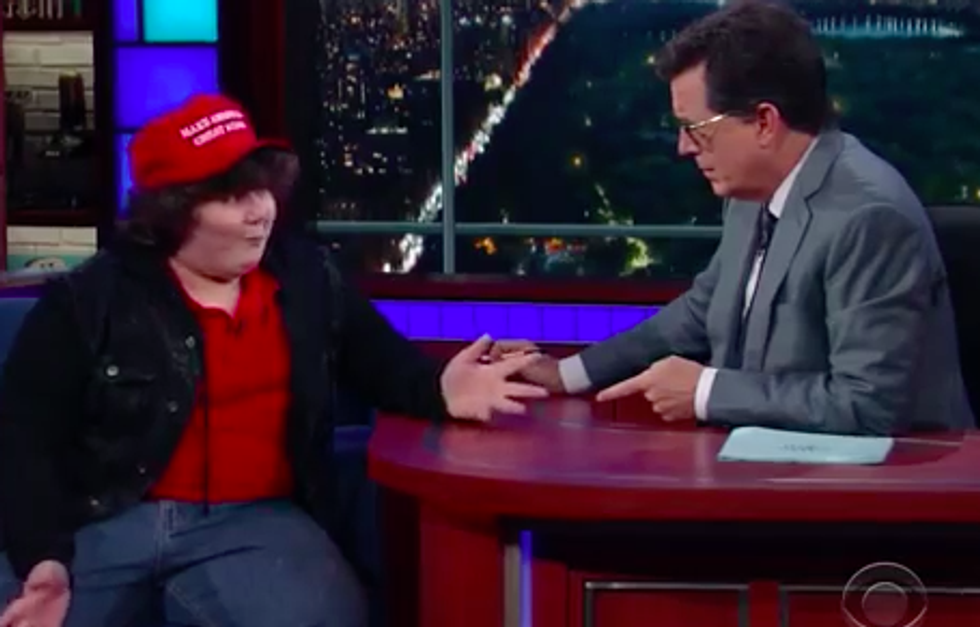 It's been a bad week for Donald Trump — even by Donald Trump standards, and his Senior Junior Campaign Strategist agrees.
Timmy Jenkins, the "Trump Bully Kid," returned to the Late Show to help Stephen Colbert decode the latest wave of Trump controversies.
Jenkins takes credit for the nicknames "Lyin' Ted," "Lil' Marco," and "Booby Jindal." But even the mastermind behind Trump's campaign strategy can't stick with him after the GOP nominee's disastrous last few days. Like many in the GOP, Jenkins has finally had enough of Trump, and will vote for Clinton despite her "cooties."
"I thought this would be fun, you know… share some laughs, destroy the GOP, maybe even ban an entire religion from the country," Jenkins told Colbert.
"But Trump's out of control. That guy's way too childish to be president. I'm voting for Hillary. Cooties be damned!"
Watch Jenkins' discussion with Colbert:
Photo and video: CBS' The Late Show With Stephen Colbert via YouTube