#EndorseThis: Colbert Celebrates GOP Health Care Debacle With Animation And Much, Much More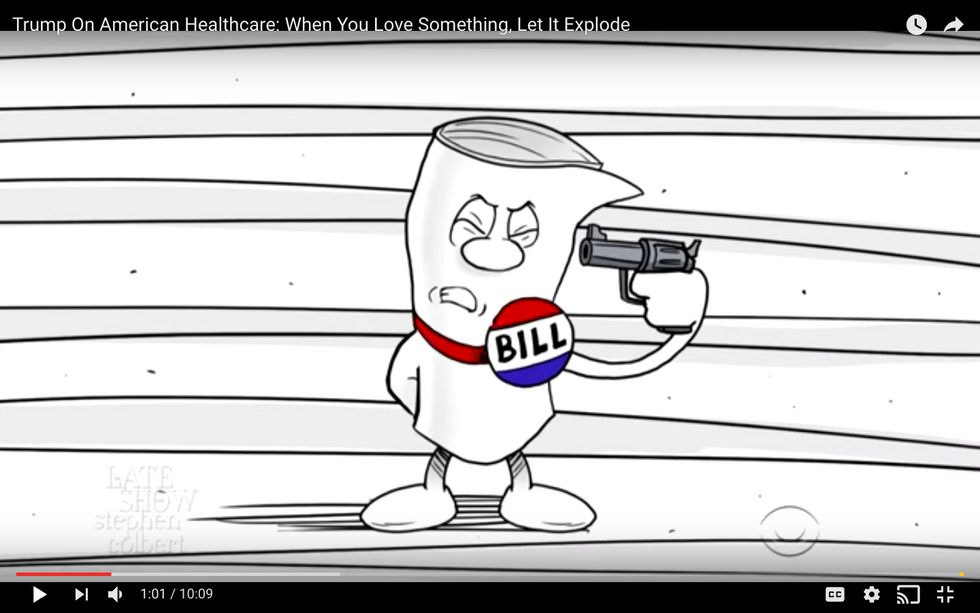 While on his break, Stephen Colbert observed the failure of the American Health Care Act, and seems to have enjoyed the experience mightily — so much in fact that he felt the urge to share his elation as soon as he returned to air. The Late Show celebration opens with a short animated portrayal of the Republicans' legislative suicide, and continues with actual ads from right-wing organizations praising Republicans in Congress for what they had failed to do — which ran over the weekend, after the bill died.
As for Trump's excuses after the fact — such as his claim that he didn't promise to repeal and replace "within 64 days" — Colbert displays video of candidate Trump repeatedly vowing that he would "immediately…immediately…immediately" repeal and replace Obamacare, sometimes mentioning his "first day in office." He features a bizarre Fox News clip of "Judge Jeanine" Pirro, spitting blame on Speaker Paul Ryan — and much more.
It's almost time to stop gloating and get back to work. Almost.