Collapse Of Buildings In China Quake Renews Fears Of Poor Construction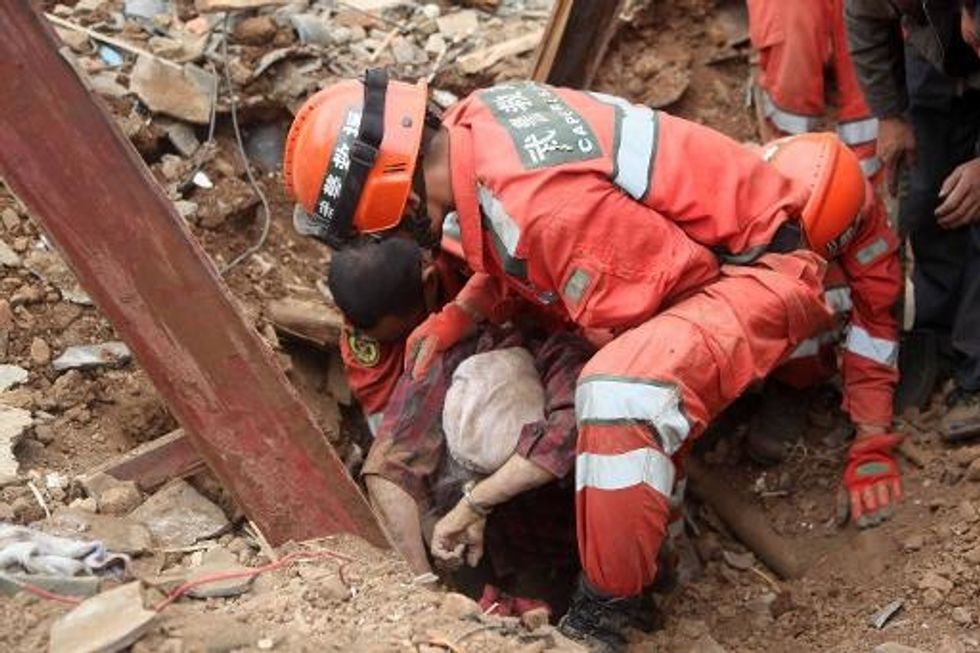 By Stuart Leavenworth, McClatchy Foreign Staff
BEIJING — Heavy rains on Monday complicated rescue efforts in south China's mountainous Yunnan province, where a major earthquake Sunday killed at least 398 people and injured more than 2,000 others.
Roads were blocked and telecommunications down in and around the Lubian County town of Longtoushan, 277 miles northeast of Kunming, Yunnan's capital. The magnitude 6.1 quake flattened or damaged more than 10,000 homes and other structures, again raising questions about China's building standards and ability to respond to natural disasters.
Yunnan Information Daily, a Kunming newspaper, reported that a three-story police station in Longtoushan had collapsed, burying at least four police officers, who were confirmed dead. Upon reading this, some commenters on Weibo, China's version of Twitter, questioned why a police station in an earthquake-prone region would not have been built to tougher standards.
Other government buildings in Longtoushan, including a middle school, collapsed or were heavily damaged, according to Chinese news agencies People.nc and Xinhua .
Ludian County is home to 430,000 people, including members of the Miao, Zhuang, and Bai minorities, and it is one of China's poorest regions. Many of the homes are made of brick and mud, even though several major earthquakes have hit the region and other parts of Yunnan province in the last century.
A magnitude 7.7 quake killed roughly 15,000 people in Yunnan in 1980, and a magnitude 7.1 quake killed 1,400 1974. In 2008, a major earthquake killed more than 70,000 people in neighboring Sichuan province, prompting some citizens to heavily criticize the government for a slow response and a failure to enforce building standards.
Earthquakes have been a sensitive topic for China's ruling Communist Party since the 2008 disaster in Sichuan. In the days after that quake, the government attempted to suppress reports that lax building standards and inspections had contributed to the fatalities, including the deaths of hundreds of children in collapsed school buildings.
As of Monday evening, the government had not taken down comments on Weibo questioning why some local government buildings in the earthquake zone had collapsed.
McClatchy special correspondent Tiantian Zhang contributed to this report from Beijing.
AFP Photo
Interested in world news? Sign up for our daily email newsletter!