Colleges Step Up Efforts To Warn Students Of Sex-Abuse, Alcohol 'Red Zone'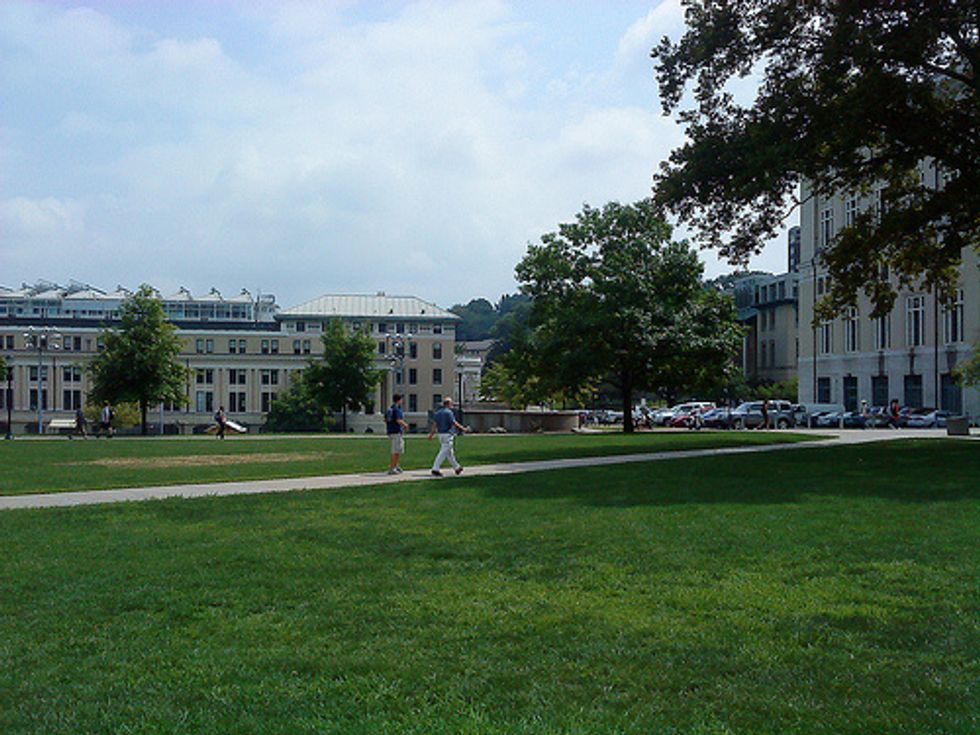 By Kathleen Megan, The Hartford Courant
Halee Bazer, a freshman at Quinnipiac University in Hamden, Conn., said she has heard about the wave of sexual assault lawsuits on college campuses and plans to be cautious about parties, never go anywhere alone, and call campus security for escorts if necessary.
"Yeah, I'm like very paranoid," Bazer said as she organized her gear in her new dorm room. "But, like, campus security makes me feel better about it."
With the heightened focus on sexual assault on college campuses in the past year, many freshmen and their parents — even at Quinnipiac, which has top ratings for safety — are thinking and talking about their concerns.
Some college and university officials say that freshmen are particularly at risk for unwanted sex or rape during the first couple of months of the school year — a period some call "the red zone."
"I've heard some male students refer to this period as 'hunting season,'" said Dana Bolger, the co-founder and co-director of Know Your IX, a group that assists college women filing sexual assault complaints under federal Title IX legal provisions. "Perpetrators know that students just beginning their college experience are at their most vulnerable; they haven't developed a support network yet and are just trying to fit in, make friends, and find the library."
A U.S. Justice Department report says that the "first few days of the freshmen year are the riskiest, limiting the value of any rape prevention programs that begin after that." A 2007 Campus Sexual Assault study similarly found that "women who are victimized during their college career are most likely to be victimized early on in their college tenure."
A 2008 study published in the Journal of American College Health also found "substantial" evidence of the existence of a red zone during the first few months of freshmen year, when reports of unwanted sex or rape are higher. Other times of the school year, such as a homecoming weekend or fraternity and sorority rush may also be high-risk, but the study cautioned institutions not to give students the false impression that a campus is safe the rest of the year.
College officials have long known that the first few months of school can be a time of testing limits, of too much drinking and partying. For decades they have taken steps to educate freshmen about the risks of such behavior, provided orientation programs aimed at connecting students to productive activities and familiarizing them with the services on campus.
Those services have intensified and expanded, with many universities presenting online videos and quizzes on alcohol, sexual assault, and safety over the summer, and then reinforcing those messages with presentations, interactive performances, and more videos when students arrive on campus.
"Every college is on high alert for the first year," said Eileen Stone, the University of Connecticut's assistant director of wellness and prevention. "We know that this is a risky time, so we try to help the students navigate their way."
Kerry Patton, director of counseling services at Quinnipiac, said: "I think the goal is to get them involved in different healthy experiences. Students who are involved in things tend to make better decisions."
Younger students may be hesitant to speak up or object to behavior that makes them uncomfortable if they think everyone is doing it and that it's normal, said Laura Lockwood, director of the Women & Gender Resource Action Center at Trinity College in Hartford, Conn.. The stereotypes that "everyone drinks at college and rape is inevitable … have to be dismantled, as well as the rape myth that girls deserve it if they are drunk or dressed scantily — that sort of 'blame the victims' culture."
Fred Alford, dean of students at Trinity College, said students' misuse of alcohol has been a serious concern in the 30 years he's worked with college students, and that the focus on preventing sexual assault has intensified in recent years.
That's partly because federal guidelines were released in 2011 to clarify and strengthen the obligations colleges and universities have to prevent and respond to campus sexual assault.
"The bright light that the federal government has put on it has created a better network of information," Alford said, heightening sensitivity and reinforcing "the sense that colleges better pay attention."
Most colleges and universities now present extensive orientation programs early during freshmen year to educate students — male and female — about alcohol, sexual assault, safety concerns, and repercussions for criminal activity, and many have expanded training refreshers in the later years.
"You have to plant the seeds, and then you have to nurture the seeds all through the year," Trinity's Lockwood said.
Bolger of Know Your IX also emphasized the importance of spreading prevention and bystander education throughout a student's four years.
The programs focus on personal safety behaviors, such as having a buddy and not letting your drink out of your sight. They also offer guidance on how a bystander can intervene and the need to step in and help defuse a situation that looks threatening.
Time also is spent on defining "consent." A new brochure given to UConn students emphasizes that the absence of a "no" does not necessarily mean a "yes," and that a person who is incapacitated by alcohol or drugs is unable to give consent.
While heading to college is all about independence, research shows that students whose parents stay in touch are more likely to avoid problems, particularly excessive drinking, according to Stone at UConn.
She said research shows that when "parents reiterate their values and expectations … students tended to do better."
"Students may not listen to it wholeheartedly and take it to the letter-of-the-word type of thing," but they are listening, Stone said.
It's important for parents to pick their moment and not to overdo it, she said.. She also recommended that parents find out about services and activities available on campus so they can occasionally make informed suggestions to their child if a need or interest comes up.
At Quinnipiac, as freshmen moved in, it was clear that parents had sent their kids strong messages about safety.
Noelle Johnson, a freshmen from Groton, Mass., rattled off some of what she had been told: "Be smart if you're going to drink. Hang out with good people. Don't walk home alone. Do something if you see someone not in their right state of mind. Step up and defuse the situation. … Just be smart, don't go nuts."
Her mother, Sarah Johnson, said, "I know Noelle knows the right things to do, but I felt like I had to say them out loud and have a conversation about them anyway, just about how to be safe and you know, things to watch out for. Things she knows already, but it had to be said.
"Of course, we're not encouraging drinking. She has a flashlight. We told her to always have a buddy to walk with, to be aware of her surroundings, especially at night, and I'm guessing there are people you can call on campus if you need to go somewhere."
Halee Bazer got much the same message from her mother, Andrea Marshall, who warned her daughter to watch her drinks and food and to stay with friends.
"I don't know if she listens," Marshall said, but added: "She's got the flashlight and the whistle and the whole thing. There's a certain trust factor. She's a smart kid and she's good about this stuff. You've got to give them the tools and hope that they use them."
Photo: vkp_patel via Flickr
Interested in national news? Sign up for our daily email newsletter!