Collins Fears Impeachment Will Impede McConnell's Do-Nothing Senate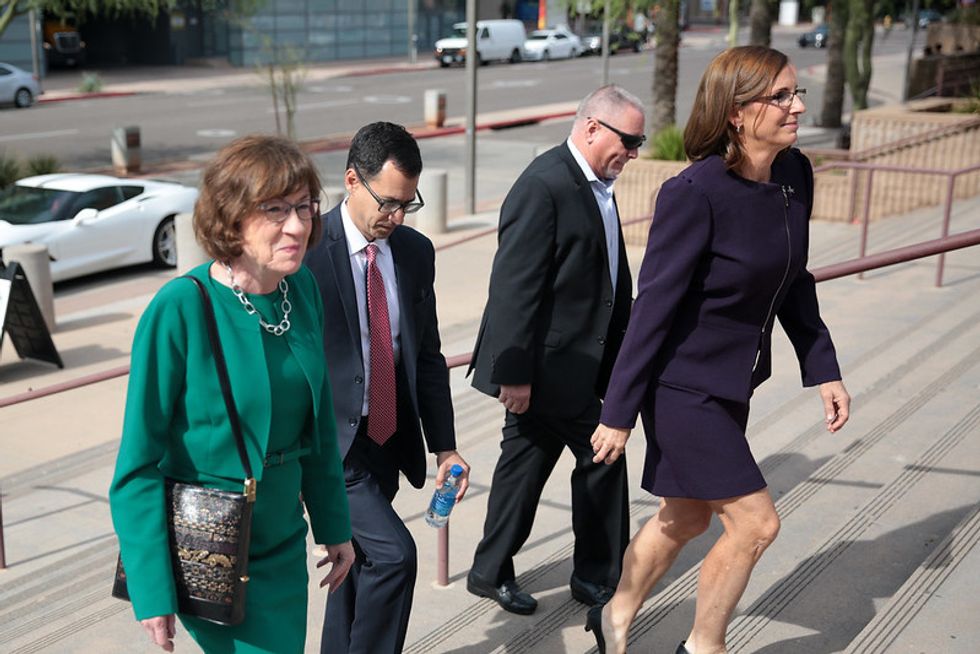 Sen. Susan Collins (R-ME) argued on Monday that the House impeachment inquiry would make the Senate even less productive than it already is.
Specifically, Collins claimed that such an inquiry could delay important pieces of legislation in the Senate, according to Maine Public Radio.
"I remember from my time as a new senator when President Clinton was impeached how all-consuming that is," Collins said. "You do nothing else until the trial is finished."
Senate Majority Leader Mitch McConnell and Donald Trump have both made similar claims, suggesting that the House impeachment probe is impacting Senate legislative business. However, the House has already passed a slew of bipartisan bills this year, including legislation on gun safety, voting rights, prescription drug pricing, immigration, and violence against women.
Some bills, such as universal background check legislation, have sat on McConnell's desk for more than 220 days without any Senate action. That bill passed the House with bipartisan support in February.
As recently as September, Republican senators blamed the impeachment inquiry as a reason for failing to act on the gun measure.
Since Democrats took control of the House in January, they have passed around 400 bills, only to see many of them pushed to the Senate's legislative graveyard.
McConnell has bragged about his efforts to stymie such legislation. Well before House Speaker Nancy Pelosi even announced a formal impeachment inquiry, the majority leader was boasting of his reputation as the Senate's "Grim Reaper."
Collins also said Monday that, moving forward, the impeachment probe could impact government funding bills, especially if the House has impeachment votes around the same time funding for the federal government expires.
The last government shutdown occurred when Republicans were in charge of the House, Senate, and White House. At the time, Trump was insistent that Congress provide him more money for his long-promised wall along the U.S.- Mexico border wall and forced the country into a partial shutdown, which affected hundreds of thousands of government workers. It was only after Democrats seized control of the House in January that the new majority was able to break the stalemate and force Trump to reopen the government.
Collins has shown a tremendous amount to loyalty to McConnell over the years, including more recently, siding with him in supporting Justice Brett Kavanaugh's confirmation to the Supreme Court.
McConnell has returned the favor. According to the Wall Street Journal , two former aides to the majority leader, one of whom worked on the 2017 tax bill Collins supported, hosted a posh fundraising breakfast for the Maine senator just last month in Washington, D.C.
McConnell himself is reportedly slated to appear at an upcoming fundraiser for Collins on Oct. 21.
Published with permission of The American Independent.