Colorado Movie Gunman Gets Life Sentence, Jurors Not Unanimous
@reuters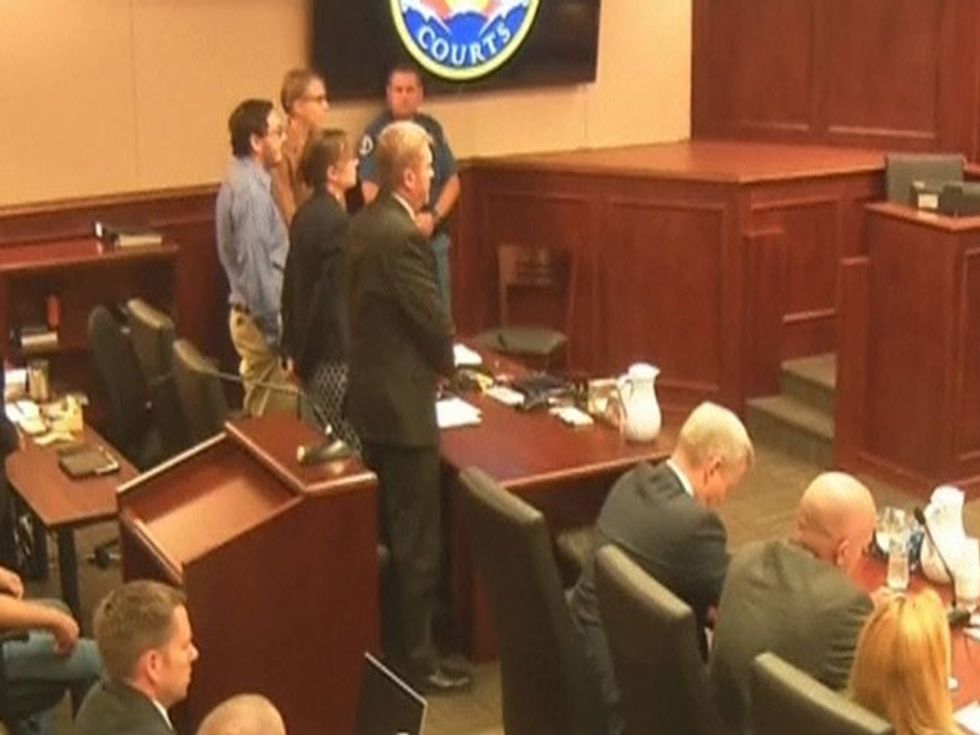 By Keith Coffman
CENTENNIAL, Colo. (Reuters) — A Colorado jury sentenced movie rampage gunman James Holmes to life in prison on Friday, rejecting the death penalty for the 27-year-old who entered a midnight showing of a Batman movie wearing a gas mask, helmet and body armor and shot dead a dozen people.
Last month, the panel of nine women and three men found the former neuroscience graduate student guilty on all counts related to the July 2012 massacre. They were not unanimous, however, on the death penalty, which means Holmes receives an automatic life sentence with no possibility of parole.
After warning members of the public in the gallery against making any emotional outbursts, Arapahoe County District Court Judge Carlos Samour began reading the verdict forms.
On each count, he read, the panel had been unable to agree that Holmes should be executed by lethal injection, and that they understood that as a result, the court will impose a sentence of life imprisonment.
Holmes showed no reaction, staring straight ahead, hands in pockets.
The verdict brings to an end a long-delayed, lengthy, and high-profile trial just a little more than three years after Holmes' rampage in a suburban Denver multiplex put a spotlight on gun control, mental illness and security in public spaces.
The jury already convicted him on all charges from the July 20, 2012 mass shooting at the showing of The Dark Knight Rises in Aurora. Seventy people were also wounded in the attack.
Prosecutors say Holmes aimed to slaughter all 400 theater goers. But he failed to kill more, they said, in part because a drum magazine he had bought to boost his firepower jammed.
The proceedings against Holmes began in late April and reached penalty phase closing arguments on Thursday after 60 days of trial, 306 witnesses, and the introduction of nearly 2,700 pieces of evidence.
In his speech to the jury, District Attorney George Brauchler said justice for Holmes meant execution for the "horror and evil" he wrought inside the crowded cinema.
During the trial, dozens of wounded survivors testified about how they had tried to hide from the gunman's hail of bullets, some of them steel-penetrating rounds, or stumbled over the bodies of loved ones as they tried to flee.
Defense lawyer Tamara Brady had stressed that Holmes had no previous criminal record. She had asked jurors whether they were ready to sign the death warrant of a mentally ill person and said they would have to live with the decision for the rest of their lives.
While the jury rejected Holmes' plea of insanity, Brady said all the doctors the panel had heard from in court had agreed that he was seriously mentally ill.
Holmes had remained mostly expressionless throughout the trial, occasionally turning to look when a photograph of himself appears on a court television.
The defense said he suffers schizophrenia, and that his "aloof or distracted" demeanor was caused by anti-psychosis drugs that treat, but do not cure, the disease.
(Reporting by Keith Coffman; Additional reporting and writing by Daniel Wallis; Editing by David Gregorio and Alden Bentley)
James Holmes (L) stands in court as the verdict is read in this still image taken from video in Denver, Colorado, July 16, 2015. (REUTERS/Pool)