Colorado Movie Gunman Sentenced To 12 Lifetimes And 3,318 years
@reuters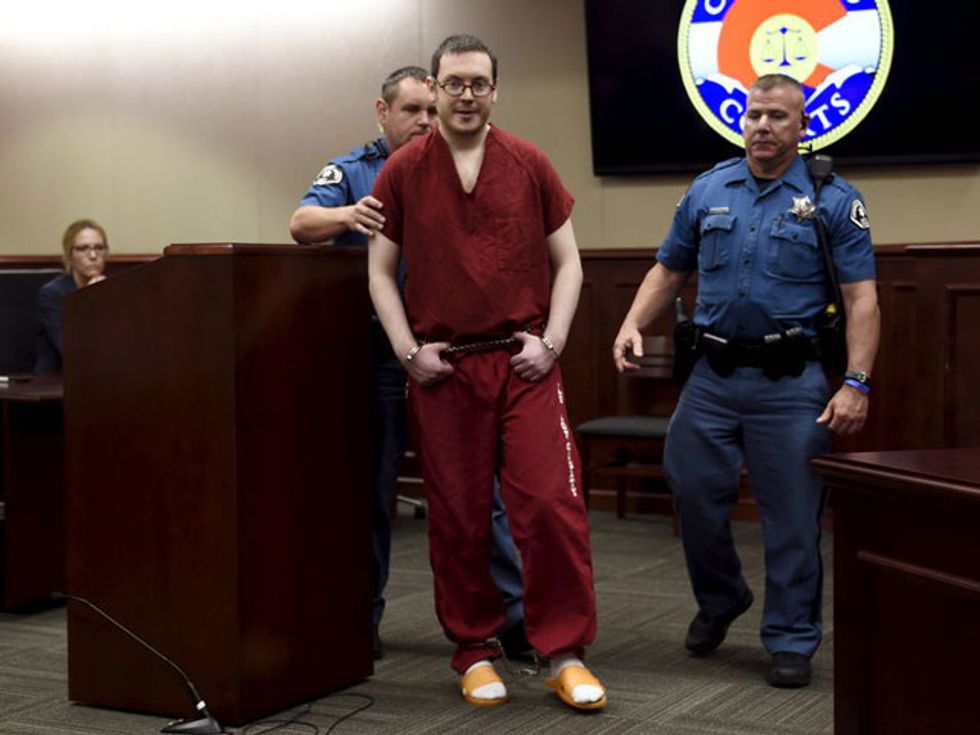 By Keith Coffman
CENTENNIAL, Colo. (Reuters) — Condemning the movie massacre gunman to 12 life sentences and the maximum 3,318 years in prison for his rampage in a midnight screening of a Batman film, a Colorado judge on Wednesday said evil and mental illness were not mutually exclusive.
"It is the court's intention that the defendant never set foot in free society again … If there was ever a case that warranted the maximum sentences, this is the case," Arapahoe County District Court Judge Carlos Samour said
"The defendant does not deserve any sympathy."
Survivors and relatives of those killed clapped and cheered as Samour then ordered deputies to remove James Holmes from his courtroom, and the gunman was led away in shackles.
The 27-year-old was found guilty by a jury last month of murdering 12 people and wounding 70 in his rampage inside the packed screening a multiplex in the Denver suburb of Aurora.
The jury did not reach a unanimous decision on whether Holmes should be executed. That meant the former neuroscience graduate student, who had pleaded insanity, got a dozen automatic life sentences with no possibility of parole.
Samour still had to sentence Holmes on attempted murder counts and an explosives charge.
Condemning the shooter to the longest term he could issue, the judge said Holmes decided to "quit" in life, and that he set out to kill "as many innocents as possible."
Samour said whatever illness Holmes may have suffered, there was overwhelming evidence that a significant part of his conduct had been driven by "moral obliquity, mental depravity … anger, hatred, revenge, or similar evil conditions."
He said "the $64 million question" that still lingered was whether the defendant was afflicted by a mental condition, disease or defect, and if so, to what extent.
"We tend to like simple answers, but maybe it's not so simple," Samour said. "And maybe that's because we're not where we need to be in the fields of psychiatry and psychology."
JUDGE PRAISES VICTIMS
After two days of often tearful and sometimes angry testimony from victims, District Attorney George Brauchler had called on Tuesday for Holmes to be given every day of the longest possible sentence.
The lead prosecutor also said he wished the court could order that the defendant spend the rest of his days in solitary confinement, surrounded by photos of the people he killed, but that it could not.
Samour said he had heard some people bemoan that the gunman would luxuriate in prison.
But he said he thought one of the victims summed it up best when he said being behind bars would be no picnic.
The judge said people could focus on the free food and medical care Holmes will receive. Or, he said, they could see the glass as half-full and consider he will be locked up for the rest of his days with serious, dangerous criminals.
"That doesn't sound a like a four-star hotel to me," Samour said.
Defense lawyers say they have no plans to appeal, and the judge said that meant they had "truly completed" the trial in a surprisingly short period of just over three years.
"That's unheard of time for a death penalty case, especially one of this magnitude," Samour said.
And the judge praised the victims, who he said had shown tremendous courage and grit, some of whom were disappointed that Holmes was not sentenced to death.
"You know your healing is not tied to the defendant's fate," Samour said.
"Even despite all the pain and suffering you've been through, you're not quitting, and you're hanging in there, and you're fighting. You have my admiration."
(Reporting by Keith Coffman; Additional reporting and writing by Daniel Wallis; Editing by Toni Reinhold and David Gregorio)
Photo: Colorado movie massacre gunman James Holmes (2nd R) leaves court for the last time before beginning his life sentence with no chance of parole after a hearing in Centennial, Colorado August 26, 2015. REUTERS/RJ Sangosti/Pool