Column: Is James Bond Having An Identity Crisis?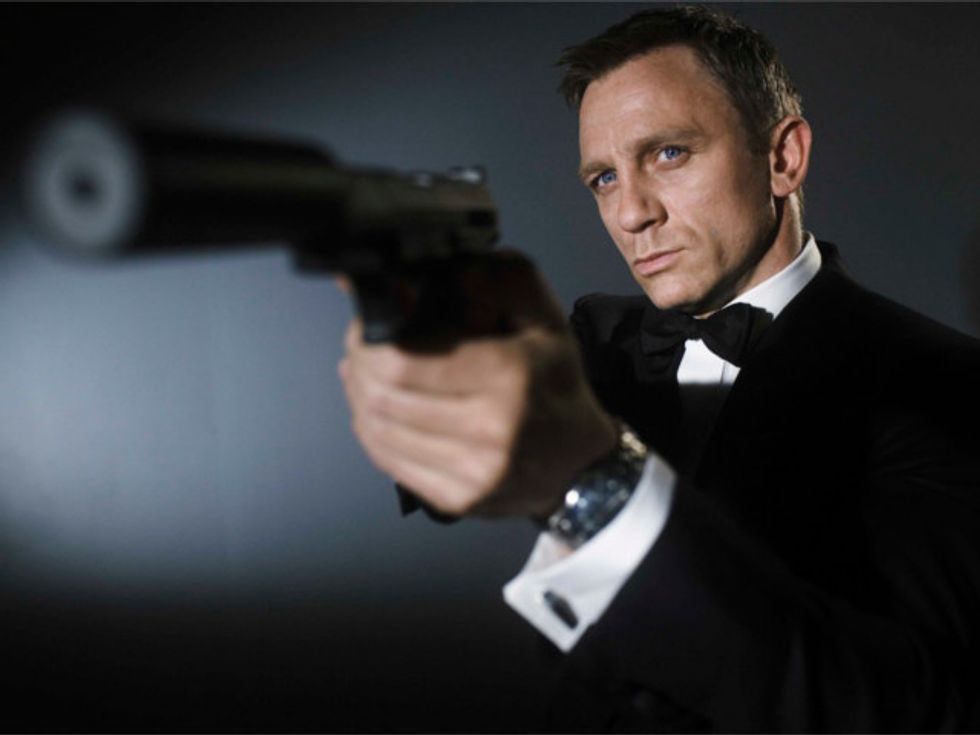 By Michael Phillips, Chicago Tribune (TNS)
James Bond, Sir Ian Fleming's suavely ruthless assassin and persnickety orderer of drinks, came to light in the Cold War. Mission: to channel the lady-killing and killing-killing fantasies of his overwhelmingly male readers, who became his movie fans with Dr. No in 1962, and to assert the imperialist righteousness of the United Kingdom in an uncertain world.
With the fourth Daniel Craig Bond film, Spectre, 007's live-and-let-die relationship with the women in his life has begun to hollow him out from the inside. He is not the Bond he used to be. Can it be that it was all so simple then? Or has time rewritten every line? We're a long way from Pussy Galore. When that brazenly smutty character name was uttered aloud in 1964 by Honor Blackman, who played her in Goldfinger, it was like the bomb going off at the end of Dr. Strangelove that same year.
In Spectre there's a scene in which Bond needs information about the Italian mobster he has killed in the Mexico City prologue. Monica Bellucci plays the imperious widow. She cannot resist Bond's advances because the script says so, and he gets what he needs by way of a stone-faced bout of contempt-copulation. No double entendres. No smirks. No blow-up dolls disguised as pin-ups, masquerading as human females. On the other hand, there's not much of anything going on in this scene. It's nasty, brutish and short.
Bond's primary romantic interest is the grieving daughter of a Spectre villain. Dr. Swann, as she's called, is a doctor who looks swell in a pants suit and sunglasses; Bond's her equal in implacable, sphinxlike cool, in shades. But who has this man become? Does his trauma make him human? As Chicago film critic Ignatiy Vishnevetsky tweeted the other day: "Bond: resigns in CASINO, rogue in QUANTUM, SKYFALL, & SPECTRE. Technically not a spy, just a paranoid unemployed alcoholic serial murderer."
On Wednesday's Late Show, host Stephen Colbert and guest Craig presented a clever taped sketch imagining Bond, having lately trashed several vehicles in the line of duty, encountering a particularly fussy employee (Colbert, in an ill-behaving fake mustache) behind the rental counter. "Gritty realism" is how Craig introduced the sketch. In Spectre, of course, there's nothing like it — except for the seething glare in the actor's eyes, which actually works for the movie.
Bond is everywhere this month. There's news of a new collection of author Fleming's correspondence, "The Man with the Golden Typewriter." The book contains one letter to be sold at auction later this month. Dating from 1959, it deals with the character of Galore, more explicitly spelled out as a lesbian in Fleming's Goldfinger novel than the 1964 movie. Clearly, Fleming wrote, such a woman "only needed the right man to come along and perform the laying on of hands in order to cure her psycho-pathological malady." Fleming was responding to a Dr. Gibson, who told Fleming that it was "slightly naughty of you to change a criminal Lesbian into a clinging honey-bun (to be bottled by Bond) in the last chapter."
Indeed, Fleming's Bond novels are full of descriptions such as these in Goldfinger, which have Bond staring into Galore's "deep violet eyes that were no longer hard." Then she regards his "passionate, rather cruel mouth" which comes "ruthlessly down on hers." Cured! And one more sexual myth of the omnipotent heterosexual male, sold to an eager public.
By the time we got to Skyfall, the film, Honor Blackman's convertible-lesbian had become a quaintly galling memory. Tortured by Javier Bardem's sniveling adversary, in Skyfall Craig's Bond alludes (honestly? kiddingly?) to a possibly bisexual resume. But Bond's private life in the late-Craig era isn't really about any sort of sexual impulse. It's more about getting through the day, healing old psychic wounds, and finding someone who won't try to change you in the slightest, as Lea Seydoux's character promises.
That part, at least, sounds like 1964 all over again.
And so the movies' most durable franchise finds itself at a crossroads. A character designed to be a dull fellow (Fleming's own description) to whom ridiculously amazing things happen, regularly, has become a pretty interesting blank slate. Is love possible for such a man? Do we care?
(c)2015 Chicago Tribune. Distributed by Tribune Content Agency, LLC.